Every since I have been making homemade bread :: pane fatto in casa I have been on a dip, spread, pesto and hummus craze. Recently I've made a delicious thick kale pesto, roasted beet sauce, olive hummus and last but not least, this white bean hummus—all such good options to slather on my hot freshly toasted bread.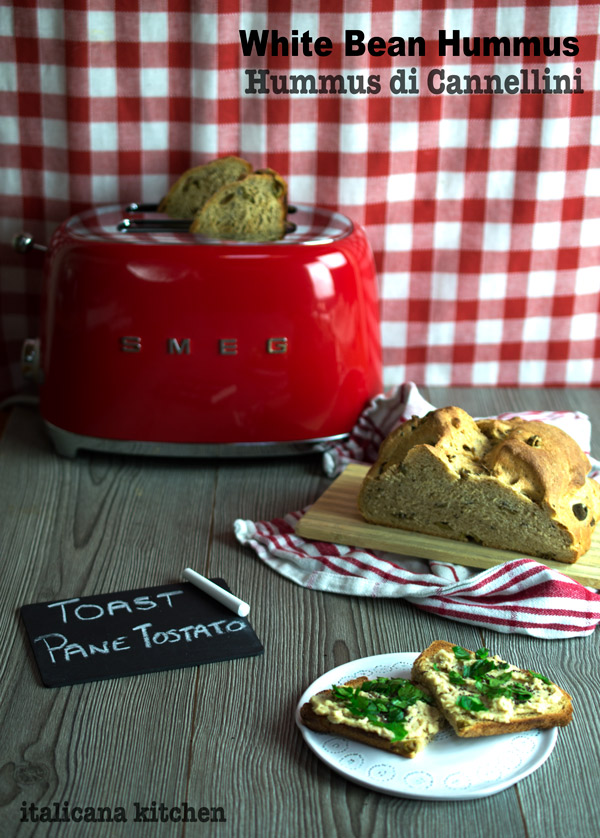 I don't know how I've been living in Italy without a toaster :: tostapane for these past six years. I usually stick the slices on a skillet or lay them on a cookie sheet and toast them in the oven, but that is a lot of extra work in the morning especially if I am in a rush and need to head out the door. And let's be honest, I'd rather sleep those extra 10 minutes than make toast; even if it is so good with a big spoonful of all-natural peanut butter spread on top…..*Sigh.*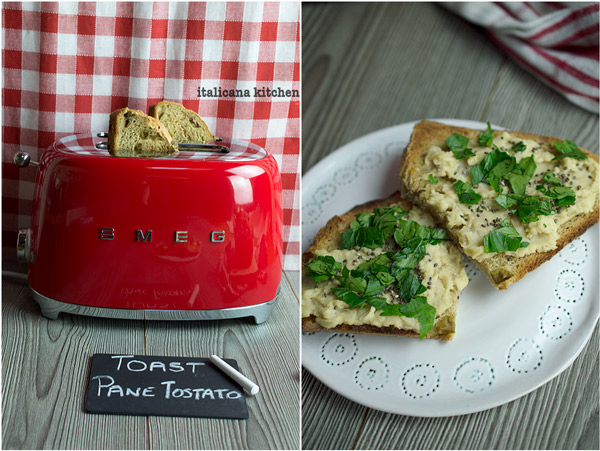 You can imagine how excited I was then when Smeg sent me a toaster from their new line of 1950's style appliances.  Why get so giddy over a toaster? 1) Because I already have a Smeg fridge and oven that I absolutely love.  2) Now I can easily and quickly eat toast in the morning and for snacks! 3) I love.love.love. the design. Who says that about a toaster? However, look at it. It's just too cute, how could you not?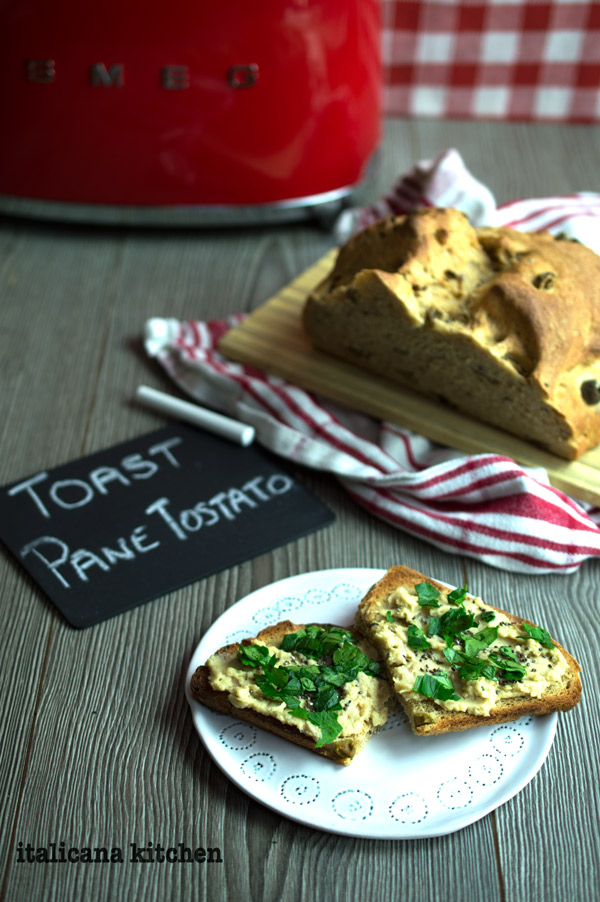 I was in the mood for ease and simplicity when I made this hummus but you can also  roast your garlic :: aglio in the oven to give it a special twist. I honestly couldn't be bothered, as you might have guessed I was a bit too excited to try out my toaster and wanted this white bean hummus pronto! 🙂
White Bean Hummus 
This white bean hummus can be whipped up in 5 minutes and is the perfect healthy mid-day snack or appetizer.
Ingredients
One 14 ounce (400g) can canned cannellini, drained and rinsed
2 tablespoons extra virgin olive oil
1 teaspoon tahini
1 clove garlic
3-4 dashes paprika
2 squeezes of lemon
Instructions
Blend the cannellini beans and extra virgin olive oil in a food processor. Add the tahini, garlic, paprika and lemon. To serve, add more extra virgin olive oil and paprika on top for garnish and chopped basil or parsley if desired. Serve with crackers, pita chips or homemade toasted bread. Store the hummus in the refrigerator.
Note: This post is not paid by Smeg. They were kind to send me the toaster, but I only support the companies I believe in and the products I love and would use myself.
Related posts: