Easter dinner is only two days away. If you want to liven up your Sunday meal, how about whipping up a mouthwatering pasta dish: spinach and ricotta lumaconi with roasted red pepper sauce.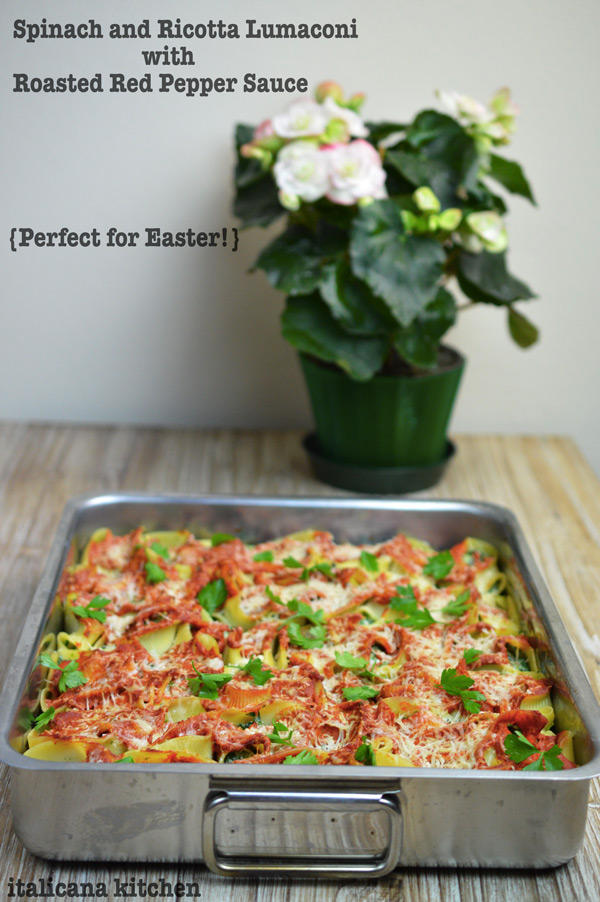 Still not convinced? Here are 5 reasons you should make this recipe:
1. It's super easy to prepare. If you're like me, you want to enjoy your company instead of slaving away at the stove :: fornello while listening to your guests laughing, joking and munching on your freshly prepared hors d'oeuvres. The cook should also enjoy herself/himself, don't you agree?  Make this pasta dish the day before then just pop it in the oven to warm up 10-20 minutes before you want to chow down.
2.  It serves a lot of people. Making dinner for an intimate group of 4 is one thing, trying to entertain a group of 10 or more is a whole other beast, especially when picky eaters, like kids :: bambini are involved. Good thing almost everyone loves pasta. It's filling, satisfying and you can make a lot of it with the same ease and stove space that you would for a regular serving.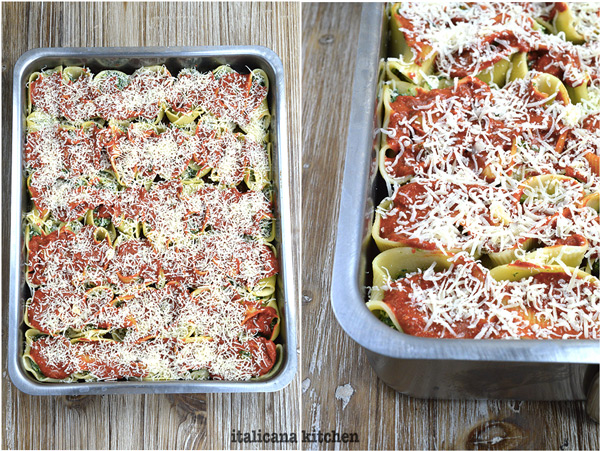 3. The ingredients are economical. You don't have to fork over the dough for expensive lamb or ham. Pasta is one of the most economical products around and perfect for feeding a large crowd.  That way you have more money left over to buy good quality parmesan cheese, fresh spinach and peppers from the market and even some good artisanal bread from the bakery :: forno to accompany the dish.  Eating well is all about eating high quality natural products, and when you keep the recipe's ingredients to a short list, not only is it usually healthier but you can also afford better products.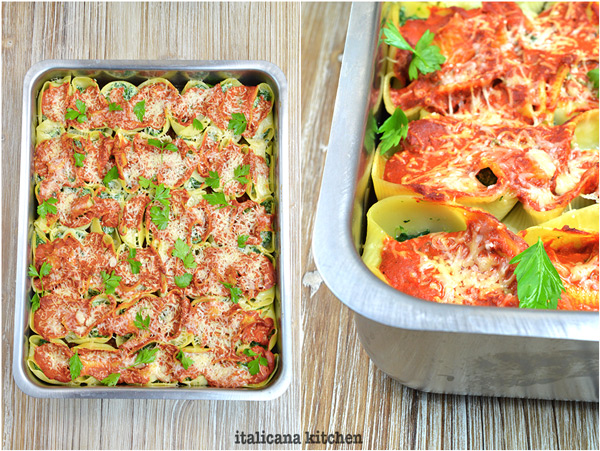 4. The presentation is gorgeous. Let's face it, presentation isn't everything in the food industry but it does count a lot. A whole lot. Think about your mom's meatloaf. It may be your favorite dish ever, but frankly if you served up a blob of meat smothered in ketchup, your guests might just reach for the breadsticks :: grissini instead. Who wants to eat something that resembles cat vomit?  Now, to fill your mind with a more pleasant image, imagine yourself in your sparkling clean apron coming out of the kitchen doors with matching oven mitts and carefully setting down a giant tray of hand stuffed pasta. OMG. Who wouldn't just love you in that moment? If you're a single lady, watch out cupid might have just struck an arrow in every man's stomach at the table.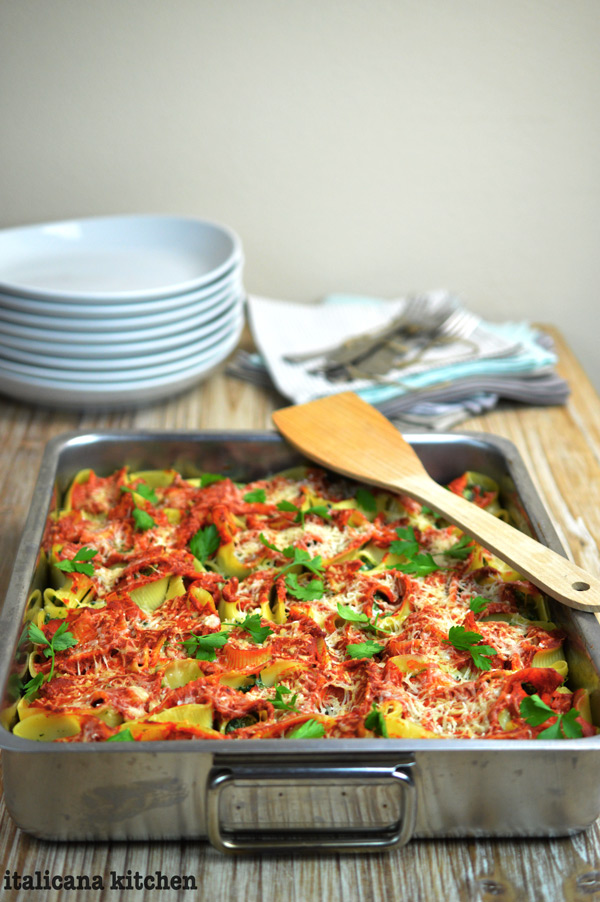 5. It's lip-smacking delicious. How could it not be when we're talking about a veggie stuffed pasta smothered with a creamy roasted red pepper sauce and melted parmesan cheese?  This also covers the dilemma if some of your guests are vegetarians. Shabam. Problem solved. Do your guests :: ospiti have gluten allergies? No problem, just buy some gluten free shells and make a separate dish. Or, if you can't find gluten-free lumaconi, simply keep a bit of the filling and sauce aside and mix them together with gluten-free spaghetti or penne.
What more could you want?  Besides of course a life time of free gelato or high heels that massage your feet. I mean, come on, this pasta dish is delicious but definitely fails in comparison to those!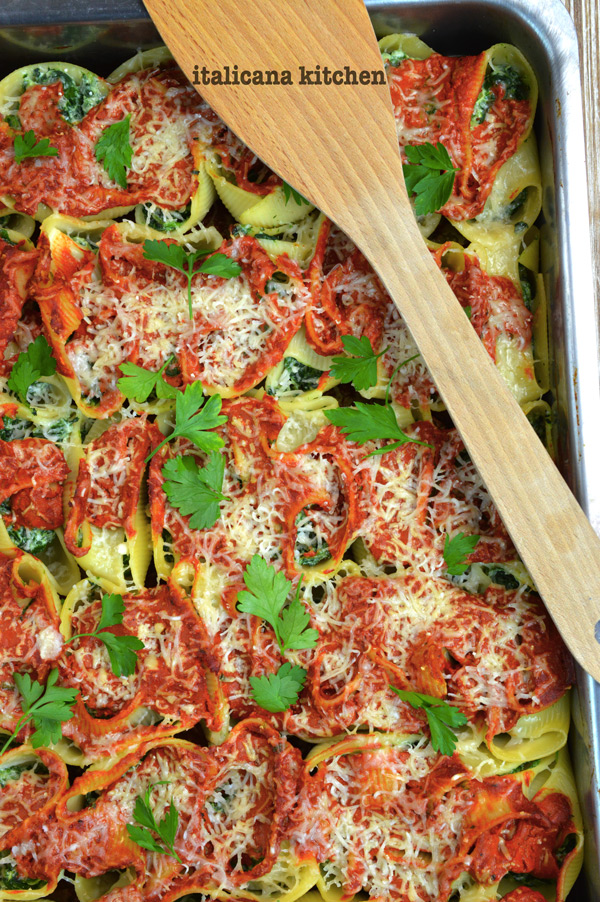 The typical traditional menu in Emilia Romagna for Easter is much like that for Christmas: cappelletti in broth or tortelli verdi, the boiled meat used to make the broth :: brodo with homemade mostardi, a type of homemade spicy fruit marmalade, and in-season vegetables.  Southern Italy has more of a typical Easter meal that includes lamb as well as other specific specialties made just for Easter Sunday.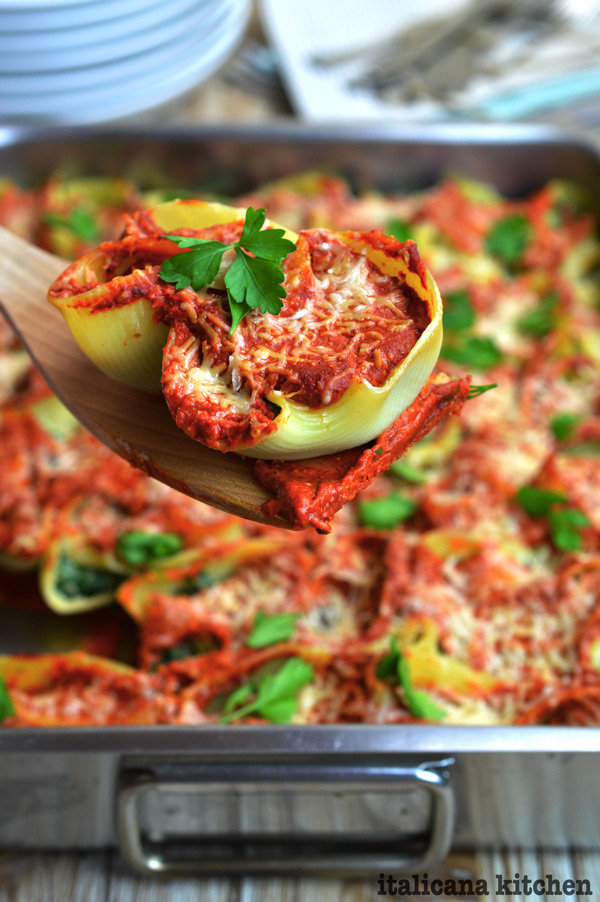 The one thing that is common in all of Italy (or at least that I know of) are two main Easter time desserts: beloved chocolate eggs  and the colomba, which is a sweet bread filled with pieces of candied fruit peels. When I say "sweet bread" I am referring to bread that is sweet and not "sweetbread"  which is a culinary term for the thymus and pancreas of veal and calves. Luckily my friend Jamie clarified this for me and saved me from future embarrassment :: imbarazzo. You learn something new everyday. Just like I hope that most of you know what rocky mountain oysters really stand for.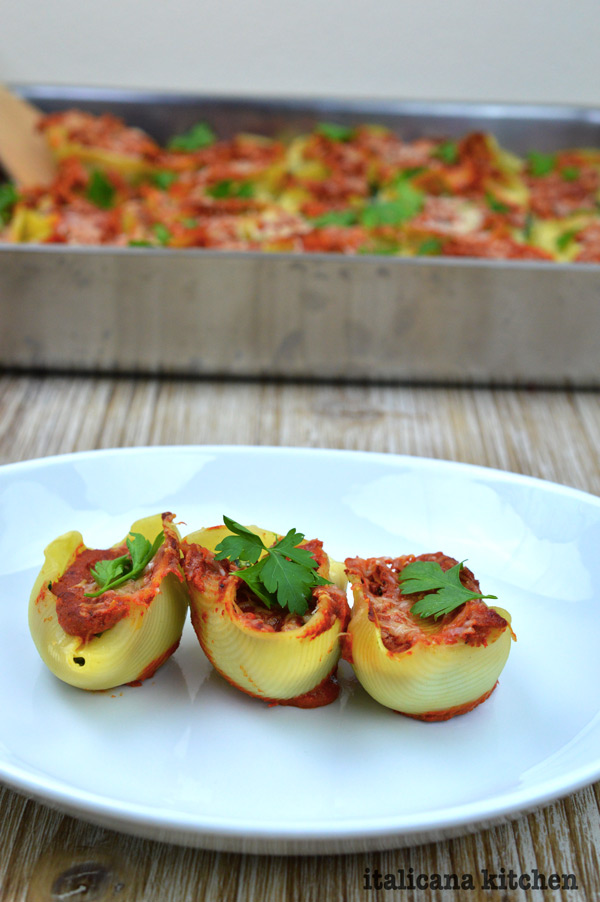 The other main Easter sweet found literally everywhere in Italy is the beloved chocolate egg. Boy, I thought Easter egg hunts were so cool growing up, but really Italians are doing it right with chocolate eggs that vary in size which you crack open to find a surprise :: sorpresa inside. Right now in the supermarkets there are over hundreds of chocolate eggs in all different sizes. One was even taller than me! (And, I'm 5'7''!)  A year's full of chocolate…I was tempted until I looked at the price: it was a whopping 390euros! Hmm….my mind always thinks in plane tickets and that would definitely be a flight to somewhere cool, so, as you can imagine…I passed.
Mr. Italicano and I are headed off for a weekend to the Prosecco wine country.  I can't wait to do some "research" for my blog posts a.k.a wine tasting and eating way too much good food. Cin cin :: cheers to you all and I hope you have a wonderful Easter weekend wherever you are!
Spinach and Ricotta Lumaconi with Roasted Red Pepper Sauce
This Spinach and Ricotta Lumaconi with Roasted Red Pepper Sauce is an instant crowd pleaser and perfect for large dinner parties.
Ingredients
For the sauce:
Makes 2¾ cup
1 lb 3.5 ounces (600g) datterini tomatoes, cut lengthwise
¼ teaspoon salt
1 garlic bulb, ¼ of top cut off
4 red peppers (or 2 super large ones like shown in the photo)
½ teaspoon white vinegar
½ cup (55g), chopped walnuts
For the pasta and filling:
17 ounces (500g) Lumaconi pasta
70 ounces (2 kg) fresh spinach
2 cups (500g) ricotta
½ cup (35g) parmesan cheese + 1 cup (70g) parmesan cheese, freshly grated & divided
¼ teaspoon ground red pepper
Salt & pepper, to taste
Instructions
For the sauce:
Preheat the oven to 375°F (190°) and line a 1 or 2 baking trays with parchment paper.
Wrap the garlic bulb in aluminium foil then set it on the baking tray along with the peppers and tomatoes in a single layer. Sprinkle salt on the tomatoes. Roast for 40 minutes then remove the tomatoes and set them aside in a bowl. Continue to roast the red peppers and garlic for another 20 minutes.
Remove the baking try from the oven and immediately transfer the red peppers to a large bowl and cover with plastic wrap. Let rest for 20 minutes to "sweat".
Once the peppers are cool to touch remove the skin, stem and seeds and discard. Transfer the peppers to a blender along with their juices. Squeeze out the soften garlic and discard its shell. I used about ¾ of the garlic bulb, adjust to taste. Add the roasted tomatoes, white vinegar and walnuts. Blend until smooth.
For the pasta and filling:
Bring a large pot of water to boil, add 3 pinches of salt followed by one half of the freshly cleaned spinach. Cook until wilted, about 5 minutes. Remove the first batch with a slotted spoon and transfert to a colander. Shock with cold water, let cool, then squeeze out the excess liquid. Repeat for the second batch, reserving the spinach water.
Add 2 more pinches of salt to the spinach water and more water if necessary. Add the lumaconi pasta and cook until al dente (a.k.a. Slightly hard)
While the pasta is cooking, transfer the cooled spinach to a large bowl and add the ricotta, ½ cup parmesan cheese, red pepper, salt and pepper.
Drain the pasta and return to the pot along with a drizzle of olive oil to keep the pasta from sticking together.
Cover the bottom of an extra large casserole dish with a thin layer of roasted red pepper sauce.
Fill each pasta shell with a spoonful of ricotta and spinach filling then place in the casserole dish. Repeat.
Once the pan is full with the filled pasta, cover with the remaining sauce and 1 cup of parmesan cheese.
Bake at 350 (180°) until the pasta is warm, about 10-20 minutes. Serve with extra grated parmesan cheese if desired.
Roasted Red Pepper Sauce: Adapted from Epicurious
Related posts: