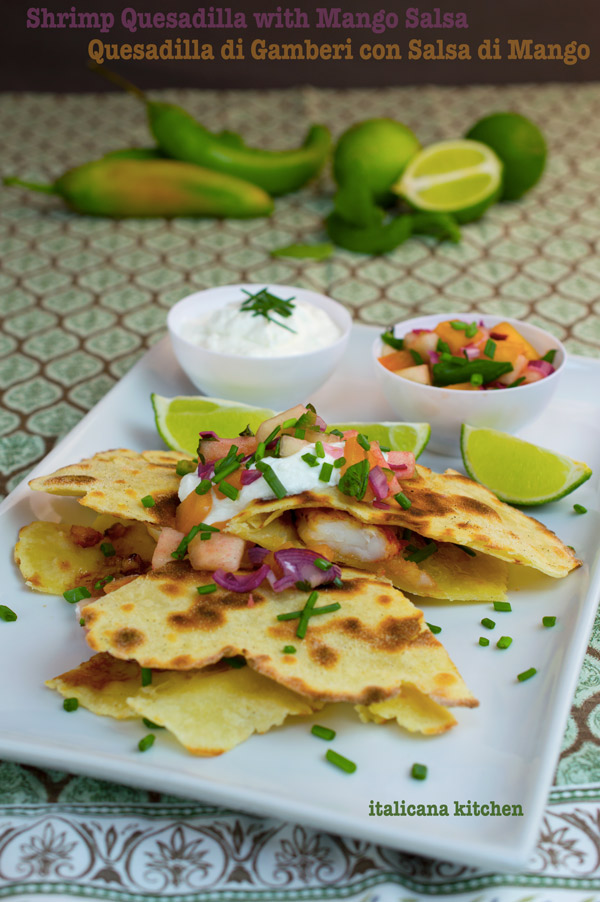 This shrimp quesadilla with mango salsa is the perfect meal for the gradual change from summer to fall when it's still delightfully pleasant outside that you crave fresh and light flavors, but due to a hint of crispness in the autumn air you also want the comfort of something warm to bite into.  I don't know about where you live, but here in Italy we've had quite a variety of weather, from cool autumn mornings that morph into sunny summer afternoons—it's like summer is trying to hold onto her spotlight on the stage :: palco even though it's falls turn to be the star. I honestly don't mind their little spat :: battibecco, I enjoy the blending of these two seasons.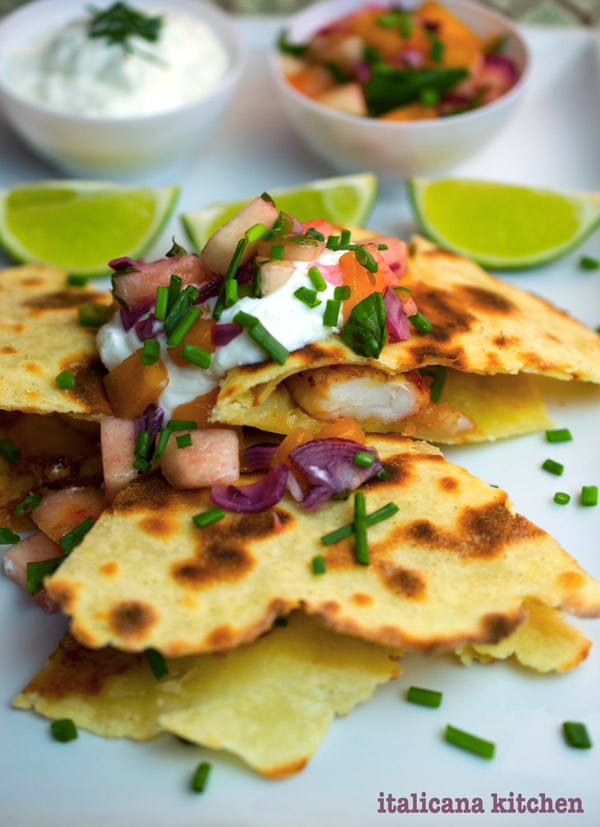 The quesadilla originated from Mexico and is made up of a tortilla, melted cheese :: formaggio sciolto and other fillings, if desired. The word "quesadilla" derives from the Spanish words for "tortilla" (a type of unleavened bread, i.e. made without leavening agents) and "queso" (cheese). The thing I love about unleavened flatbread :: pane azzimo is that it is a universal recipe that consists of flour and water, yet varies depending on local ingredients, traditions and flavors. Some cultures add salt, while others add oil, lard or spices. Here are just a few examples of different variations of unleavened flatbreads found throughout the world:
Mexico/Spain—It is called a "tortilla" and is made with either finely ground wheat flour or corn flour (masa harina).
Italy—It is called a "piadina" and is made from white flour, lard or extra virgin olive oil, salt and water.
South Asia—They use atta flour to make "chapati"  and "roti".
China—Although called "laobing", it is often times referred to as a "Chinese pancake".
Arab—Their version is called "khubz"  and is traditionally baked in clay ovens.
What other kinds of flatbreads are typical in your country or countries you have visited while traveling?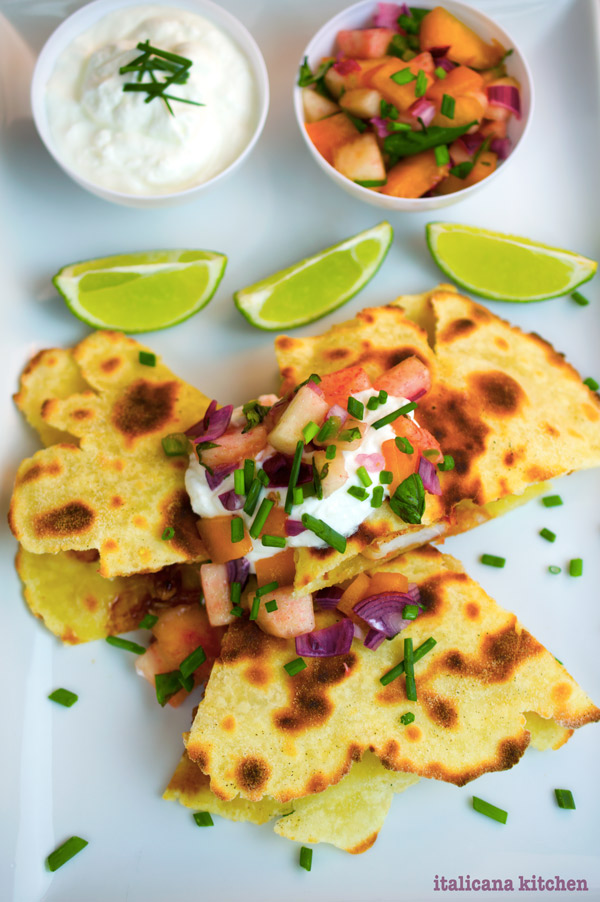 I  made a black bean and pecorino quesadilla with guacamole and salsa for my recent appearance on one of Italy's most popular national TV cooking shows, La Prova del Cuoco. Being that I couldn't find masa harina flour, I opted to make a flour tortilla. The only problem is that most often the dough for flour tortillas needs to rise for at least 30 minutes. Good news! I've successfully made flour tortillas :: le tortille di grano , that only need to rise for 10 minutes. You'll want to say goodbye to the store bought flour tortillas, these are so much better and they are so easy to! You just need to follow one easy trick: roll out :: stendere the tortillas super thin on a well floured surface then place a warm damp towel over the top (I've also successful made the tortillas just by letting them rest on a cutting board without the towel, but it does help them rise a bit more.) Really. It's as simple as that. Cool, huh?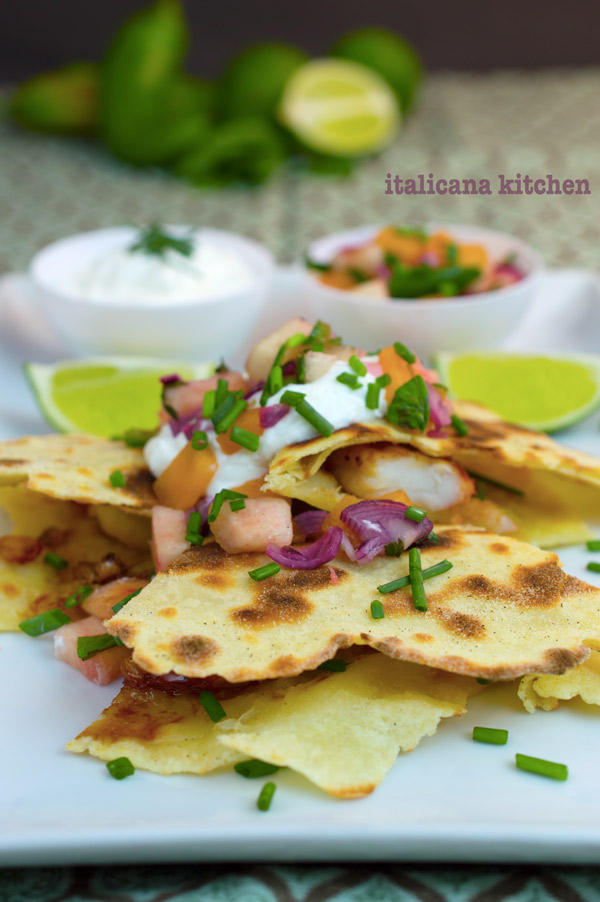 Now for the filling! There are so many delicious options, how is one really suppose to choose? If you are craving something fresh and flavorful, try this tangy shrimp and mango salsa recipe below. If you want an Italian flair, how about grilled zucchini, fresh buffalo mozzarella, pesto and pine nuts? You can even use these tortillas for a quick dessert—just melt some butter on top of a tortilla in a skillet :: padella, add some cinnamon :: cannella and sugar then roll it up o perhaps slather on some homemade nutella and fresh strawberries.  The options are endless. Go forth and create.
Shrimp Quesadillas with Mango Salsa
These shrimp quesadillas with mango salsa make the perfect meal for when you crave something healthy and full of flavor.
Ingredients
For the Tortilla: (Makes 2 tortillas)
½ cup (70g) all purpose flour
2 pinches of salt
½ tablespoon extra virgin olive oil 
3 tablespoons hot water
For the shrimp: 
10 shrimp, deveined and rinsed
1 garlic clove, minced
2 teaspoons honey (I used acacia) 
2 teaspoons vodka
Dash of paprika
Salt and pepper, to taste
For the mango salsa: 
¼ small red onion, finely diced 
½ hot pepper, finely diced 
½ mango, diced
¼ grapefruit, juiced
¼ lime, juiced
5-7 basil leaves, chopped
Salt and pepper, to taste
Toppings: 
2 handfuls grated asiago, white cheddar, Monterey jack or pepper jack cheese
Greek yogurt, as needed
Instructions
For the tortillas: 
In a small bowl combine the flour and salt. Stir until combined.
Add the extra virgin olive oil and hot water. Knead for 1-2 minutes on top of a clean workspace that has been generously covered with flour. Divide the dough into two balls and roll out each ball into a round disk the size of the bottom of a large skillet. Cover with a warm, wet dish towel for at least 10 minutes. 
For the shrimp: 
In the meantime, add the shrimp, garlic, honey, vodka, paprika, salt and pepper to a small skillet. Cook over medium heat for 3-4 minutes or until the shrimp has changed from transparent to white.
For the salsa: 
In a small bowl, combine the red onion, hot pepper, mango, grapefruit, lime, basil, salt and pepper. Chill in the refrigerator until ready to serve. 
To assemble: 
After the shrimp and salsa have been prepared, cook each tortilla for 1-2 minutes on each side over high heat, checking often that the bottom is not burning. The tortilla is done when each side has golden brown spots. Don't overcook. The tortilla should still be pliable when folded over in half. 
When the tortilla has been cooked on both sides, turn down the heat to low and add half of the cheese and the shrimp to half of the tortilla and fold the other half over the filling. Repeat for the second quesadilla. (If you use a large skillet you can cook both quesadillas at a time).Cook slowly until the cheese has melted. Transfer to a cutting board and slice each quesadilla into three pieces and serve with greek yogurt and mango salsa. 
Related posts: