Crunchy Rice Krispy Treats topped with pieces of Twix and smothered in a salted caramel sauce makes for one easy and heavenly dessert.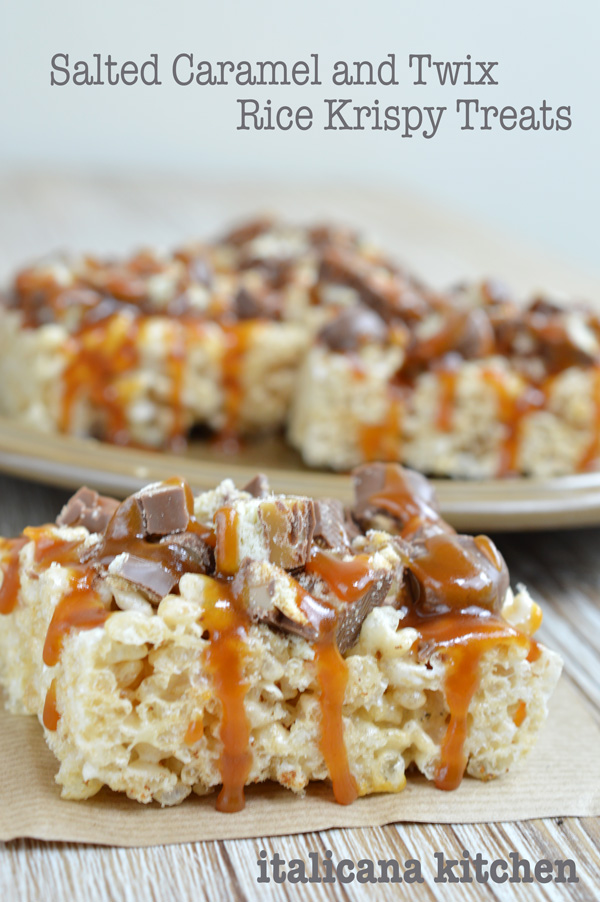 One of the easiest and most delicious American desserts :: dolci loved by both young and old is the Rice Krispy Treat. Created for a fundraiser in 1939 by Mildred Day, Kellogg's employee and Campfire Girls troop leader, these sweet and crispy bars have been a staple afternoon stack :: merenda in American households for decades.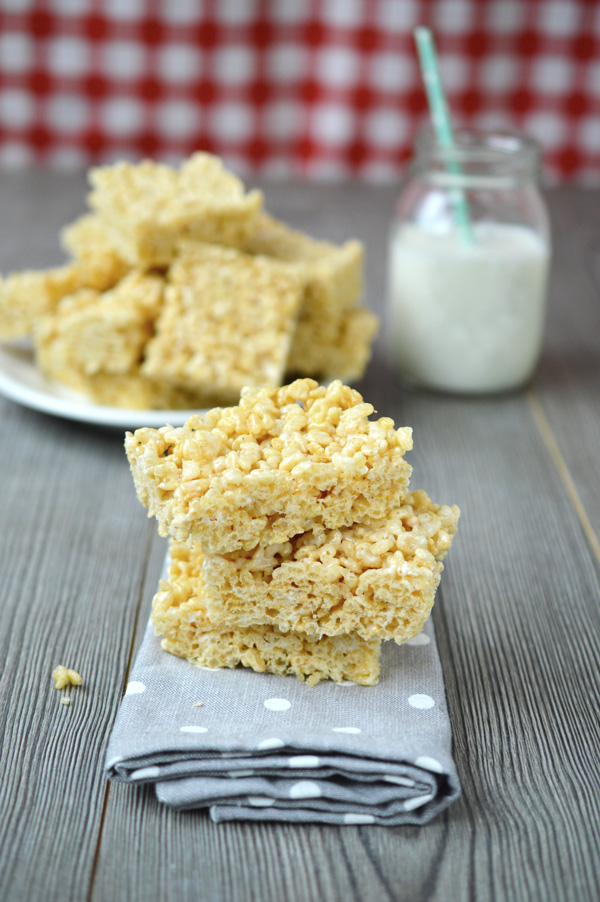 This dessert is a dream come true for anyone who wants to make something delicious without spending a lot of time in the kitchen.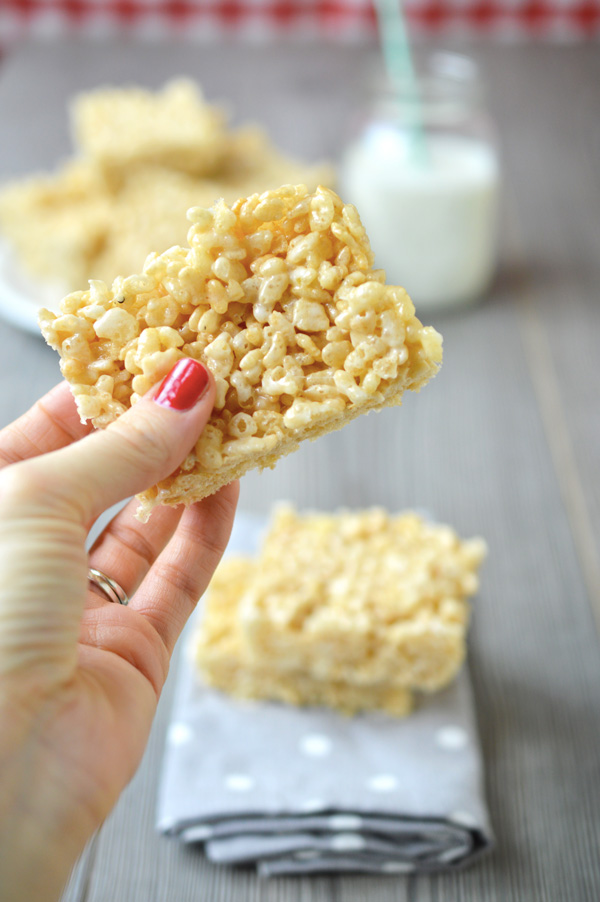 In under 10 minutes you can whip this up and head out the door.  Simply combine Rice Krispy cereal with melted butter :: burro fuso and marshmallows.  And, voila! It's as simply as that.  Well, if you can find marshmallows, that is.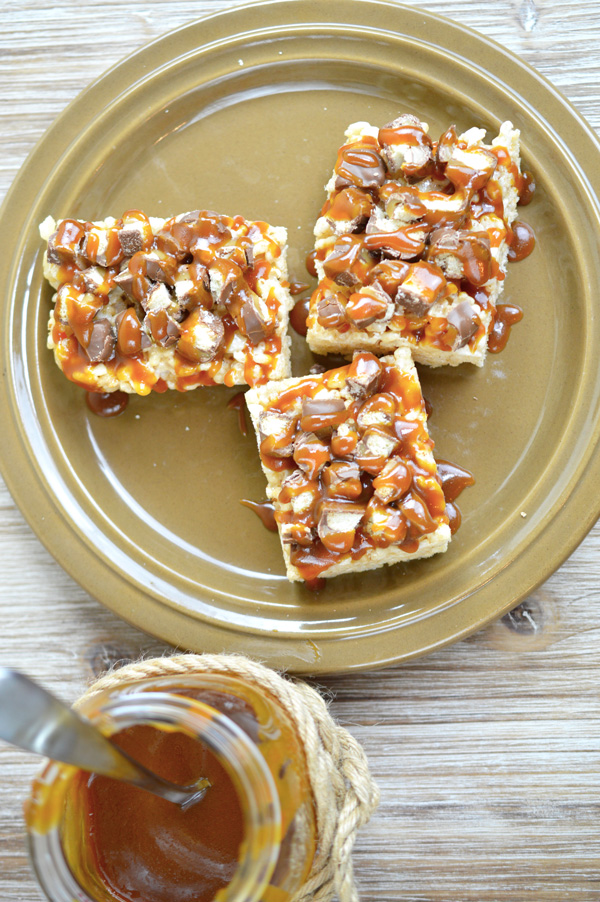 In the past five years that I've been living in Italy, I have never seen these plump white fluffs. As you can imagine :: immaginare not being able to find marshmallows increases my cravings for Rice Krispy Treats and S'mores.  I rarely, if ever, ate these in the States, but being that I can't get them makes me want them more. Also, on this food list are big jars of peanut butter, beef jerky, Mt. Dew, Ben and Jerry's ice cream pints and Starbucks frappuccinos. A little pathetic since I live in Italy, a country filled with ridiculously good food (and coffee), but every now and then I just want a taste of home.  On a recent trip :: viaggio to Vienna, Austria to visit my uncle, he took me to a small specialty store filled with American, British and other international products.  Needless to say Mr. Italicano, hauled around a 12 pack of Mt. Dew for an hour until we got back to the apartment. I love that man :: uomo.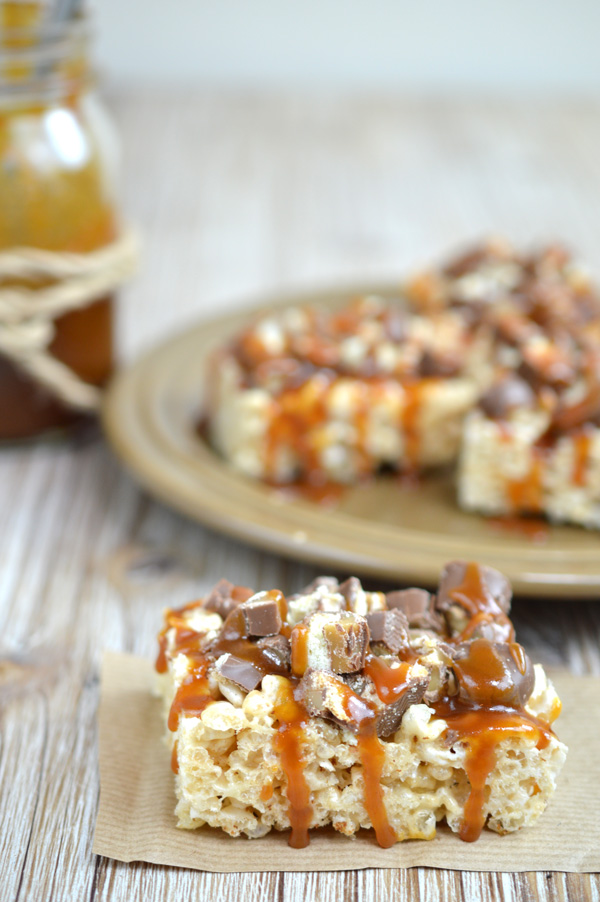 Well, good thing that there are no video cameras in grocery store isles because I completely did a full-on happy dance :: danza when I spotted this bag of marshmallows in the candy section the other day.  Hilariously funny, there are even three step instructions on how to roast these "Chamallows", as Haribo, the German confectionery company calls them.  Who would have thought.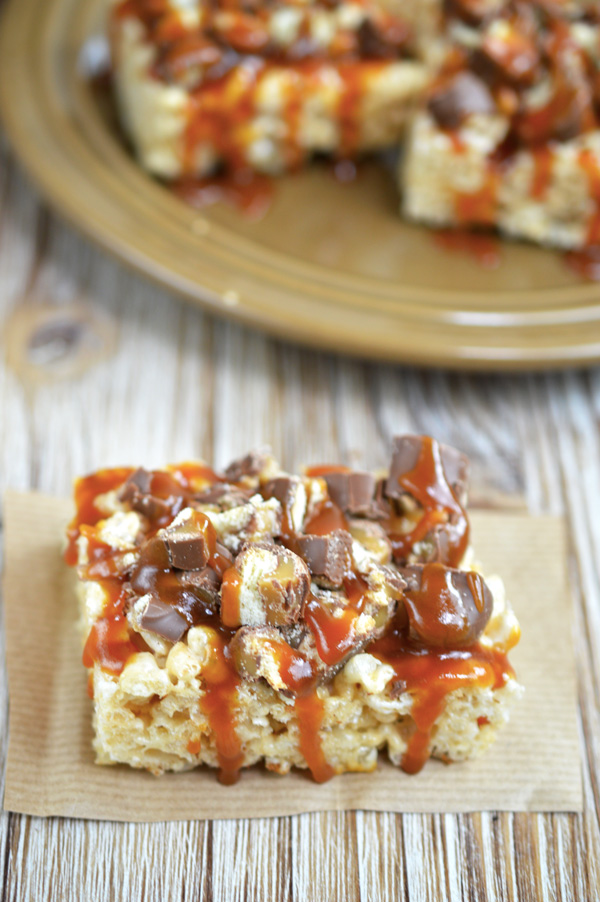 The following recipe is a slightly adapted version of the classic Rice Krispy recipe. I've also decided to take this recipe a step further by topping it off with one of my much loved American candy bars, Twix, as well as gooey salted caramel :: caramello salato.  The result? Sweet and salty goodness. So tasty that I need to start giving them away because I don't think that eating two in a row counts as quality taste control.
Salted Caramel and Twix Rice Krispy Treats
Crunchy Rice Krispy Treats topped with pieces of Twix and smothered in a salted carmel sauce makes for one easy and heavenly dessert.
Ingredients
For the Rice Krispy Treats:
Adapted from: Kellogg's Rice Krispy
6 cups (150g) Kellogg's® Rice Krispies® cereal
3 tablespoons butter (42g)+ more for buttering bowl and saucepan
1 package (10 oz. (285g), about 40) regular marshmallows
For the Twix:
15 fun-size Twix, cut up into chunks
For the Salted Caramel Topping:
Adapted from Sally's Baking Addition
Makes 2 cups
2 cups (200g) granulated sugar
12 tablespoons (180g) unsalted butter at room temperature, cut up into chunks
1 cup (240ml) heavy cream, at room temperature
1 teaspoon course salt
¼ teaspoon vanilla bean paste, optional
Instructions
To Make the Rice Krispy Treats:
Butter a 13 x 9 x 2 inch (33 x 23 x 5 cm cm) square baking pan and set aside.
Butter a large bowl and add 6 cups Rice Krispy cereal
Melt the butter over low heat in a medium saucepan. Add the marshmallows and continue to stir until they are completely melted.
Pour the mixture over the Rice Krispy cereal and stir until the cereal has been well coated.
Press the mixture evenly into the baking pan. Cool completely before cutting into squares.
To Make the Salted Caramel Topping:
Evenly add the sugar to a medium saucepan and heat over medium heat, whisking continually as the sugar begins to melt. The sugar will form clumps but keep whisking as they will eventually melt into a deep amber colored liquid.
Slowly add the butter and be super careful in this step as the liquid will ferociously begin to boil up. Continue to whisk together until the butter is completely melted.
Remove the sauce from the heat and drizzle in the heavy cream. Be careful in this step as well as the mixture will also bubble up. Whisk until well combined.
Stir in the salt and vanilla paste, if desired.
To Assemble:
Place the Rice Krispy treats on a serving dish or cutting board.
Distribute the Twix pieces on top of the Rice Krispy treats.
Allow the caramel sauce to cool down for 10 minutes, so it's just slightly warm and is able to be drizzled but is a bit thicker than it was just off the stove.
Dip a spoon into the caramel sauce and drizzle over each square.
Notes
The assembled Twix and Salted Caramel Rice Krispy treats are best if eaten immediately but can also be stored in an airtight container for a few days. (To make in advance, make the Rice Krispy and Caramel and assemble the day of serving).

Any left over caramel sauce can be stored in the refrigerator for up to two weeks in an air tight container. Heat up before use and drizzle over pancakes, spread on apple slices, slather on sweet breads, frost cupcakes and cookies or top your next bowl of ice cream. The options are endless!
Related posts: