Valentine's Day is fast approaching, why not make a sweet dessert that will surely win over your loved one's heart?  Here's a spin on the classic chocolate chip cookie, only much, much bigger and layered with gooey salted caramel.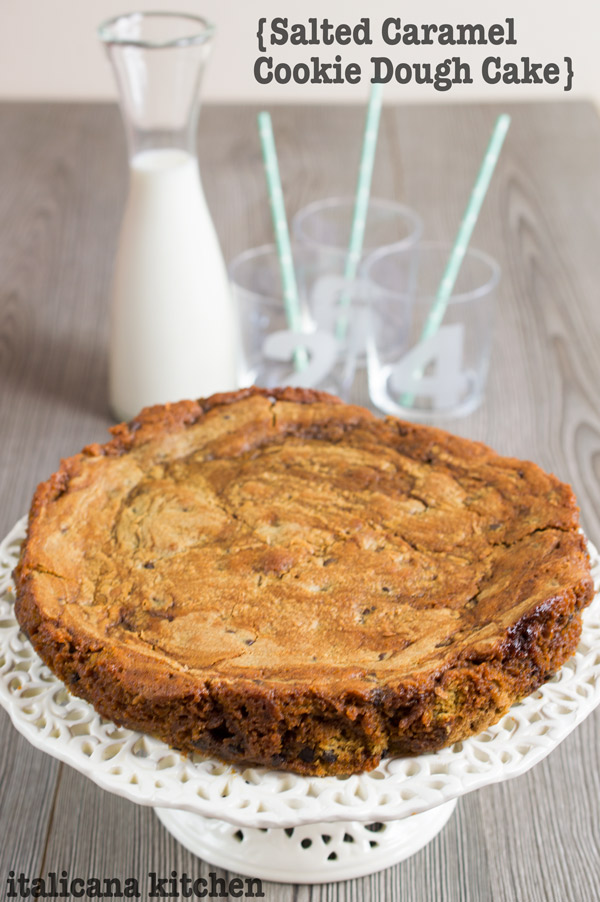 I've made this recipe for Mr. Italicano once before, and although he typically doesn't like desserts :: dolci (besides cheesecake and gelato) he raved about this one.  The chewy chocolate chip cookie dough layered with salted caramel sauce creates a heavenly combination that even a person without a sweet tooth will love.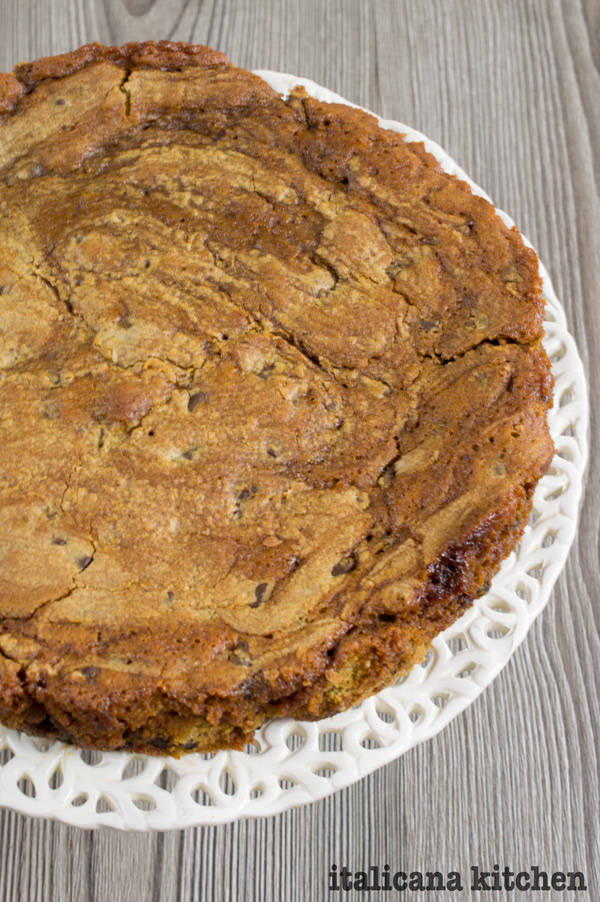 This dessert is super easy to make and you may not even have to go to the grocery store :: supermercato.  Most of the ingredients you will already find in your pantry. Got to love convenience.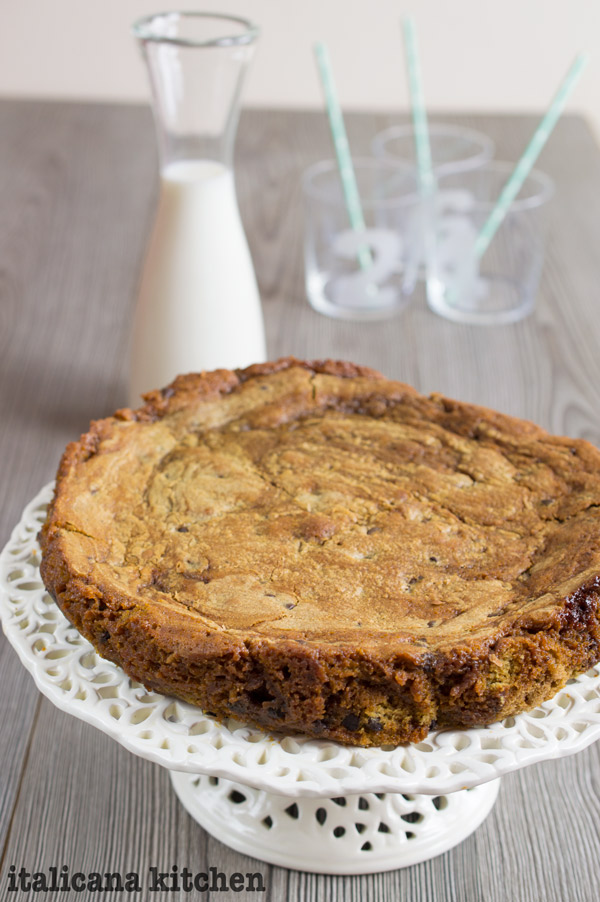 Gorgeous presentation is another benefit of this salted caramel cookie dough cake.  Just look at the photo::foto.  Does that not look elegant and hard to make? Like I said, it's ridiculously easy.  We'll keep that secret safe here though and you can just collect the compliments on your delicious and "difficult" work.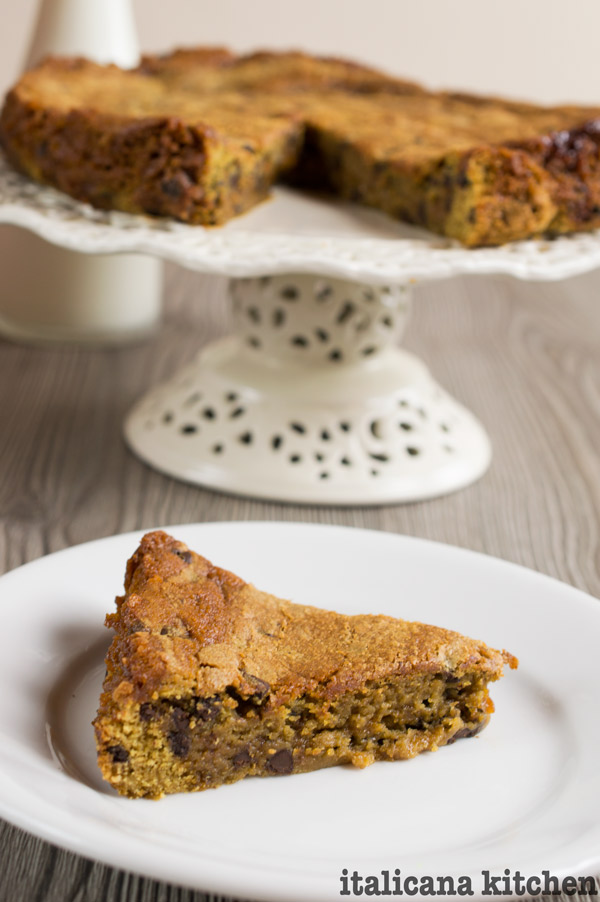 I used a round springform cake pan, if you have a heart::cuore shaped one it would be even more fitting for the sweet day.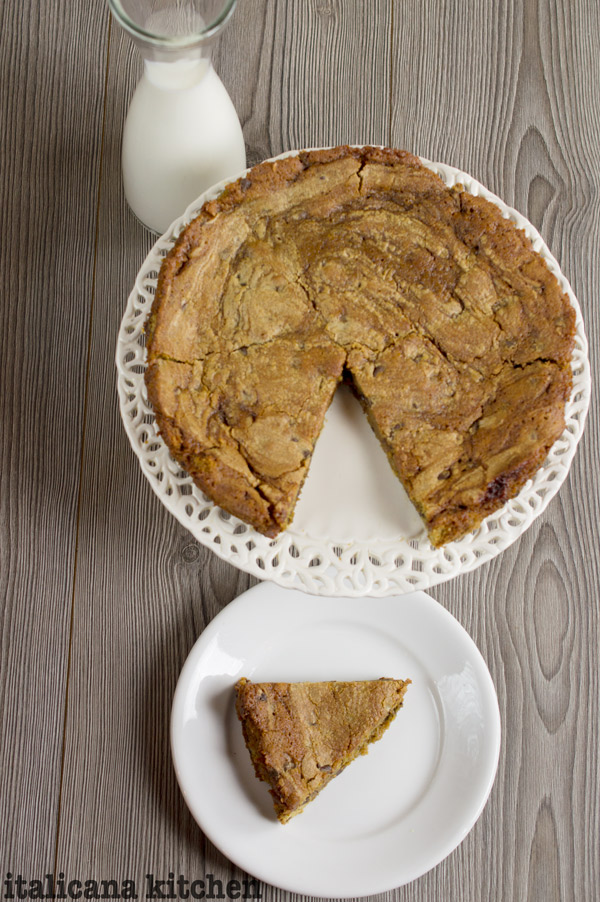 You can also get festive with the colors by substituting the brown chocolate chips::gocce di cioccolato with their colored counterpart or throw some sprinkles on top.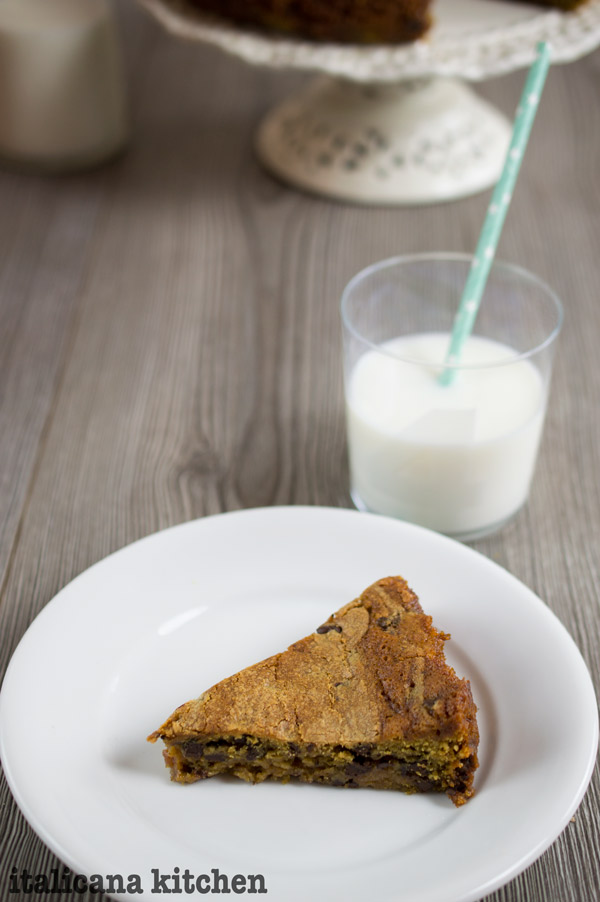 Now that you have the perfect dessert picked out, don't forget an elegant::elegante entree to start out the evening like my striped red mullet or roasted tomato and basil soup.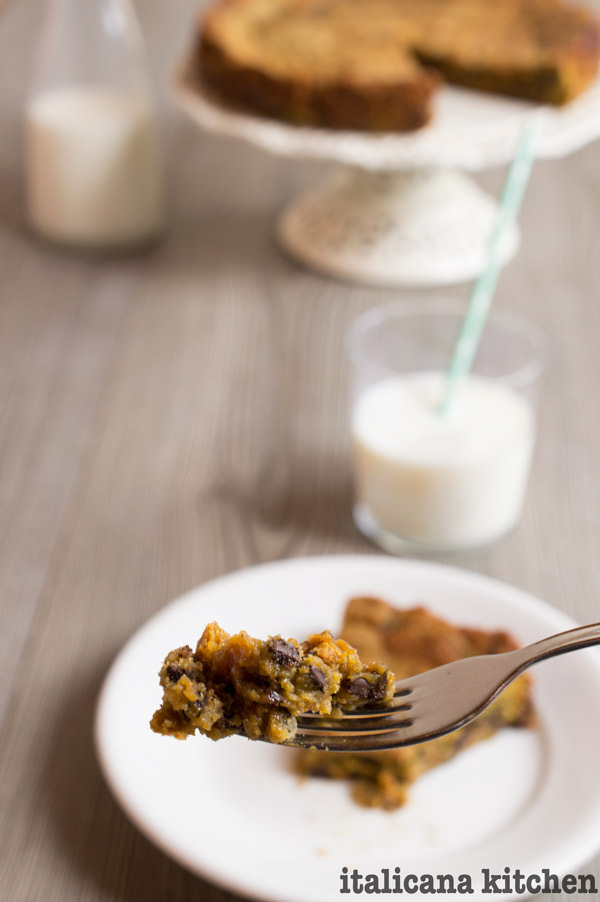 Wishing you a romantic evening spent with your loved one::una persona cara!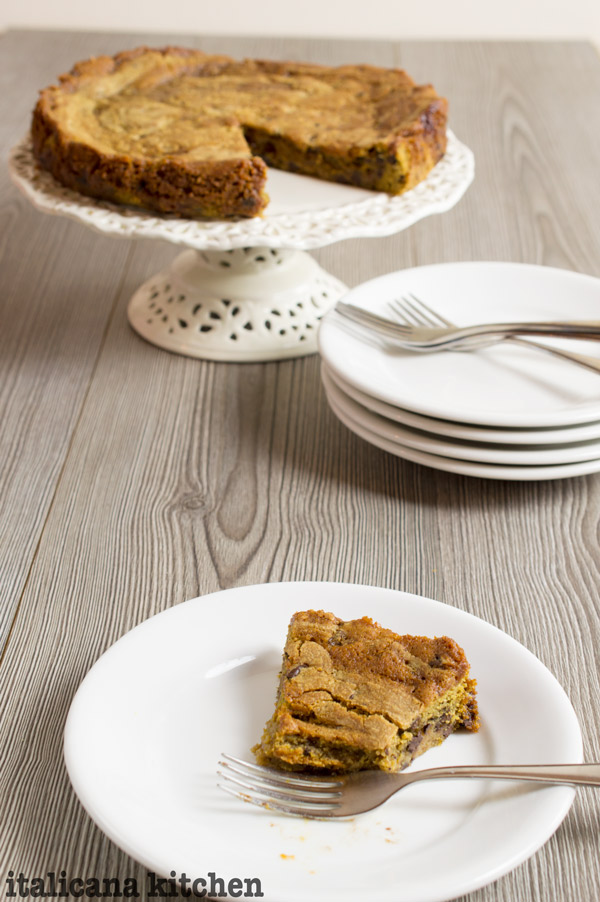 Salted Caramel Cookie Dough Cake
Here's a spin on the classic chocolate chip cookie, only much much bigger and layered with gooey salted caramel.
Ingredients
For the Salted Caramel Topping:
1 cup granulated sugar
6 tablespoons (85g) butter
½ cup (120ml) heavy cream
1 teaspoon vanilla extract or seeds from half of a vanilla bean
½ teaspoon coarse salt
For the Cookie Dough Cake:
2¼ cups (281g) flour
½ teaspoon (4g) baking soda
¼ (2g)teaspoon salt
¾ cup (170g) butter, melted
1 cup (238g) firmly packed brown sugar
½ cup (100g) granulated sugar
3 large pasteurized eggs
2 teaspoons (10ml) vanilla extract
1 cup (182g) semi-sweet chocolate chips
Instructions
For the Salted Caramel Sauce:
Evenly add the sugar to a medium saucepan and heat over medium heat, whisking continually as the sugar begins to melt. The sugar will form clumps but keep whisking as they will eventually melt into a deep amber colored liquid.
Slowly add the butter and be super careful in this step as the liquid will ferociously begin to boil up. Continue to whisk together until the butter is completely melted.
Drizzle in the heavy cream. Be careful in this step as well as the mixture will also bubble up. Whisk until thickens enough to coat the back of spoon, about 2-3 minutes.
Stir in the salt and vanilla.
For the Cookie Dough Cake:
Preheat oven to 325°F (160°C).
Line a 9 x 2½ inch springform pan with aluminum foil then spray with nonstick cooking spray or butter.
In a medium bowl, mix together flour, baking soda and salt. Set aside.
In a large bowl, combine the butter and sugars then add the eggs and vanilla. Mix well.
Add the flour mixture and mix until just combined.
Stir in the chocolate chips.
Spread ½ of the batter in the prepared pan followed by the caramel sauce, distributing to all corners and edges.
Spread the remaining batter over the caramel layer.
Bake for 40-50 minutes. The top should be golden. Cool on a rack for at least 30 minutes then carefully remove the aluminum foil and transfer to a cake plate.
Adapted from: the comfort of cooking
Related posts: