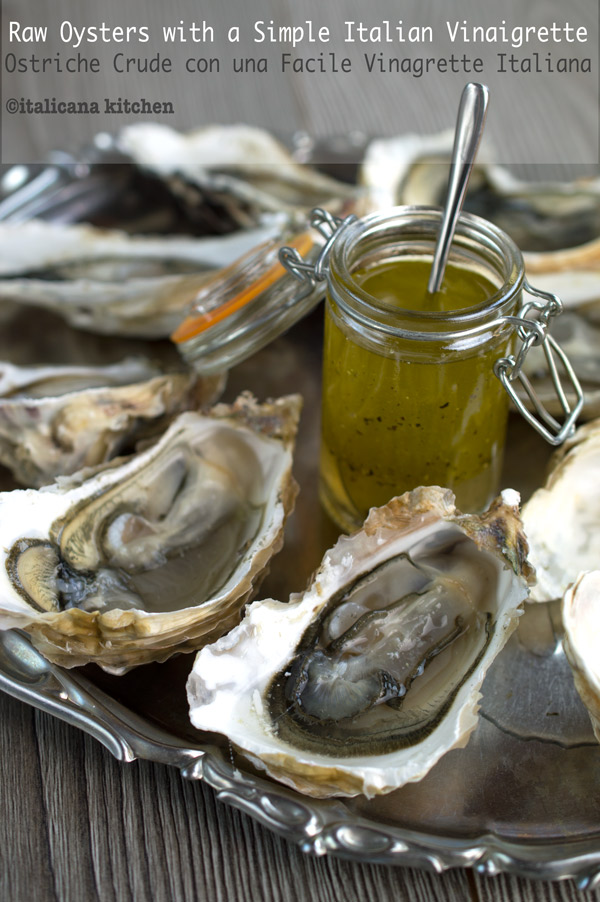 Living in Seattle, Washington, I had the advantage of finding delicious fresh raw oysters at Pikes Place Market or in the various seafood restaurants. I always ate them plain or with a squeeze of fresh lemon :: limone fresco. This time, I wanted to give them an Italian twist by serving them with a fresh vinaigrette made from good extra virgin olive oil from Liguria, a little fresh lemon I picked up in Lake Garda in the region of Trentino Alto-Adige, salt from Cervia near the Adriatic sea and black pepper.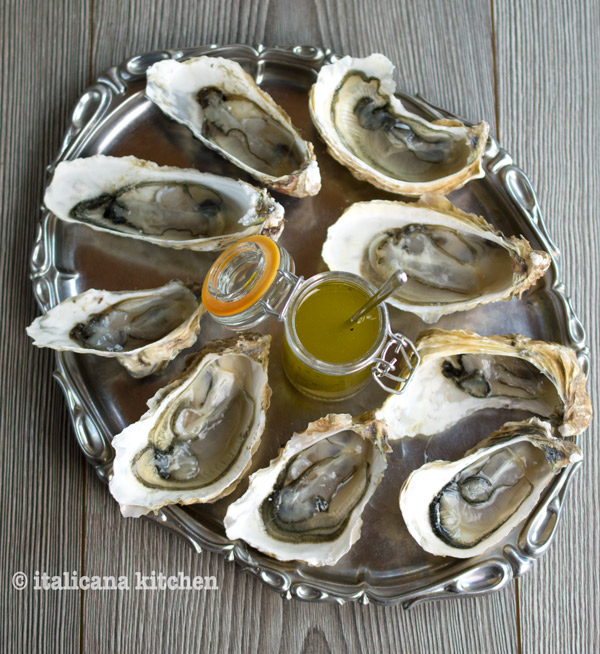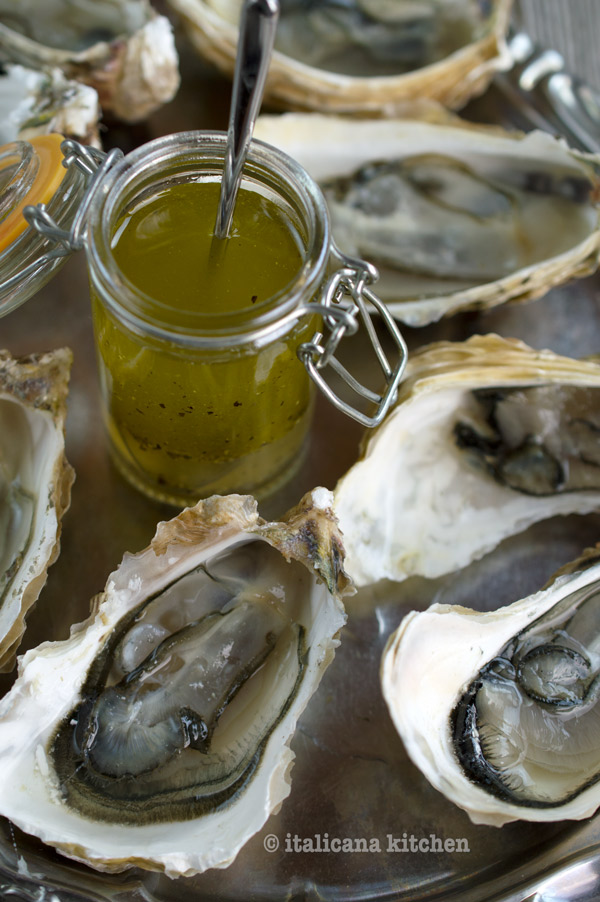 Using this vinaigrette on seafood and vegetables is quite common in Italy. There is an appetizer called pinzimonio that is simply raw vegetables (usually fennel, carrots, radicchio, tomatoes and celery) served with the vinaigrette. In Sardinia, a common recipe is Crostacei alla Catalana :: Catalonia Crustaceans. (In the past, Sardinia was dominated by Catalonia.) It is a mix of shrimp, prawns, lobster and crab that are boiled then served with the vinaigrette and often times, pinzimonio. It is usually eaten as an appetizer or main course.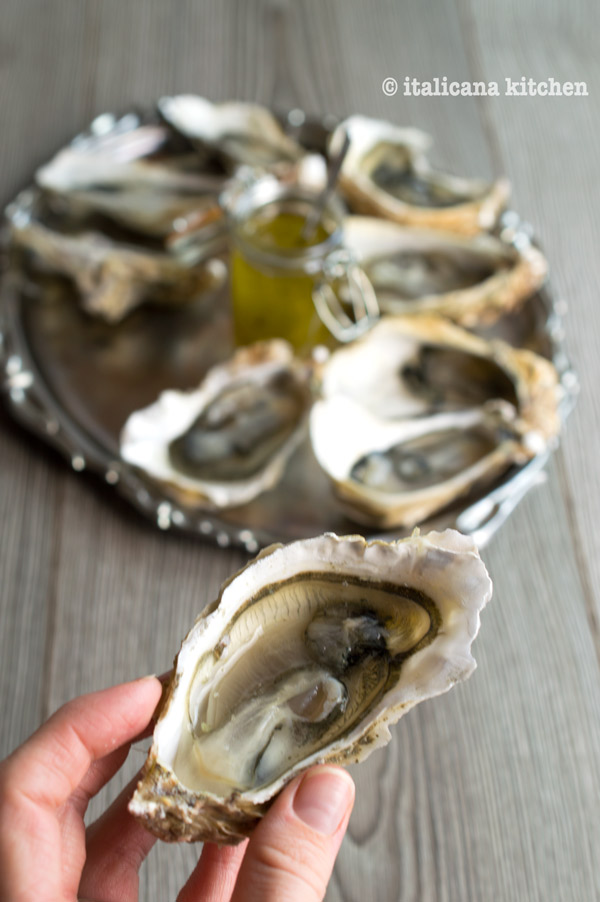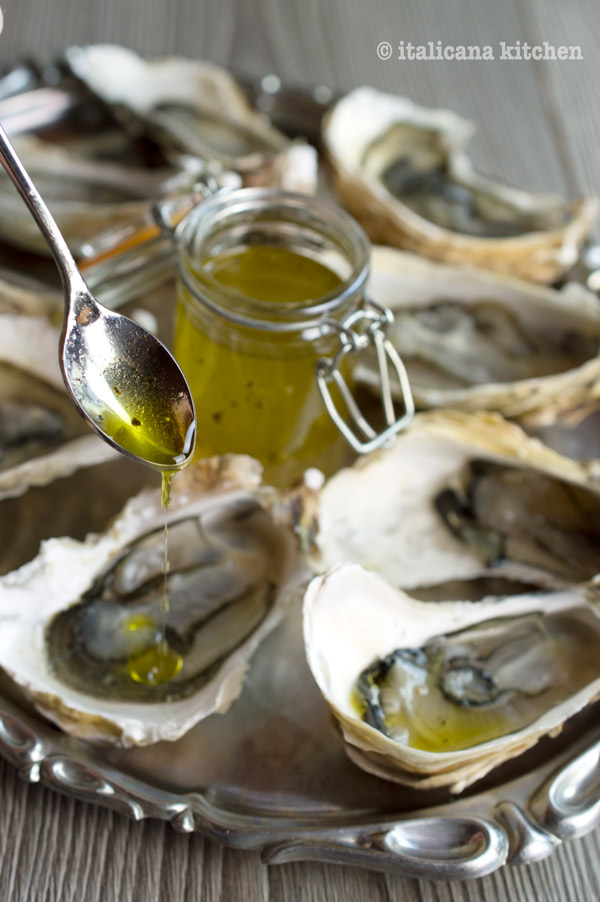 This simple Italian vinaigrette is a perfect alternative sauce for raw oysters :: ostriche crude. It is fresh with a subtle zing, a smooth finish and doesn't cover the ocean taste of the raw oysters.
Raw Oysters with a Simple Italian Vinaigrette
This simple Italian vinaigrette is a perfect alternative sauce for raw oysters.
Ingredients
¼ cup extra virgin olive oil
1-2 pinches unrefined salt
1-2 cracks of freshly ground black pepper
1-2 squeezes of lemon
9 fresh oysters, cleaned and opened
Instructions
In a small bowl, mix together the extra virgin olive oil, unrefined salt, black pepper and lemon. Taste and adjust seasonings as needed. Serve alongside the oysters.
Related posts: