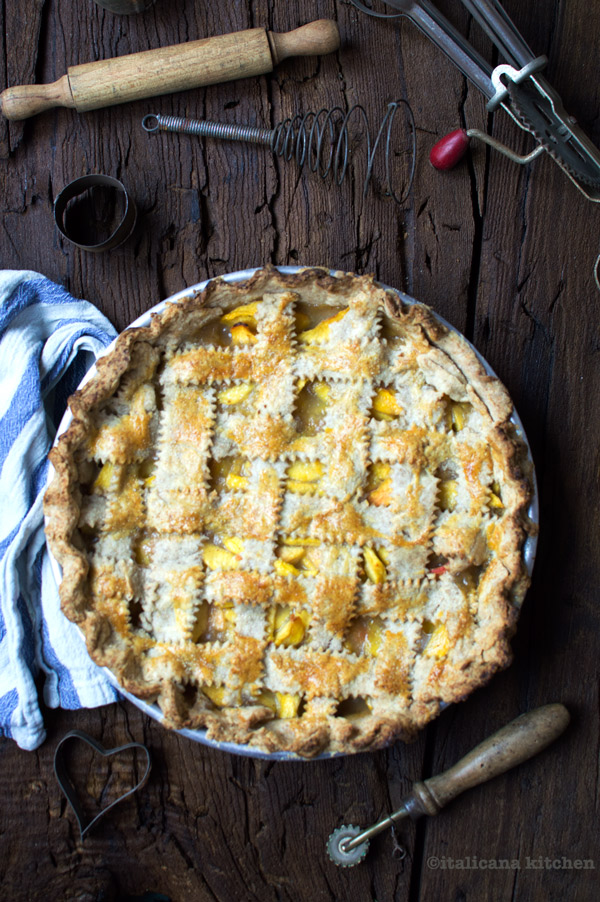 Almost every week I find myself at the farmer's market :: mercato degli agricoltori in the small town of Correggio, Italy where I live. I shift my weight back and forth on the cobble stone street as I diligently wait my turn in line. I sometimes have a grocery list, but most often I just let my eyes do the shopping. What new produce has my favorite stand brought to the square this week? What recipes come to mind as I gaze at the colorful display?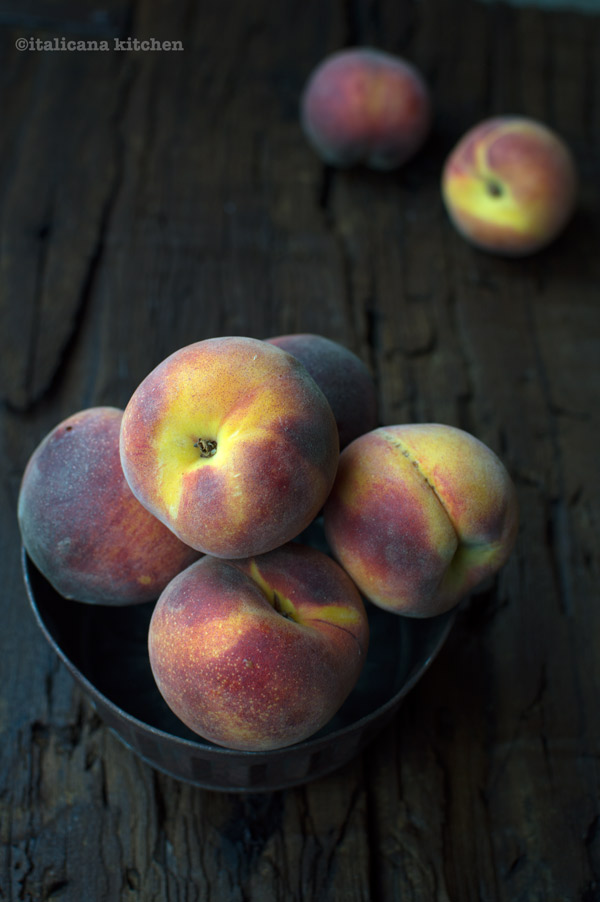 Peach pie :: torta di pesca—that's what comes to mind. Those lovely succulent peaches I eye in the center of the stand are begging to be the stars in my lattice-top peach pie. I haven't yet made a pie this summer. Shame on me. It's about time.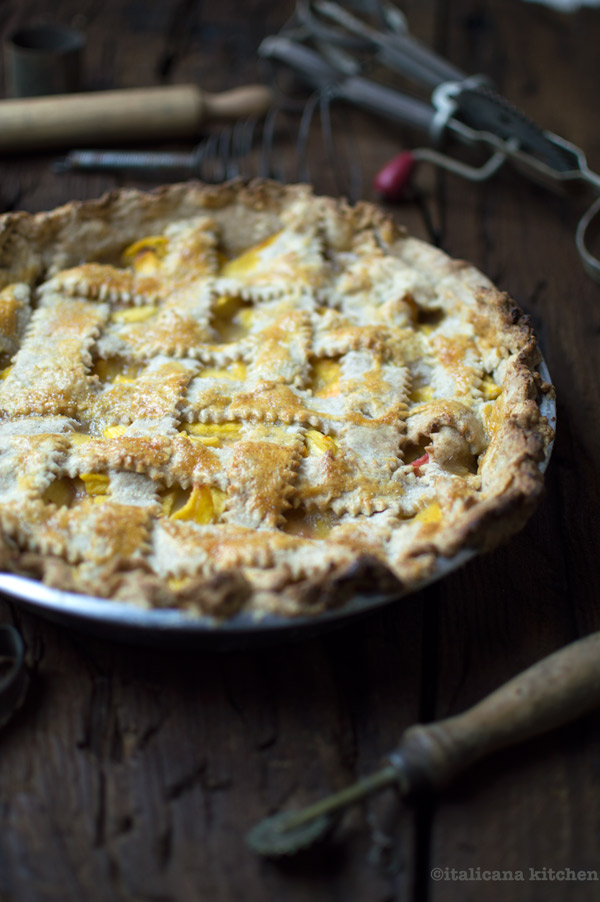 I think that a freshly baked pie is the best dessert after a home cooked summer meal. Growing up in Eastern Washington State we ate a lot of pies, specifically strawberry, plum, pear, rhubarb :: rabarbaro and apple pies because my parents grew these fruits. And, if we drove through central Washington we would always stop at the roadside markets to pick up a large box of ripe peaches that filled our car with a deliciously sweet aroma.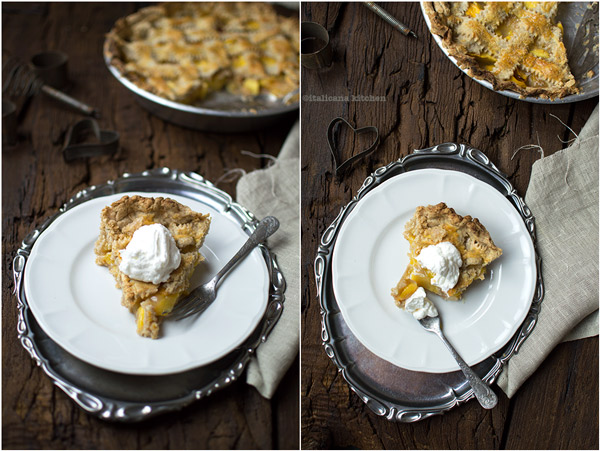 Did you know that peaches are originally native to China :: Cina? There are hundreds of varieties that differ in flavor and color. In the region of Emilia-Romagna, Italy, I most often find yellow, white and Saturn peaches, which are shaped like small donuts and are a bit sweeter than the other two varieties.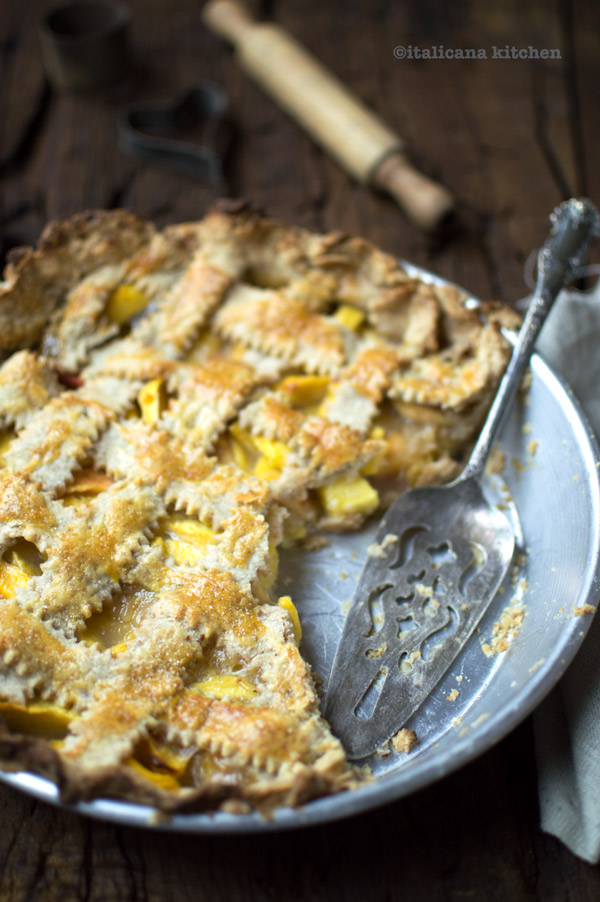 With my shopping bag :: borsa da spesa tucked in my bicycle basket I ride back to my house. I lift my large wooden cutting board onto the table and grab my old Italian rolling pin that belonged to Mr. Italicano's great grandmother. I flour the surface and line up all the necessary ingredients. I prepare the pie with love, I adore making food by hand. I finally pull the bubbling peach pie out of the oven, and let it cool as I prepare dinner for Mr. Italicano and I. Oh what torture it is to see this mouthwatering pie resting on my stovetop…but I do know that the consistently will be better if I let it cool. Finally, after a lovely dinner and hours of waiting, I cut Mr. Italicano and I a slice. I drop a dollop of freshly made whipped cream on top and stick a forkful into my mouth. Bliss. It's just what I had been craving….the flavors of summer.

Peach Pie
There's nothing that says summer more than a delicious peach pie.
Ingredients
For the pie crust:
16 tablespoons (225g) unsalted butter
1½ cups (170g) whole wheat flour
1 cup (145g) all purpose flour
2 tablespoons (26g) light brown sugar
½ teaspoons (3g) salt
4-6 tablespoons ice water
For the filling:
3 lbs (1.4 kg) ripe peaches (about 9 small peaches)
1 tablespoon freshly squeezed lemon juice
½ cup (90g) light brown sugar
2 (20g) tablespoons whole wheat flour
2 (20g) tablespoons cornstarch
2 pinches sea salt
2 pinches of grated nutmeg
A few dashes of cinnamon
Instructions
For the pie crust:
Cut the butter into small pieces, stick them on a plate and pop it into the freezer for five minutes.
Put the flours, light brown sugar and salt in the bowl of a stand mixer and mix with the paddle attachment until blended. On low speed, add the pieces of butter and gradually increase the speed to medium-low. When the butter chunks are the size of peas, reduce the speed to low and add the water one tablespoon at a time, just until the dough comes together. Remove the dough, divide it into two equal pieces, press into disks, wrap with plastic wrap and pop them in the refrigerator for at least half and hour (or up to 2 days). You can also freeze this dough for up to 1-2 months, just let it thaw out for a day in the refrigerator before use. Now get your filling on.
For the pie filling:
Peel the skin off the peaches, pit them, slice them and toss them in a large bowl and stir in the lemon juice. In a separate small bowl combine the light brown sugar, flour, cornstarch, sea salt, nutmeg and cinnamon. Stir until combined and then add the mixture to the peaches and toss to coat.
For the oven:
Preheat to 425°F.
To assemble the pie:
Flour a large work station. Now flour it again, you probably didn't put enough. This dough heats up quickly and will turn into a frustrating doughy-buttery mess if you don't flour the bottom and top enough. Don't skimp.
Take out one of the pie disks and lay it on your now well floured table. Flour the top of the disk as well as the rolling pin and roll it out until it's about 12-inches. Roll the dough onto the rolling pin and gently lay it over a 9-inch pie plate so that there is some overhang. Add the fruit mixture and juices to the bottom pie crust.
Flour your workstation again, then roll out the second disk to a 12-inch round.
For a regular lidded top:
Simply roll up the dough onto the rolling pin and set it over the pie plate. Crimp the edges together and cut a few slits in the center so the pie can vent when cooking. You can also use cookie cutters to cut a decorative vent before you sent the crust on top of the pie plate. I hope to make my own video soon, but in the meantime you can watch this quick video to see how it's done.
For a lattice-top:
Use a pastry wheel, pizza cutter or knife to cut the rolled out pie crust in 1-inch strips. Then weave together the lattice strips to form a lattice top. Trim off excess dough and crimp the edges together. I hope to make my own video soon, but in the meantime you can watch this quick video to see how it's done.
For the finishing touches:
Brush the top of the pie with a extra virgin olive oil, milk or a beaten egg. Sprinkle with light brown or cane sugar.
Baking:
Bake for 20 minutes then reduce the oven temperature to 375°F. Continue to bake for another 35-40 minutes or until the crust is golden brown. (Check on the pie a few times. If it is browning too quickly, tent loosely with foil and continue baking as indicated above.)
Cooling:
Although it will be torturous to wait, let the peach pie cool 2-3 hours before serving so that the juices will have thickened up. Store the pie at room temperature or in the fridge. Slice and serve with whipped cream or ice cream.
Adapted from Smitten Kitchen
Related posts: