I don't know about you, but I think fish baked in parchment paper just looks uber fancy.  Who would of thought that something so elegant could be so easy? I think you'll be surprised to know how uncomplicated and effortless this parchment baked striped red mullet with wasabi and yellow curry sauce recipe is to make.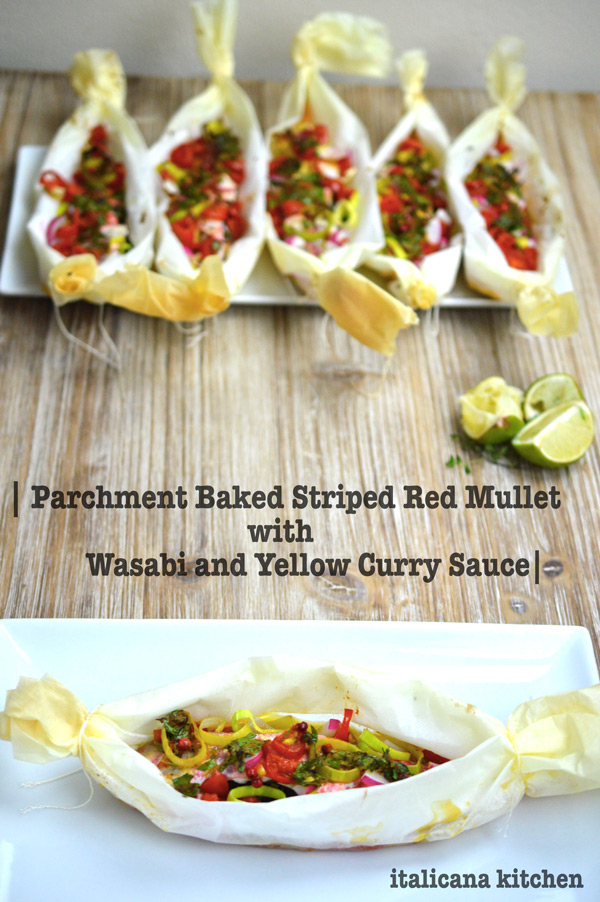 You can really let your creativity :: creatività fly when cooking fish in parchment paper.  Toss in a variety of chopped fresh vegetables, drizzle some extra virgin olive oil on top, pop it in oven for 20 minutes and you've got yourself a quick and healthy meal.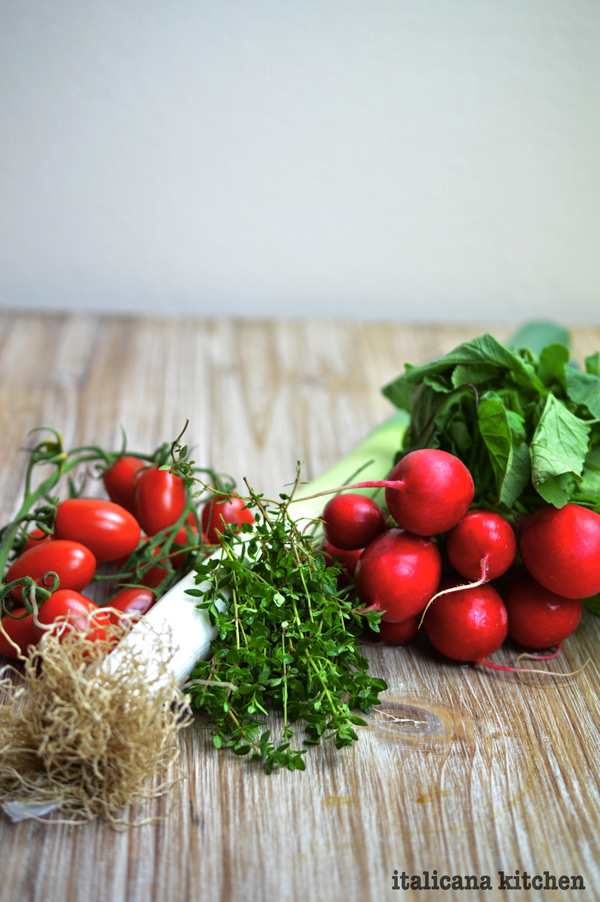 In this recipe, I decided to use leeks :: porri, radishes, tomatoes and oregano all drizzled with a spicy wasabi and yellow curry vinaigrette.  It was a perfect pair and gave a little zing to an otherwise delicate flavor.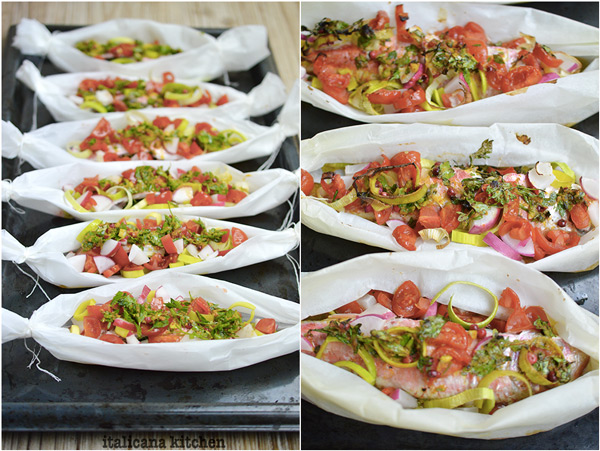 The first time I used striped red mullet, I had it filleted and deboned and slowly cooked it in a savory red sauce.  This time, I decided to cook it whole and I have to admit that due to the amount of bones the striped red mullet :: la triglia  has, it takes a lot of patience and work to eat. Therefore, instead of baking the fish whole you could just as easily bake the fillets in the parchment paper. It is definitely what I will be doing next time!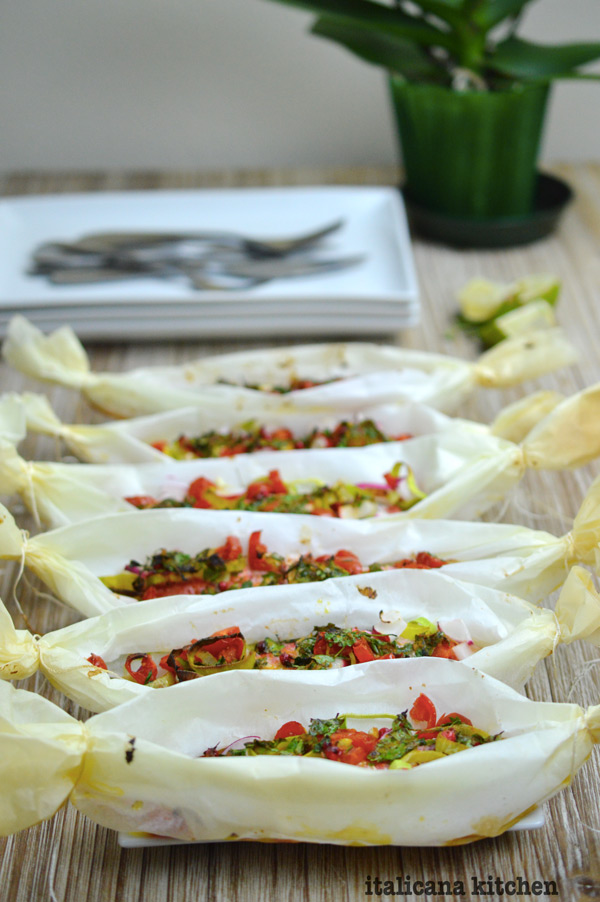 I had been dying to try out my yellow curry paste that my friend Wes from Hong Kong brought over for me. You would be surprised at how hard it is to find ethnic spices and foods here in Italy unless you go to big cities like Milan or Rome.  When I visit the States, I usually bring back bottles of Sriracha, seasonings, and of course, peanut butter :: burro di arachidi, not that you can't find jars of it here, but it is so expensive!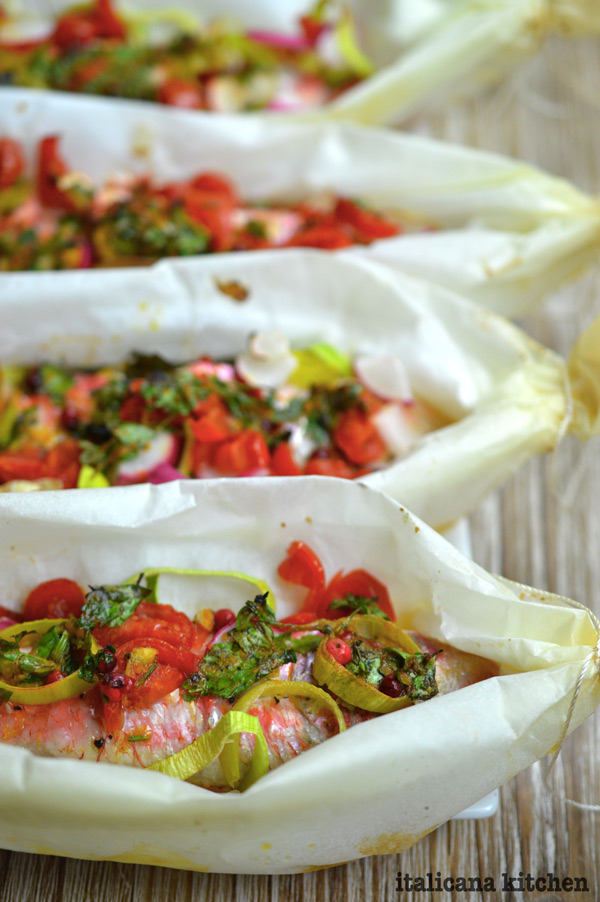 If you don't have wasabi or yellow curry :: curry giallo paste, you could easily substitute these ingredients with a few pinches of dried red chili flakes or skip the heat altogether for a milder flavor.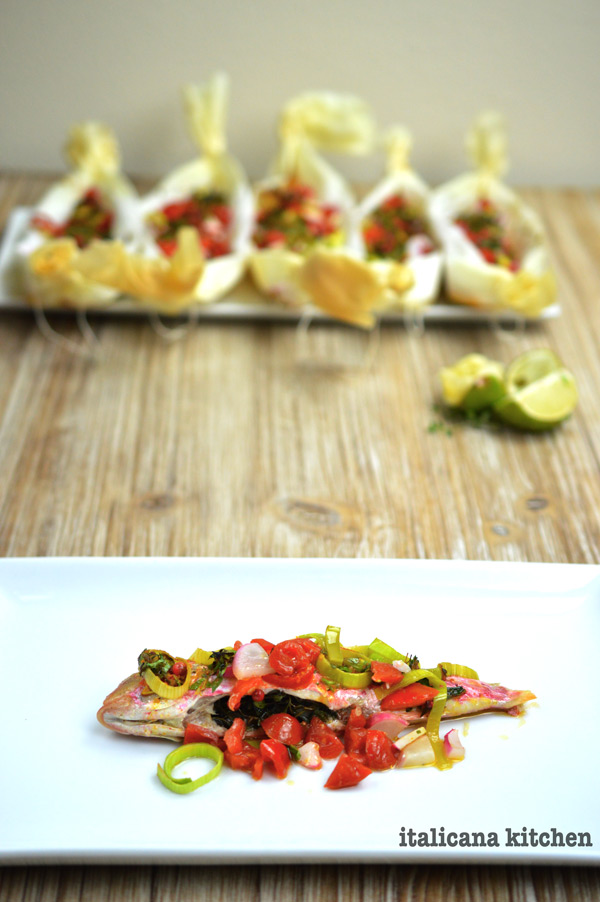 I hope you enjoy this recipe, let me know what you think in the comment section below!
Parchment Baked Striped Red Mullet with Wasabi and Yellow Curry Sauce
This mouthwatering recipe for parchment baked striped red mullet with wasabi and yellow curry sauce is uncomplicated and effortless to prepare.
Ingredients
For the fish:
6 red mullets, whole or filleted
6 small twigs fresh oregano
¼ leek, sliced
3 radishes, chopped
10 datterini tomatoes, chopped
For the sauce:
1 clove garlic, finely chopped
½ cup extra virgin olive oil
1 handful parsley, finely chopped
1 lime wedge, squeezed
½ teaspoon wasabi paste
1 teaspoon yellow curry paste
½ teaspoon red peppercorns
Salt and pepper, to taste
Instructions
Preheat the oven to 390°F (200°C).
Cut six pieces of parchment paper large enough for each fish to lie inside. Wash and dry the fish then set them on their individual sheets of parchment paper.
Stuff the insides of each fish with 1 small twig of oregano.
Divide the leeks, radishes and datterini tomatoes and layer on top of the fish.
In a small bowl, combine the garlic, extra virgin olive oil, parsley, lime juice, wasabi paste, yellow curry paste, red peppercorns, salt and freshly ground pepper. Stir well then drizzle the sauce on top of each fish.
Pinch the end of the parchment paper and tie it with a baking string, so the paper looks like a small canoe. Repeat for all the fish.
Bake for 20 minutes. Serve warm.
Inspired by [apron and sneakers|http://www.apronandsneakers.com/2013/05/parchment-baked-red-mullet-fish-with.html}
Related posts: