Do you love peanut butter?  Do you love Nutella?  Ever thought of blending them together to make a mouthwatering peanut butter and Nutella ice cream sandwich?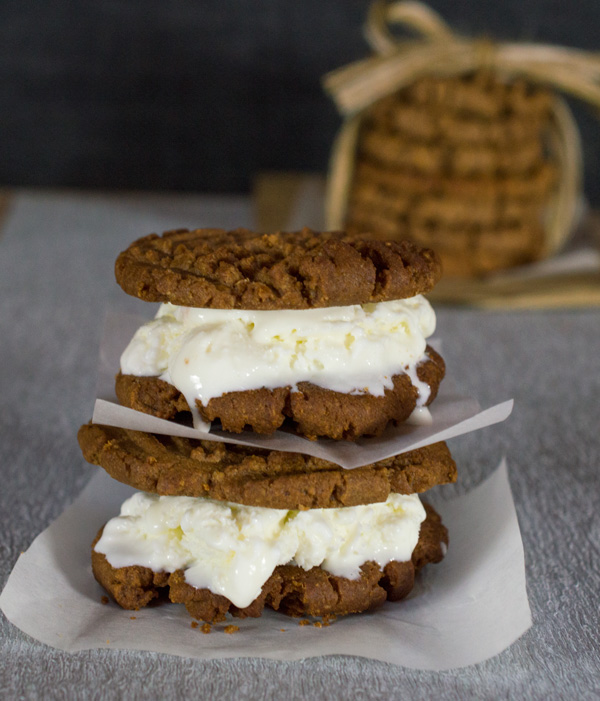 One of the things I absolutely love about living a culturally split life, is the fact that I can blend both worlds in the kitchen to fulfil both my native and acquired hunger cravings.  Peanut butter :: burro di arachidi was a staple in my all-American childhood and still continues to be one of my best friends today, well, that was until I moved to Italy nearly 5 years ago and Nutella took the place at the end of my spoon :: cucchiaio. For all you Nutella virgins, this delicious smooth sauce is a blend of chocolate and hazelnut flavors with a variety of uses much like peanut butter: slather it on toast, swirl it into gelato or eat spoonfuls straight out of the jar :: barratolo. (Anyone else  guilty of this?)
So to appease my indecisive taste buds I decided to combine these two delicious spreads to create a heavenly ital-american dessert :: dolce.  These peanut butter and Nutella cookies can be eaten alone, or as this recipe calls for, as a melt-in-your-mouth ice cream sandwich :: panino.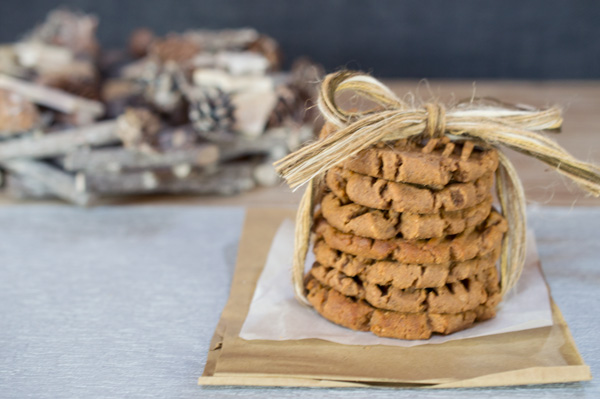 ::Did you know?:: 
In America we often ask for a "panini" to intend "sandwich". The phrase, "May I have a sun dried tomato and pesto panini, please?" is wrong.  In this context you are asking for many sandwiches, not just one. I won't go into an elaborate Italian grammar explanation, just remember that: panino=1, panini=more than one.
::Did you know?:: 
As we know in America, we typically pay per scoop :: pallina of ice cream. If we want one or more flavors we usually need to pay for them individually.When you order gelato at a gelateria, an Italian gelato shop, on the other hand, you always have the option to have multiple flavors in one cup/cone for the same price :: prezzo. For instance, in a small cup/cone you can have two flavors and a medium cup/cone three flavors etc.  When you order a to-go container, this rule also applies and you get to pick up to six flavors per container; talk about amazing…especially for people who like to have loads of flavor options.  It's also great for this recipe as you can have a variety of gelato sandwiches without having to have 6 different ice cream tubs in your freezer!
Mouthwatering Peanut Butter and Nutella Ice Cream Sandwiches
Do you love peanut butter? Do you love Nutella? Ever thought of blending them together to make a mouthwatering peanut butter and Nutella ice cream sandwich? Keep these ice cream sandwiches on hand in the freezer as treats for the kids or an easy and delicious dessert for dinner parties that you can make ahead for a stress-free dessert. These are also gluten free.
Serves:
26 cookies (13 gelato panini)
Ingredients
For the cookies:
2 cups all natural peanut butter
½ cup sugar
2 eggs
2 Tablespoons Nutella
Seeds from 1 vanilla bean ( or 2 teaspoons vanilla extract)
For the ice cream and decorating:
Ice cream or gelato, flavor of choice
Chocolate chips, sprinkles or nuts (optional)
Instructions
1. Preheat the oven to 350 F. Line a baking sheet with parchment paper.
2. Combine the cookie ingredients in the order given and mix together with a hand mixer until the ingredients are combined. To open the vanilla bean, simply slice down one side and scrape out the tiny beans with a dull knife.
3. Roll the mixture into walnut sized balls and set them on the lined baking sheet. Using a fork, make multiple criss crosses on the ball to flatten each ball.
4. Bake for 10-12 minute in a ventilated oven, or until the edges are gold brown. Let the cookies cool on a baking rack.
5. Take the ice cream or gelato out of the freezer and let it thaw until it is just soft enough to scoop. Put the chocolate chips, sprinkles and nuts in separate shallow bowls (put a small amount and continue to add more when needed). Spoon a spoonful of ice cream on the bottom side of the cookie and top with the bottom side of another cookie to create a ice cream sandwich (in other words, the flat parts of the cookie should be touching the ice cream.)
6. Roll the edges in one of the dry toppings, wrap with plastic wrap and immediately put the cookie into the freezer. Repeat. Allow the ice cream sandwiches to rest in the freezer for at least 30 minutes before eating otherwise the soften ice cream will come out the sides when you take a bite. Unwrap the needed amount and serve immediately.
O
Related posts: