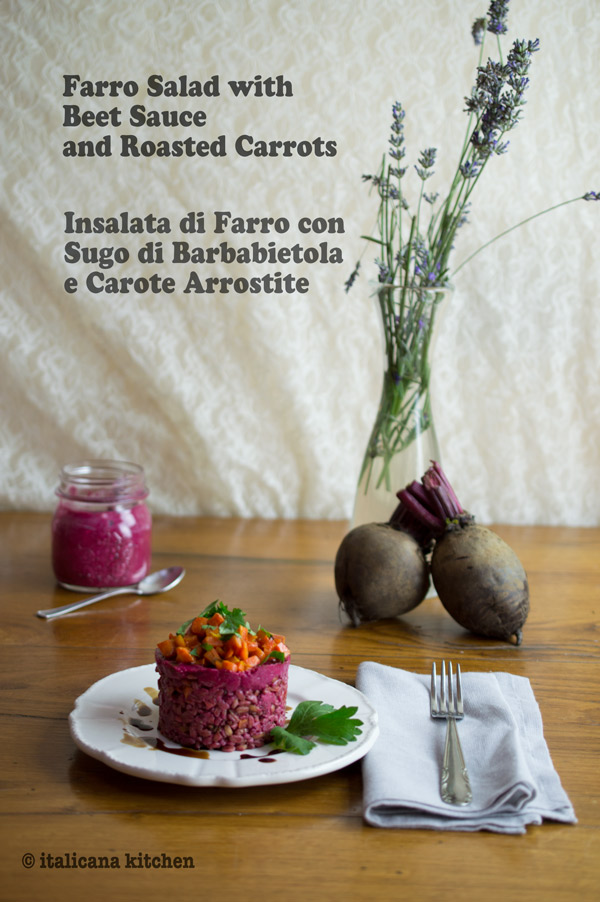 I had a devious plan when I made this recipe :: ricetta. I wanted to see if Mr. Italicano really didn't like beets or if it was just a psychological or textural hatred for this lovely purple vegetable.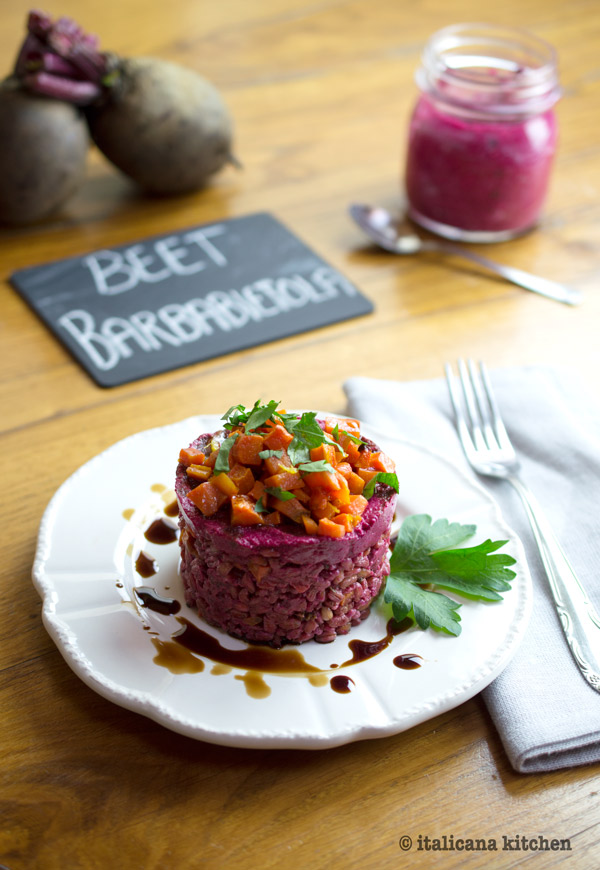 Just as I thought, Mr. Italicano devoured his plateful of farro with beet sauce and roasted carrots. He actually complimented me on how good this dish was in between bites. I, of course, kept my mouth shut, took a sip of my red wine :: vino rosso and smiled sweetly back at him, enjoying my sneaky little trick.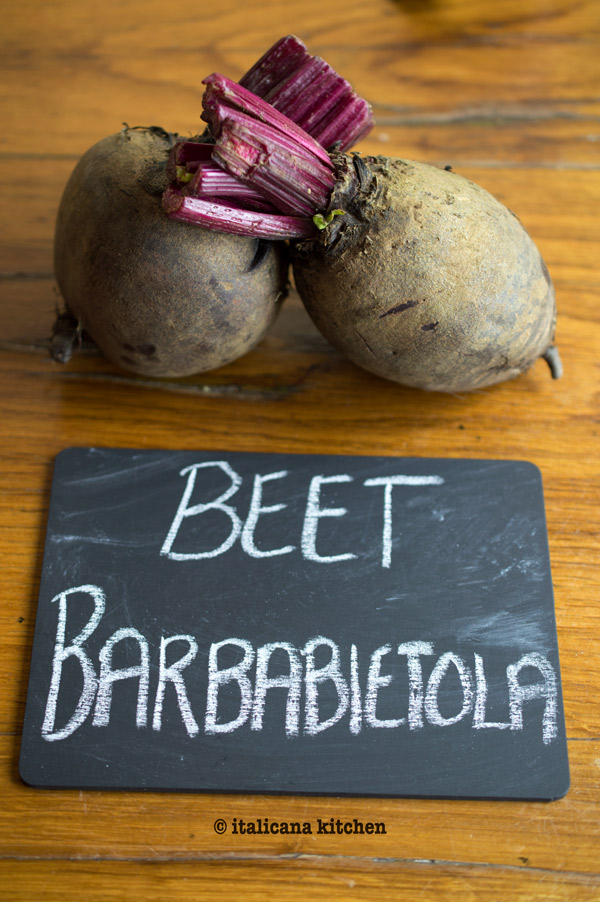 Then, the moment came when Mr. Italicano asked what was inside. Luckily by this time, his plate was almost clear. As I mentioned the word beet :: barbabietola, I watched him cringe. Yes, definitely a psychological hatred and hopefully one that I've helped him kick as I love cooking with beets.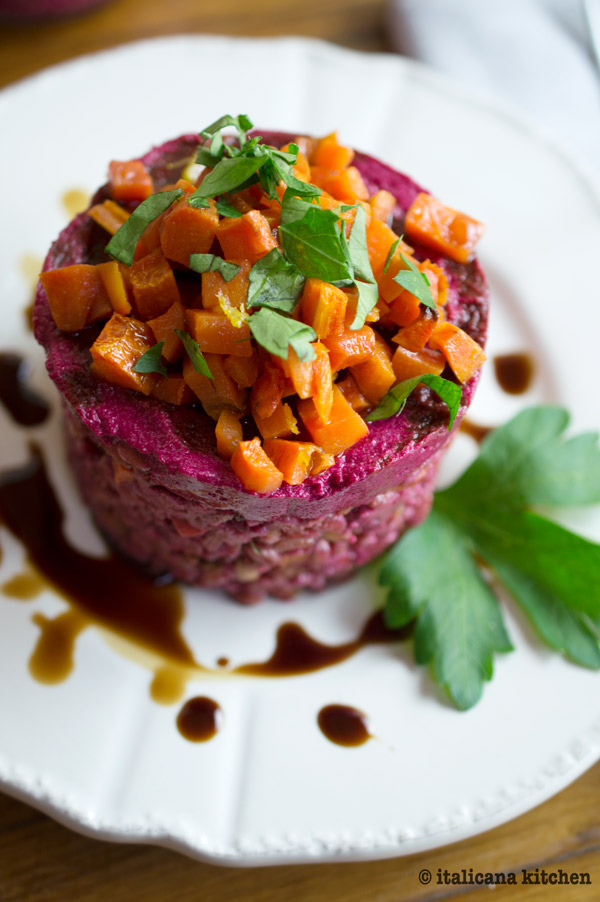 After the farro is cooked, it is versatile like rice :: riso— I love mixing in blended vegetables like my beet sauce or kale pesto. Here are some other ideas of yummy alternatives from bloggers around the web:
Roasted Cauliflower and Farro Salad with Feta and Avocado from Cookie and Kate—A great winter salad recipe.
Farro Salad with Lentils, Beans, and Oven Roasted Vegetables found on Serious Eats – Not just a salad, but a complete meal.
Warm Farro Salad with Spinach and Mushrooms from Little Spice Jar— A great side for special dinners.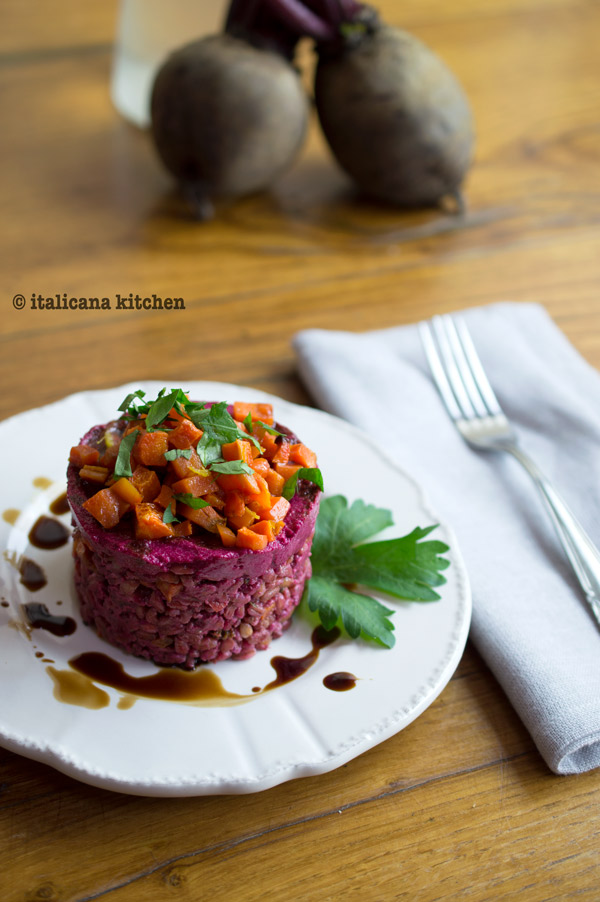 This farro salad with beet sauce and roasted carrots can be served as a side salad, or even as a vegetarian :: vegetariano main course. It is especially great when you host large dinner parties and need to easily (and elegantly) serve a large amount of people.

Farro Salad with Beet Sauce and Roasted Carrots
This farro salad with beet sauce and roasted carrots is a delicious and healthy Italian side dish or vegetarian main coarse.
Cuisine:
Italian/American
Ingredients
For the beet sauce:
3.5oz (100g) feta
½ pound beets (1 medium beet)
1 tablespoon extra virgin olive oil
½ squeeze of a lemon
1 pinch of salt
*Don't like beets? Try mixing in my kale pesto
For the farro salad:
2 carrots, cubed
⅛ tsp dried basil
¼ tsp fresh ginger, grated
Unrefined salt, as needed
Extra virgin olive oil, as needed
1¼ cup (230g) farro
Instructions
For the beet sauce:
Preheat the oven to 400°F (200°).
Wash the beet well and wrap it in a piece of aluminum foil. Place on a cookie sheet with raised lips or in a baking dish in case the liquid drizzles out.
Cook for 50-60 minutes, opening the foil and checking half way through. The cooking time will depend on the size of the beets. *(Add the carrots at this time, see below.)
The beets are ready when you can easily poke a fork in the center. Let them cool slightly then use a paper towel to rub the skin off. If the skin is not easily coming off, put the beets back in the oven for a few minutes.
After the skin has been removed, blend all of the ingredients together.
Mix 2-3 spoonfuls of the beet sauce into the farro salad. Any left over sauce can be used as a dip with raw vegetables or a spread with crackers or can be mixed into pasta, couscous, millet, quinoa etc. Store in the refrigerator and consume within 3-4 days.
For the farro salad:
Line a cookie sheet with raised lips with parchment paper
In a small sized bowl, toss the carrots together with the basil, ginger, salt and extra virgin olive oil. Place on the cookie sheet and bake alongside the beet for 30 minutes. (I like to give the veggies a stir every 10 minutes to prevent the outer carrots from burning.)
In the meantime, bring a medium pot of water to boil. Add course salt followed by the farro. Cook for ½ hour. Drain.
Put the farro in a large bowl and mix in 2-3 spoonfuls of beet sauce and roasted carrot. Serve. Or, if you want to present the salad like the photo, set a pastry ring in the middle of a plate and add the farro that has been mixed with the beet sauce, topped by another layer of beet sauce and top with the roasted carrots. Buon appetito!
Related posts: