EVENTS PAGE 
Here is a list of upcoming events for italicana kitchen. Keep checking back as more events will be added or sign up for my newsletter to get the events and weekly recipes delivered to your email.
We are taking sign ups for November Classes:
ITALY
These courses are for Italians who want to practice their English as well as learn how to cook some vegetarian recipes and pair them with wine: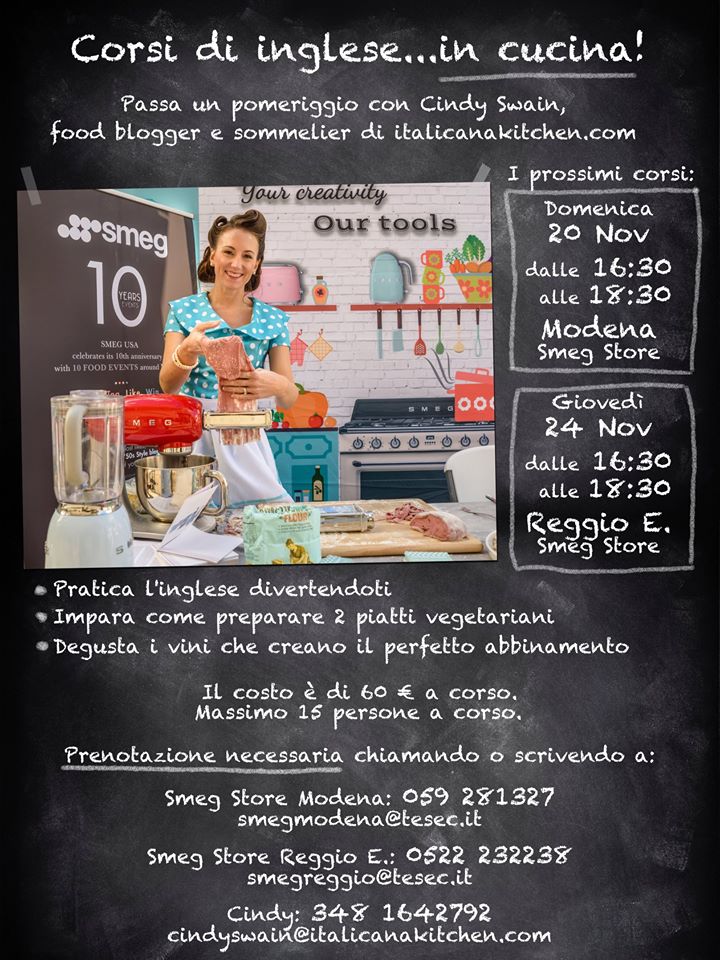 Sunday, November 20th – "Corsi di inglese…in cucina!"  – 16:30-18:30, Modena, RE, Italy at SMEG MODENA 
Thursday, November 24th – "Corsi di inglese…in cucina!"  19:00-22:00 Reggio Emilia, Italy at SMEG REGGIO EMILIA 
If you are interested please email me at cindyswain@italicanakitchen.com to sign up. The cost is 60euros per course for this two hour English conversation lesson, cooking class and wine tasting. Sign up now as space is limited! (15 people max)
Thank you for your support. I hope to meet you in person!
USA
LIST OF EVENTS: DATES COMING SOON
SEATTLE, USA  
SPOKANE, USA
COUR D'ALENE, USA
VANCOUVER, CANADA
SAN FRANCISCO, USA