This delicious baked sole recipe makes a quick and healthy meal option when you want to eat light and don't have a lot of time to spend in the kitchen.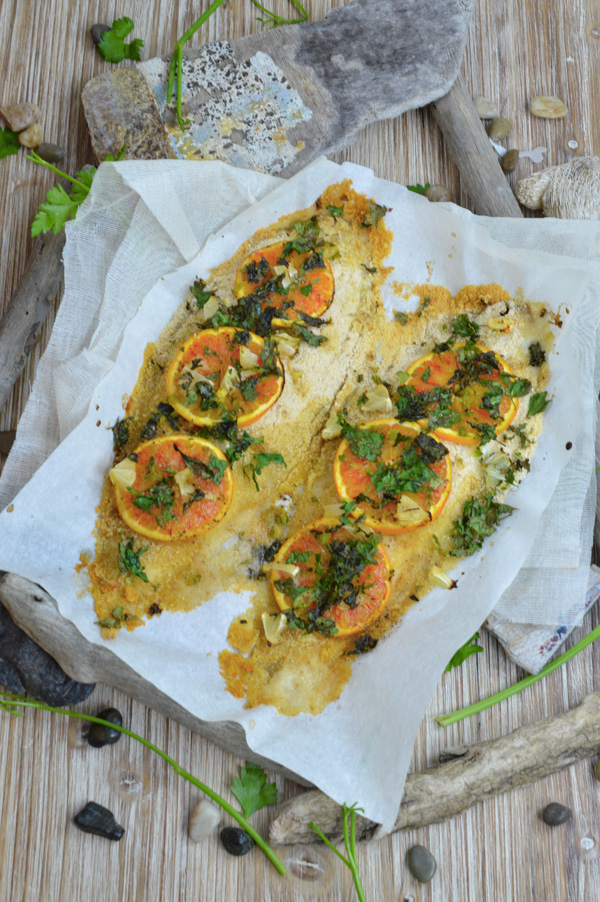 We've all been there before: hungry, tired and don't have the energy to cook :: cucinare. After a long day at work sometimes it seems impossible to come home and slave away in the kitchen (especially if you've been wearing high heels all day. Ladies?).  If you're single, it's not such a big deal.  Grab a bag of potato chips, open a can of tuna and a beer and you're set to go. (Definitely, not the most healthy or complete meal, but I've definitely been a culprit of this quick option.) Yet, if you've got a family to feed or one hungry husband like my Mr. Italicano, than a can of tuna is just not going to suffice.  In fact, you may just get some evil glares :: occhiataccie. That's where this baked sole recipe comes in to help save your sanity (and feet) when looking for a quick and healthy weeknight dinner that takes 5 minutes to prep, 5 minutes to prepare and 20-25 minutes in the oven leaving you time to kick your feet up and relax (and maybe even convince your man of a foot massage if you're lucky). This is a picture of the sole :: sogliola before baking. Look at the vibrant colors and fresh ingredients.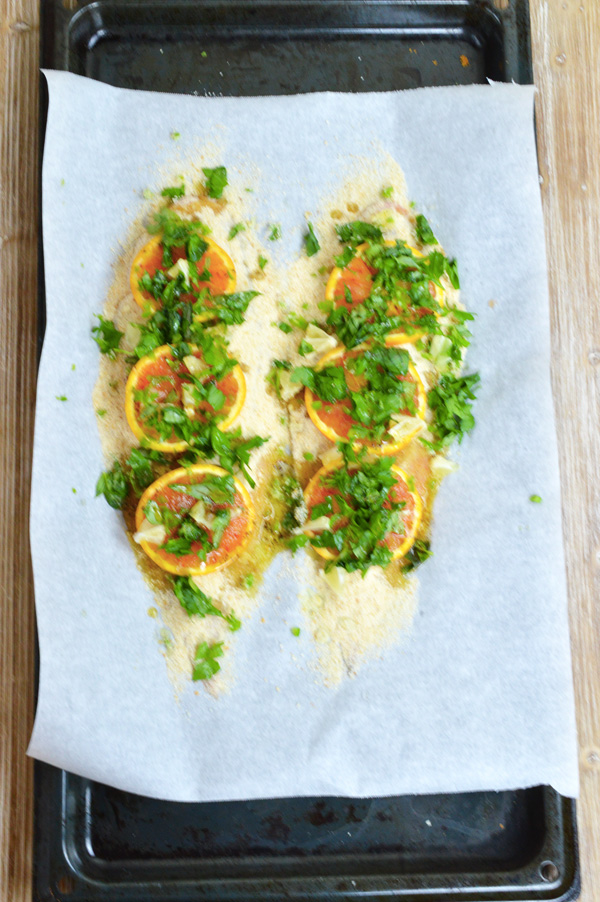 The only time consuming task is swinging by the market or supermarket to pick up the fresh sole and herbs :: erbe . I recommend planning this meal when you need to go grocery shopping as usually those nights are the most stressful to get food quickly on the table for a hungry family that is staring at you impatiently. The recipe below is for 2, but simply double or triple it as needed.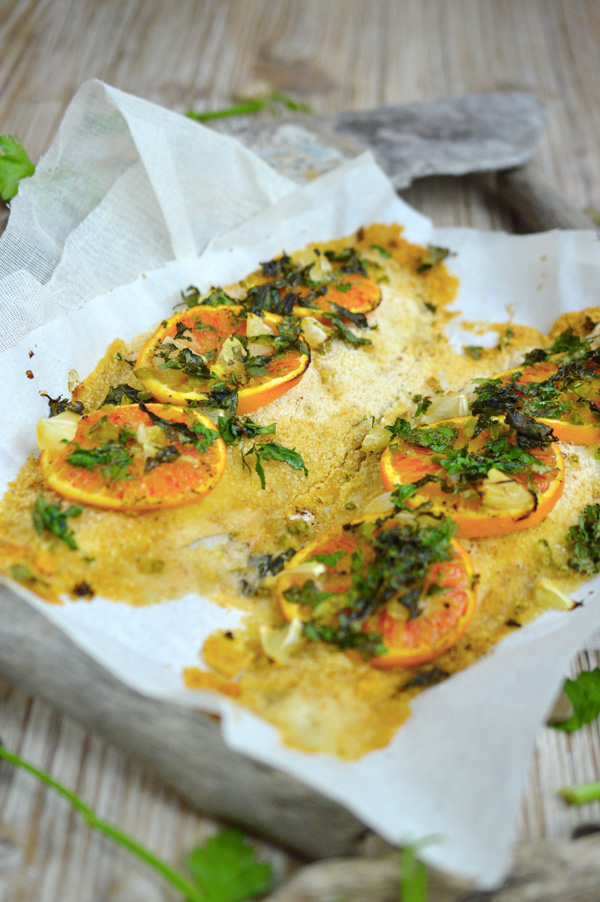 I haven't tested this recipe with frozen :: surgelato fish. If any of you readers do, please let me know how it turns out. I tend to always use fresh fish from the market. Shopping at the market is one of my favorite social activities because the vendors always have such a wealth of knowledge and usually are happy to answer your questions or recommend a recipe. For example, my baked anchovy recipe that I will be publishing soon is from an Italian fish monger (it's delicious, just wait and see!).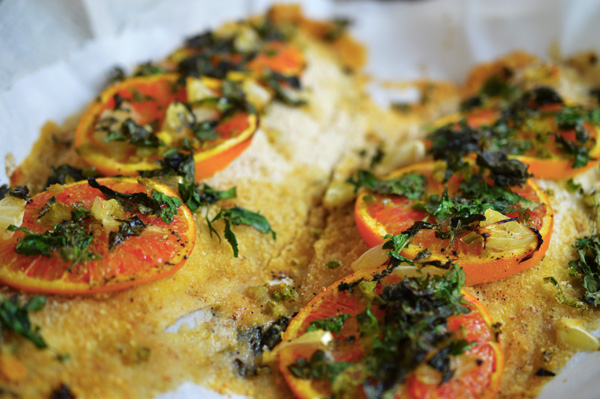 When you buy the sole, have the vendor remove the skin and leave the fishbones intact. Be sure to rinse the sole well and pat dry before using. Now to explain the instructions, they're so simple it is only going to take two sentences. Here we go. Add the sole to a prepared baking sheet then top with breadcrumbs, blood orange slices, lemons pieces, chili peppers, basil and parsley. Combine the olive oil, paprika, salt and pepper in a bowl and drizzle on top. Ta da! You're done. Pop the tray into the oven for 20-25 minutes or until the fish flakes away from the bone :: lisca.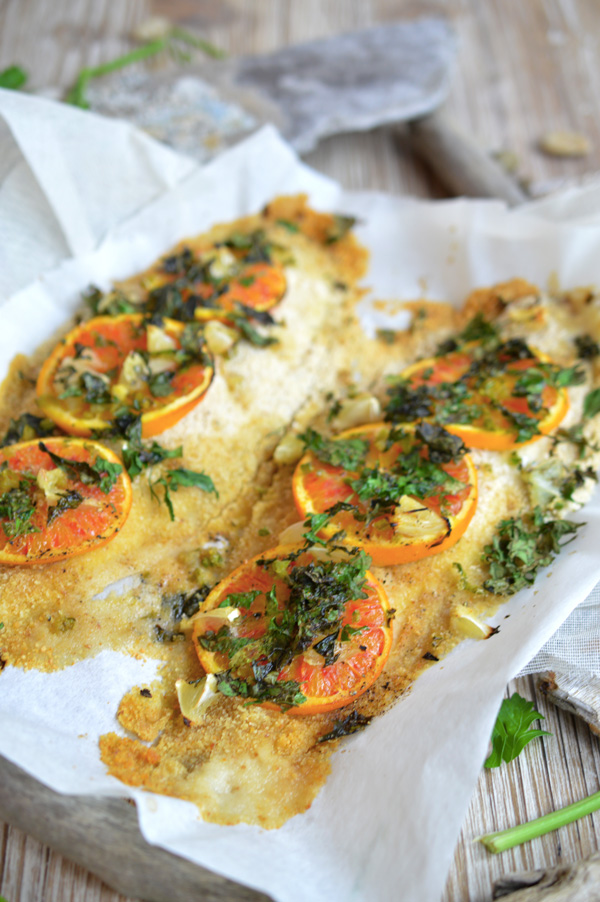 Being that this recipe is so easy, it makes for the perfect after work meal—but that's not all. The gorgeous presentation also marks it as a winning recipe for a special occasion with your loved one shared with a bottle of wine :: vino, or a dinner party among friends. Try the recipe for yourself and let me know how you created a special moment revolved around this delicious meal.
Easy Baked Sole
This delicious baked sole recipe makes a quick and healthy meal option when you want to eat light and don't have a lot of time to spend in the kitchen.
Ingredients
2 sole fish, skin removed but fishbones intact, rinsed and patted dry
¼ to ½ cup bread crumbs, enough to lightly cover each filet of sole
1 blood orange, thinly sliced (you can also use regular oranges as well)
½ lemon, rind removed and chopped
½ red or green chili pepper, finely chopped
¼ cup chopped fresh basil
¼ cup chopped fresh parsley
2 tablespoons extra virgin olive oil
⅛ teaspoon paprika
Salt and freshly ground pepper, to taste
Instructions
Preheat oven to 350°F (175*C).
Line a baking sheet with parchment paper and set the sole on top.
Cover the sole in the following order: breadcrumbs, orange slices, lemon pieces, chopped chili peppers, basil and parsley.
In a small bowl combine the extra virgin olive oil, salt, pepper and paprika.
Drizzle the olive oil mixture over the sole.
Bake for 20-25 minutes. When scraped with a fork, the sole should flake away from the bone.
Serve warm.
Related posts: