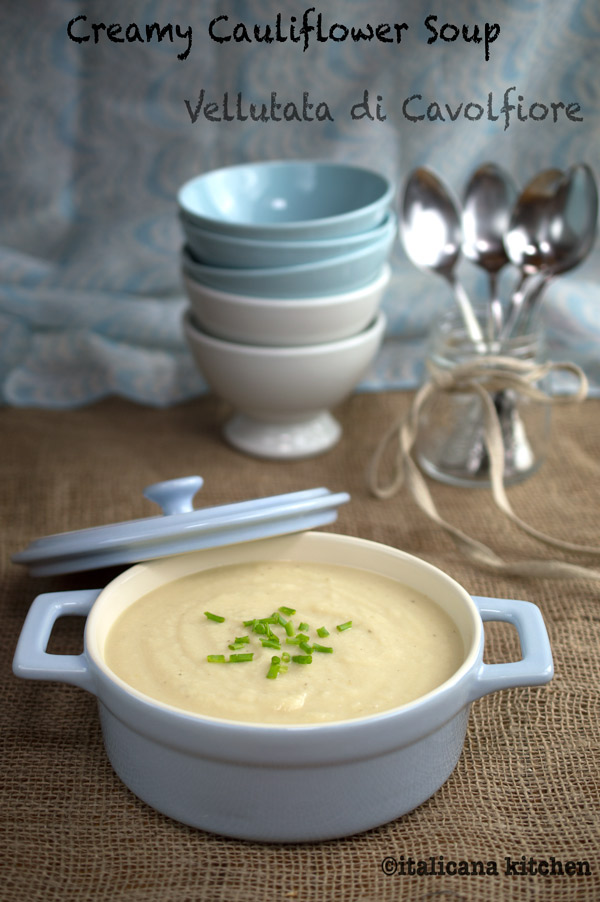 I made this creamy cauliflower soup :: vellutata di cavolfiore on a rainy cold day when a few of my Italian girlfriends came over for dinner. I think I've been away from Seattle too long as I am no longer acclimated to the incessant days of rain, where even in the most dreadful weather I would have still gotten dressed up in heels and headed out for a night on the town.  Or, maybe I'm just getting old? The thought of heels, rain, traffic and parking is just too much effort.  I would rather swap any such evening for the comfort of my home passed with good friends where a little jazz plays through the speakers, good food is on the table and my wine glass is full.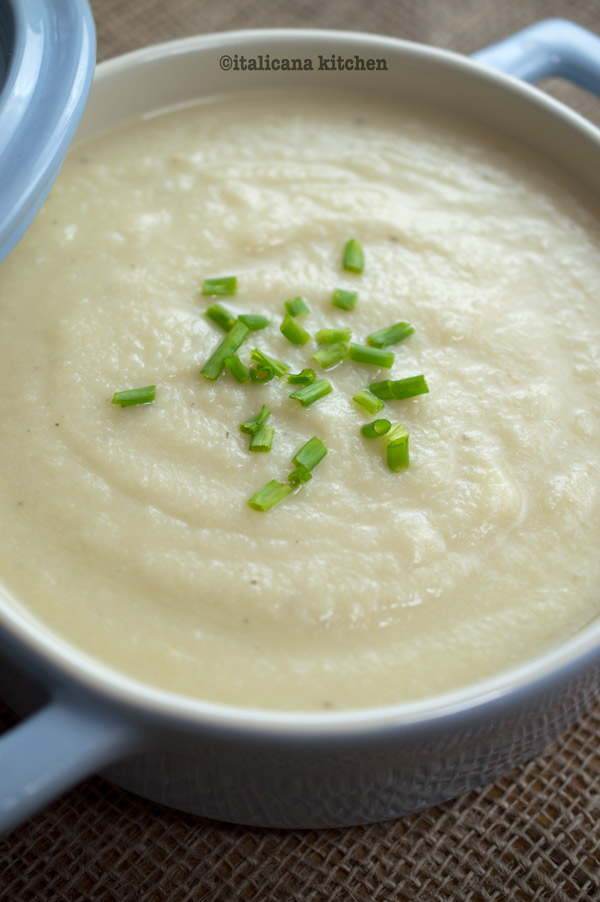 This creamy cauliflower soup has a delicate flavor, which was perfect for my friend Cecilia's four year old daughter and one year old twins who went back for seconds. For adult taste buds, this soup is perfect paired with something bold like garlic and parmesan bread or a swiss chard :: bietole, fontina, avocado and whipped lentil grilled sandwich.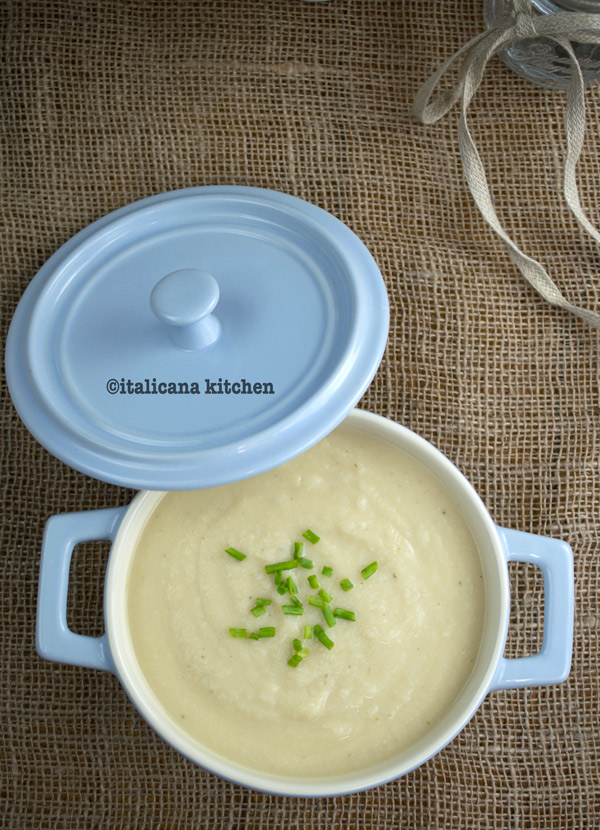 Since autumn :: l'autunno and winter :: l'inverno seem to last for ever, you'll have plenty of time to experiment with more than one cauliflower soup. Here are some interesting versions of cauliflower soup by other food bloggers around the web:
Tasse D'Amour: The addition of cashews is interesting and probably gives the soup a delightful creaminess. I also like the chopped kale, roasted almonds and pumpkin seed topping that adds in nutrition and crunch to the creamy soup.
Kitchen Sanctuary:  This is the recipe that my soup was adapted from. I think it is a great basic recipe on its own or for more curious cooks, a great starter recipe to build off of. I italianized my version by using Parmigiano Reggiano cheese in place of cheddar and added potatoes to give it more depth in texture.
All Spice and Nutmeg: This recipe has white beans in place of cream to get the silky consistency. What a great idea to cut down on calories. I will definitely keep white beans  in mind for my next soup.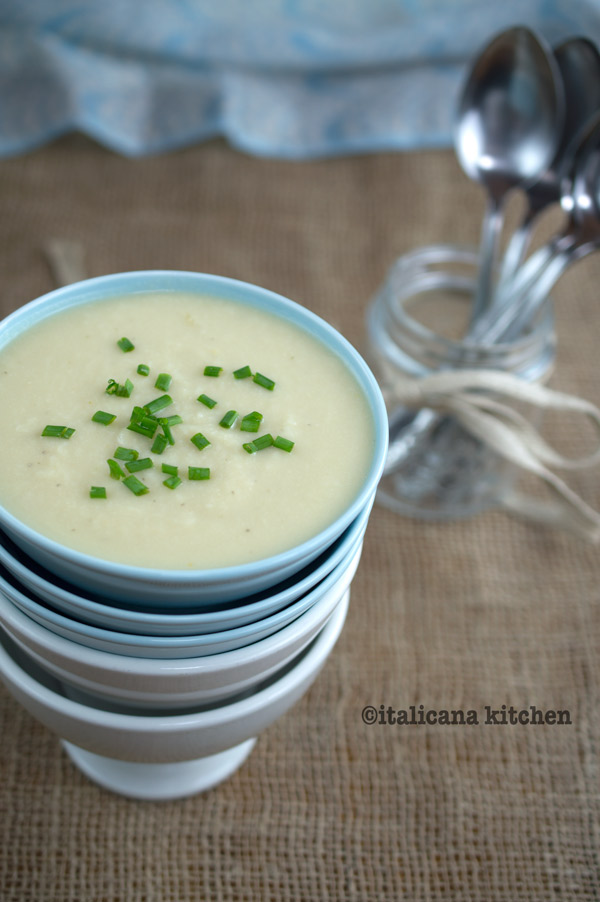 Right now it's another cold, rainy :: piovoso and foggy day in Italy. If it weren't for the cobblestone streets and bright colored houses surrounding me, I would think I was in Seattle. Maybe it's mother nature trying to toughen me up so I get used to putting on those heels again and going out despite the bad weather; or maybe, it's her way of telling me to make some warm soup and enjoy the coziness of home. I think I'll choose the latter. And, you?
Creamy Cauliflower Soup 
This creamy cauliflower soup is the perfect comfort food on cold and rainy autumn and winter evenings. 
Ingredients
2 tablespoons extra virgin olive oil
½ large white onion, finely chopped
2 garlic cloves, finely chopped
2 cauliflower heads (about 1lb 10 ounces (760g) each), stems removed and roughly chopped
2 medium potatoes, peeled and chopped
8 cups vegetable broth 
¼ teaspoon salt
1 cup (65g) freshly grated Parmesan cheese
⅓ cup (80ml) heavy cream (optional)
¼ teaspoon dried parsley or a handful of fresh parsley (optional)
Salt and freshly grated black pepper, to taste
Instructions
In a large pot, sautè the onion and garlic over medium-low heat in the extra virgin olive oil, until translucent but not brown; 4-5 minutes.
Add the cauliflower, potatoes, vegetable broth and ¼ teaspoon salt. Cover and bring to a boil. Reduce the heat and simmer until the cauliflower and potatoes can be pierced with a fork; about 10-15 minutes. 
In a blender or with a handheld immersion mixer, purée the vegetables until smooth. Return to the pot, add the cream, Parmesan cheese and stir over high heat until the soup just begins to boil. Taste and adjust with salt and freshly grated black pepper. 
Ladle into bowls and garnish with parsley, a dollop of Greek yogurt or drizzle of cream and chopped chives. 
Adapted from Kitchen Sanctuary
Related posts: