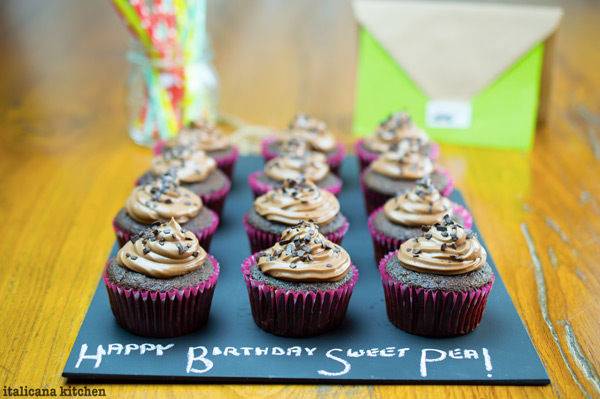 These one bowl chocolate cupcakes with Nutella and cream cheese frosting are 80% healthy and 20% sinful. Unlike traditional cupcakes, I've used soy milk, yogurt, coconut oil and a blend of flours (all purpose and kamut) to create a lip-smacking cupcake that doesn't leave you feeling guilty about piling it high with a luscious Nutella and cream cheese frosting.  Since these cupcakes are for a 12-year-old's birthday party, I've decided to use granulated sugar, although I do plan to experiment with brown sugars and natural sweeteners  in the future so stay tuned for an update on this post with an optional sugar substitute that will make these cupcakes even healthier.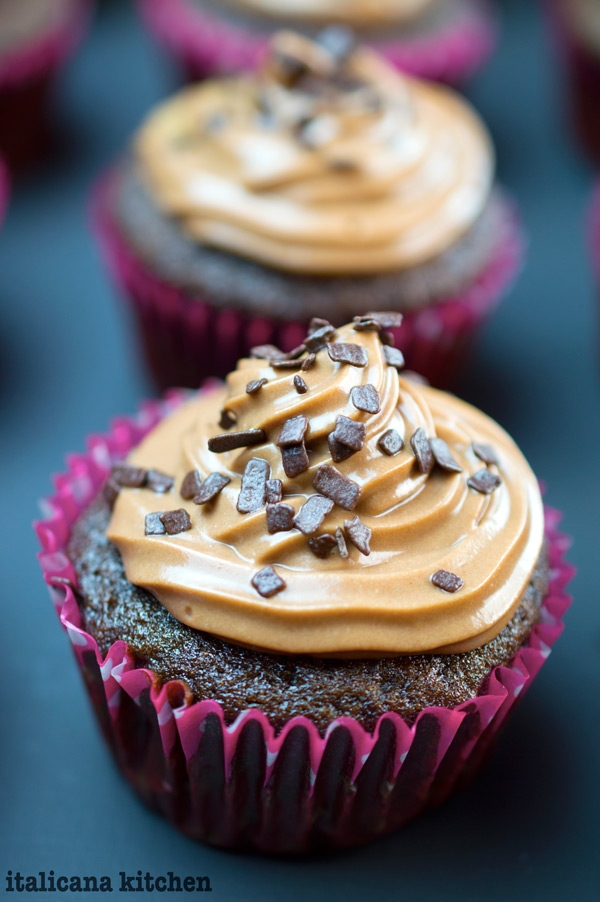 My unofficially adopted Italian niece, or Sweet Pea as I call her, is 12 years old today. What a great age. Do you remember that year of freedom when you were still a child but on the verge of being an adolescent?  Do you recall when you still looked for a hand to hold or an evening cuddle, but felt independent for the first time and knew you could do without? What a great moment when you had a taste of responsibility but didn't have the weight of the world on your shoulders. Your parents' trusted you to ride your bike to a friends or stay an afternoon alone at the house, but your weren't expected to act like an adult. You could still be goofy and weren't criticized for your playfulness.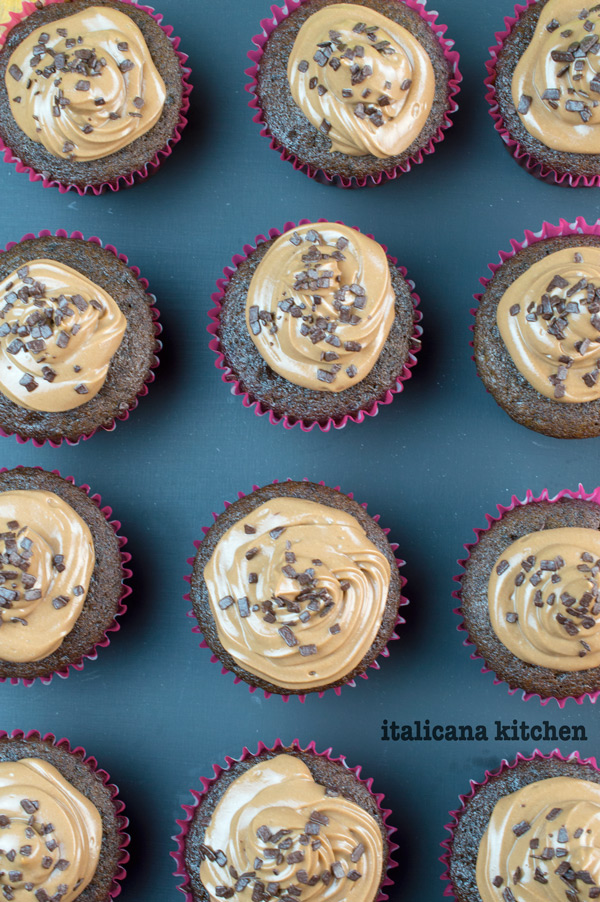 My Sweet Pea is far wiser than she knows. Only this morning she was telling me how she was so excited to hang out with her friends tonight and be "stupid", not in the unintellectual sense, she confirmed, just silly.  Good for you, Sweet Pea. Even she understands that every now and then she should enjoy some frivolous and carefree moments, without exclusively thinking of the future and how to achieve her grand goals. My advice to you throughout this year and those to follow is to never lose that adorable silliness of yours. This morning I reminded you to enjoy your life to its fullest, citing the phrase by Oscar Wilde, "Life is too important to be taken seriously." Work hard for the dreams you want to achieve, yet don't forget that the world is a giant playground ready to be explored. Happy Birthday, Sweet Pea. I love you!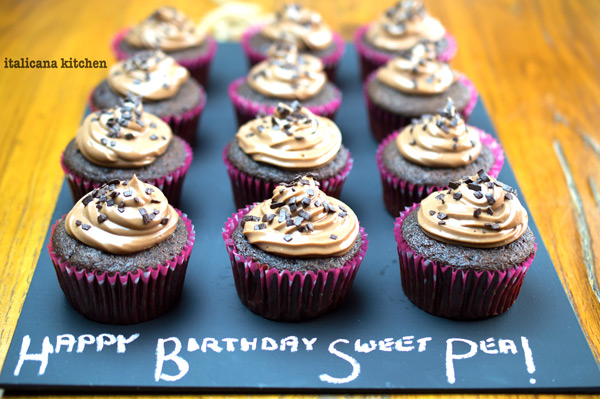 Chocolate Cupcakes with Nutella and Cream Cheese Frosting
These one bowl chocolate cupcakes with Nutella and cream cheese frosting are 80% healthy, 20% sinful and perfect for every occasion.
Ingredients
For the cupcakes: 
¾ cup (177 ml) milk  (I used soy milk)
1 tablespoon (15 ml) white vinegar  
2 cups (275g) flour (I used 1 cup all purpose (125g) 1 cup (150g) kamut flour)
1½ cups (308g) granulated sugar
½ cup (43g) unsweetened cocoa powder
2 (12g) teaspoons baking soda
1 teaspoon (5g) sea salt
¾ cup (180g) plain yogurt
½ cup (118ml) oil (I used extra virgin coconut oil) 
1 teaspoon (5ml) pure vanilla extract
1 egg, room temperature
For the Nutella and cream cheese frosting: 
2 tablespoons (28g) unsalted butter at room temperature
1 cup ( 225g)  cream cheese, at room temperature
½ cup (56g) powdered sugar
½ cup (144g) Nutella 
Instructions
For the cupcakes: 
Preheat oven to 350°F (176°C).
Fill a measuring cup ¾ full with milk and add 1 tablespoon white vinegar. Let rest 5 minutes. 
In a large bowl whisk together: flour(s), sugar, cocoa powder, baking soda and sea salt. 
Add the plain yogurt and milk/vinegar mixture and whisk together until combined. 
Whisk in the oil. 
Add the vanilla extract and egg and whisk until just combined. 
Line two muffin pans with 24 cupcake liners. Divide the batter equally among the cupcake liners. 
Bake for 20 minutes or until a toothpick inserted into the center of the cupcake comes out clean.
Bite into a warm cupcake or cool completely on a wire rack before frosting.
For the Nutella and cream cheese frosting: 
Using an electric mixer, blend the butter and cream cheese until smooth. 
Add the powdered sugar; mix.  
Add the Nutella and mix until combined. 
Related posts: