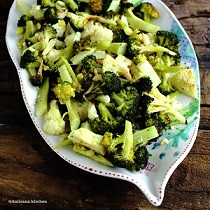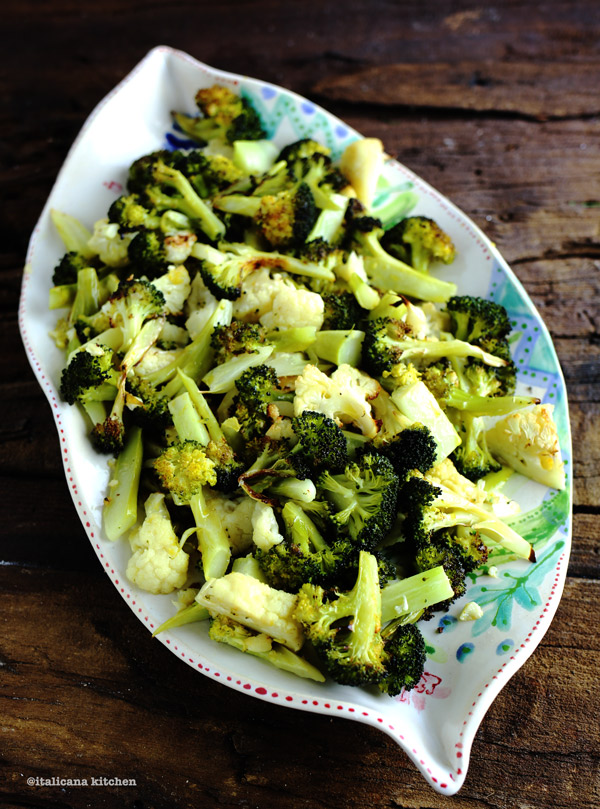 V.E.G.E.T.A.B.L.E.S.
Oh, how I've missed you! While Mr. Italicano and I were on my west coast food tour we spent most of a month eating out. On one hand I was excited and delighted to try new restaurants :: ristoranti in San Francisco, Seattle and Vancouver; on the other hand, I was itching to get back in my kitchen in Italy to create new healthy recipes made from fresh seasonal vegetables from my local farmer's market.
And, that's exactly what we did.
The day after we got back to Italy, we headed out to the farmer's market and loaded up on fresh fish, vegetables and fruit. For our first lunch I made a simple green salad loaded with succulent Sicilian blood oranges, chia seeds, feta and walnuts; this roasted broccoli and cauliflower dish with grated ginger and zested lemon and a big bowl of paccheri pasta with calamaretti :: baby squid, that I seasoned with Parmigiano Reggiano, extra virgin olive oil, lemon zest and some salt and pepper. These vegetarian and pescatarian recipes were so quick and simple to make and were packed with wholesome goodness.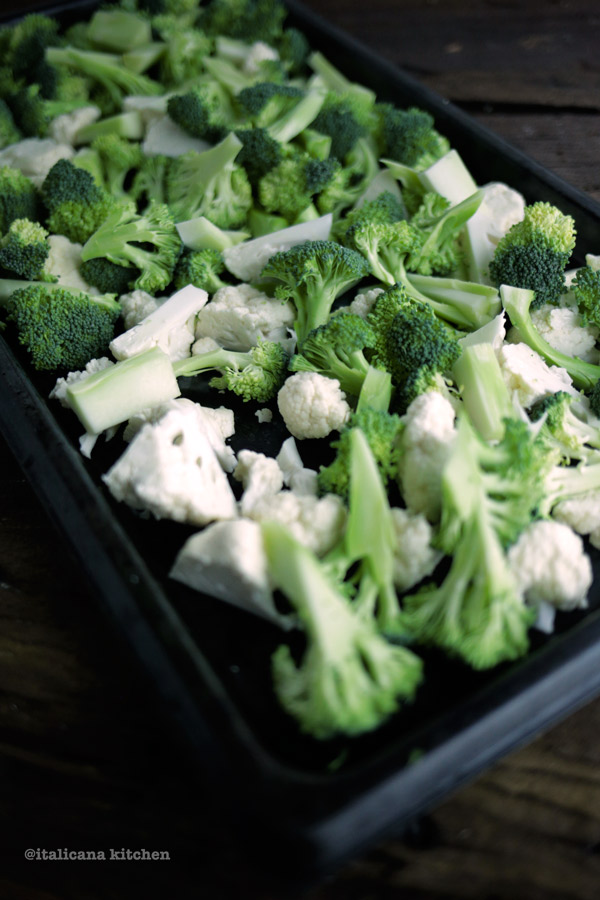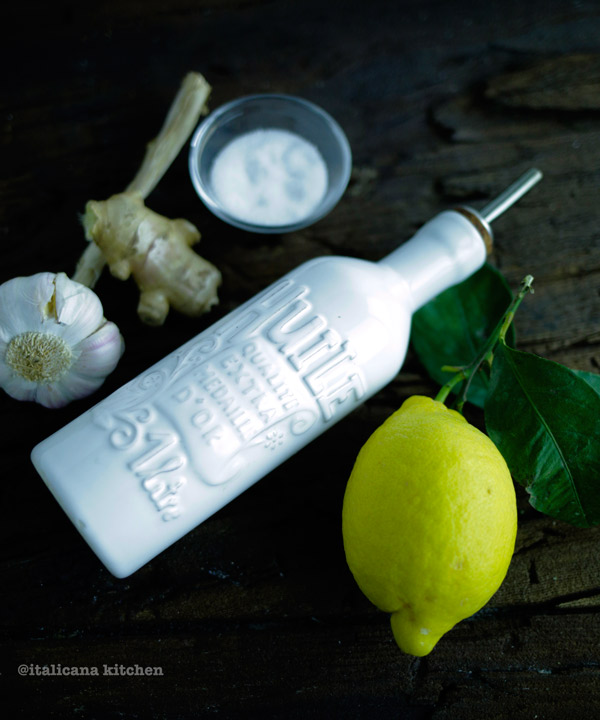 One of the biggest problems about eating out in America is that is EXPENSIVE TO EAT WELL! For a fast food meal made with refined flour, sugars and GMO ingredients, you can spend under $15 for two. If you go to a mid-range chain restaurant with even nice decor and great service, commonly you'll still pretty much get the same quality but spend over $60 for two dishes and drinks (taxes and tip included). Both options left us unsatisfied with the quality of our food, but more importantly put the quality of our health at risk :: rischio! We went to these places a few times out of convenience, and after having eaten both Mr. Italicano and I felt sluggish, not mentally alert, bloated and scandalized on how much we spent. I'm convinced that if we'd had continue to eat this way for a month, we would have even gained a substantial amount of weight. #notcool. So our solution to getting around eating bad while traveling was this:
BREAKFAST: we snacked on fruit :: frutta, nuts, protein bars (being sure to find ones with clean labels), dark chocolate, tea and coffee. We did our shopping at a supermarket (I recommend Trader Joe's) and we ate in our hotel or on the road when we were traveling. We spent $7-8 for two instead of $23-25 and we knew exactly what we were eating.
LUNCH: more snacks or leftovers :: avanzi from my cooking shows.
DINNER: we almost always went to a nice restaurant with high quality food (ATTENTION: we didn't just choose a place based on how cute the decor it was but used online reviews specifically for the quality :: qualità). These places were usually quite expensive. A dinner for two with drinks ran from $110-140 (with taxes and tip). It seems like a lot, but if you do the math, we ended up spending the same amount per day as we would have for three mediocre meals eating out, but we ate better quality food and we felt better too.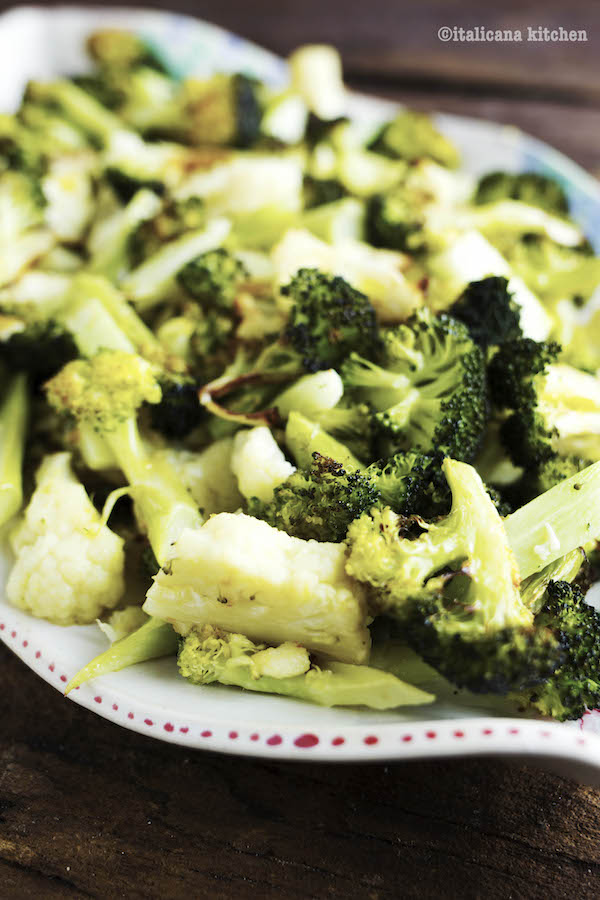 Now back in my kitchen :: cucina, I'm excited to be developing more recipes to give you more ideas on how to cook healthy and simple recipes that you can feel good about eating, like this roasted broccoli and cauliflower dish. If you have any leftovers just toss them into a salad, add some beans, lentils or tuna for a main coarse or chop them up finely and add them to scrambled eggs.

Roasted Broccoli and Cauliflower with Lemon & Ginger
This recipe for roasted broccoli and cauliflower with lemon and ginger is great to eat as a side dish, tossed into a green salad, mixed with grains, lentils or tuna or cut up finely and mixed into a scrambled egg. It's a healthy dish that is quick to make and loaded with nutrients.
Ingredients
1 head broccoli, cut into florets
1 head cauliflower, cut into florets
6 tablespoons extra virgin olive oil
1 teaspoon grated lemon zest
1 teaspoon grated ginger
½ teaspoon salt
Freshly ground black pepper
Instructions
Preheat oven to 400°F (200°C). On a rimmed baking sheet, toss together the broccoli, cauliflower, extra virgin olive oil, lemon zest, grated ginger, salt and black pepper until well coated. Evenly distribute the vegetables on the sheet and roast until tender and slightly browned; 20-30 minutes.