October proposes many new vegetables, from pumpkin to Swiss chard, radicchio to cabbage. And, although cucumbers :: cetrioli rounded out their season in September, I've slipped them into one final recipe as I make the transition from summer to fall cooking.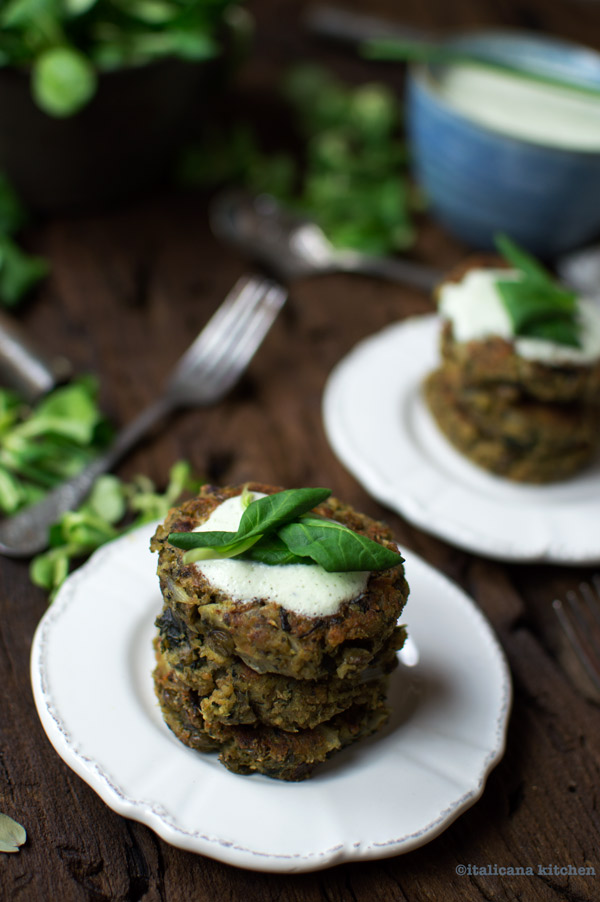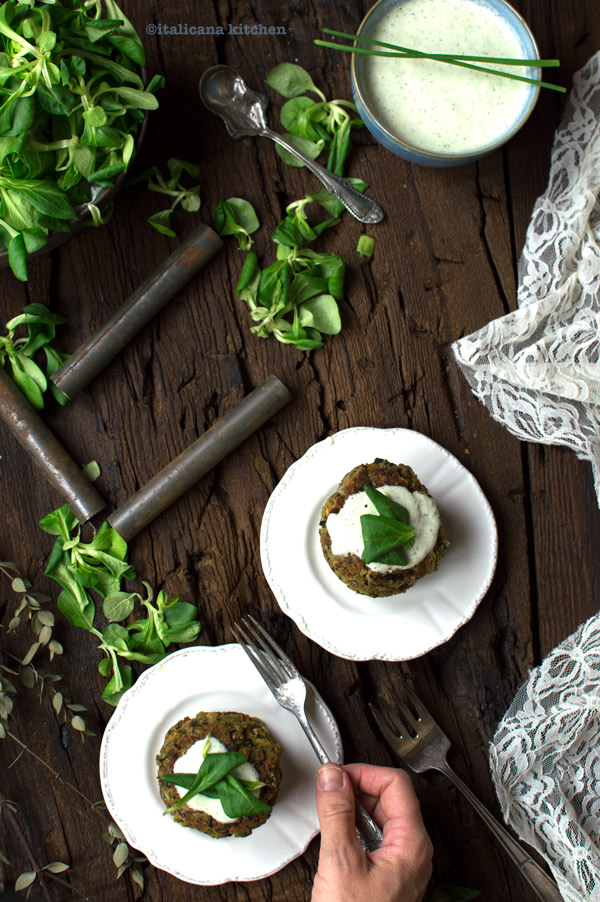 Mr. Italicano and I eat legumes about 2-3 times a week. I usually make a big batch and we eat them in different ways, either in a breakfast bowl, a salad, a side dish, veggie burgers or little patties :: polpette. Making a large quantity at the beginning of the week is an easy way to eat healthy on a busy schedule, which by now we all seem to have.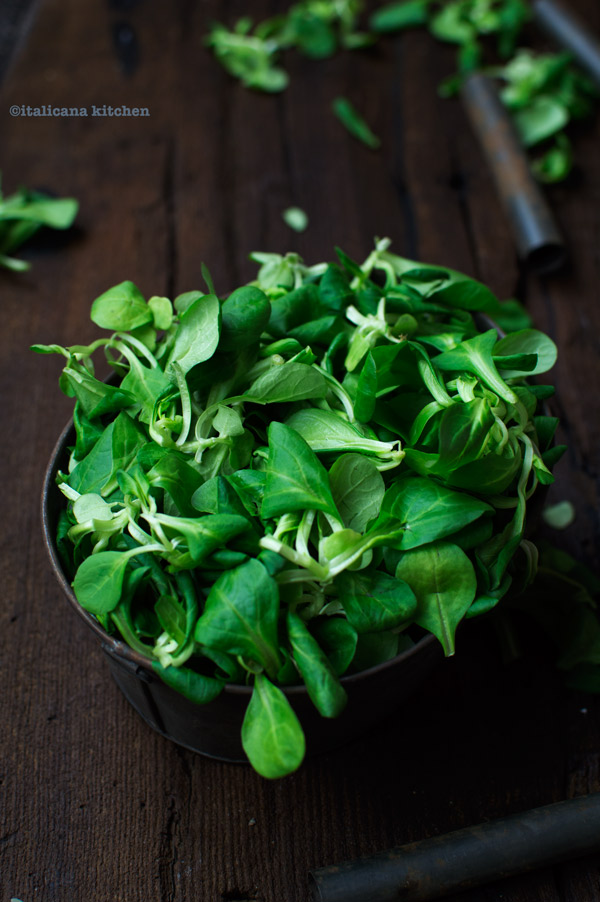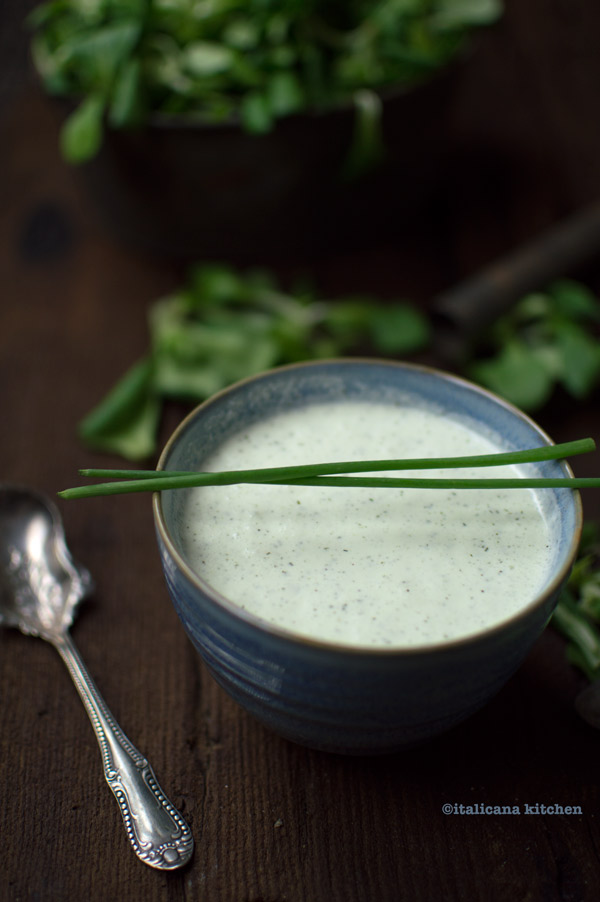 I think that is one of the biggest struggles with eating today. We may have good intentions to eat well, but we may not have the time :: tempo.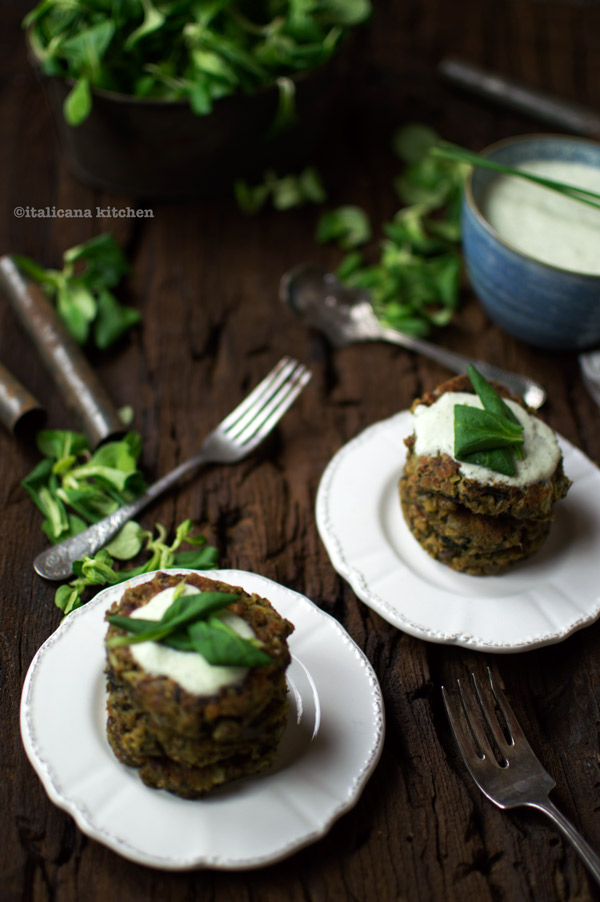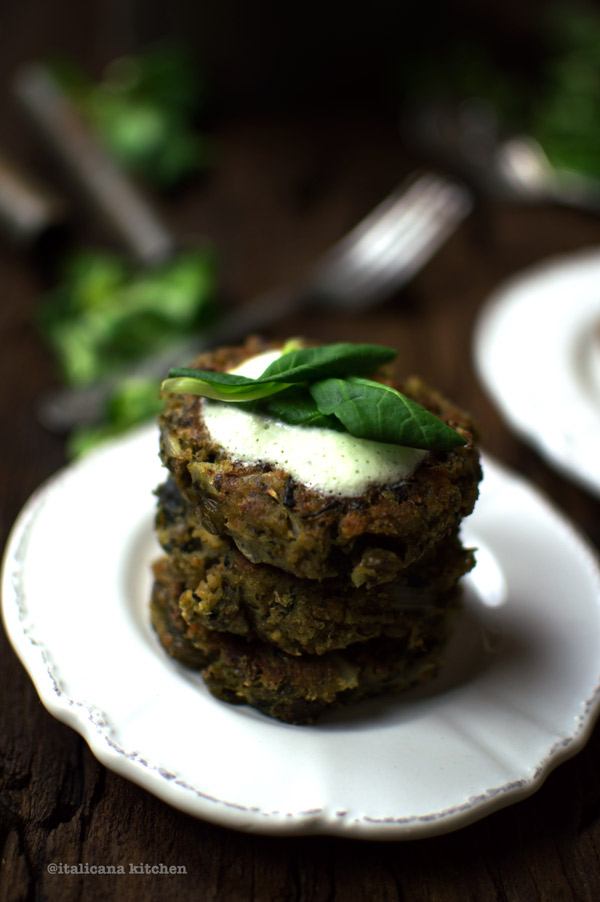 I think healthy eating just requires a little organization. For instance, these swiss chard lentil patties can easily be frozen. I make a batch, have some for dinner and stick the rest in the freezer. This way when I want a quick lunch or dinner I can just pull a few out, thaw them out and heat them in a skillet :: padella.  Obviously it takes some time and preparation to make a batch, but once you have them made, they are quick to heat up. I know exactly what I put inside, and I find it a lot cheaper than buying a store bought version.

Swiss Chard Lentil Patties with Tzatziki Sauce
Queste polpette di lenticchie e bietole con salsa tzatziki sono perfette per chi ha una vita frenetica ma vuole mangiare sano.
Serves:
6 large patties or 20 small ones
Ingredients
For the patties:
¾ cup (150g) brown or green lentils, rinsed
2 cups water
1 tablespoon of extra virgin olive oil
½ red onion, finely chopped
1 clove garlic, skin removed and finely chopped
1lb 5 oz (400g) swiss chard, rinsed, stems cut from the leaves but not thrown out
Juice of ½ large lemon
1 cup of freshly grated Parmigiano Reggiano cheese
1½ cups (110g) breadcrumbs
1 egg
Salt and freshly ground black pepper, to taste
Paprika, to taste
For the tzatziki sauce: 
4 oz (150g) Greek yogurt
1 tablespoon of extra virgin olive oil
1 wedge of lemon, juiced
1 cucumber,  peeled, seeds removed and chopped in pieces
1 garlic clove, peeled and chopped
A few pinches of dried dill (or fresh dill if you have it)
Instructions
Bring a medium sized pot of water to boil and add the lentils. Cook on medium heat for 25-30 minutes or until they are tender. Add more water if needed so that they are always slightly covered. Drain if needed.
In the meantime, make the tzatziki sauce. Put the following ingredients in the blender: Greek yogurt, extra virgin olive oil, lemon juice, cucumber pieces, garlic and dill. Blend until smooth. Transfer the mixture to a bowl, cover with plastic wrap and store in the refrigerator.
Bring another medium sized pot of water to boil. Cook the Swiss chard chard for 3-4 minutes. If the stems are small, you can cook them with the leaves; otherwise add the stems first and cook for 2 minutes then add the leaves and cook for an additional 2-3 minutes. Drain well, then roughly chop the cooked chard.
Put some extra virgin olive oil in a large pan. Cook the onion over medium heat for 5-6 minutes then add the garlic and cook for another 1-2 minutes. Add the cooked Swiss chard and lemon juice and cook for 2-3 minutes until most of the liquid has cooked out. Turn off the heat and add the Parmigiano Reggiano cheese.
After having cleaned the blender or food processor container, add the following ingredients: half of the lentils, half of the Swiss chard mixture, breadcrumbs, egg, salt, pepper and paprika. Blend, stopping every once and awhile to scrape the mixture off the side with a spatula.
Transfer the mixture into a large bowl and add the remaining lentils and Swiss chard mixture. Mix well. Add more breadcrumbs if the mixture is too soft, add some extra virgin olive oil or another egg if the mixture is too dry. You want a consistency that allows you to form 6 big patties or 20 small ones without sticking to your hands or crumbling apart.
In a large pan, add a tablespoon of extra virgin olive oil and the patties in one layer; don't stack, if needed take turns cooking them. Cook the patties for 2-3 minutes on each side or until the outside is golden. Serve the burgers with the tzatziki sauce. (Also great served in a good hamburger bun or on a bed of lettuce.)
Freezing Instructions: Line a cookie sheet with parchment paper then place the patties on top slightly separated from each other. If you need to add a second layer, separate them with a piece of parchment paper. Put them in the freezer for an hour, then take them out and pile them in a plastic ziplock back dividing them with sheets of parchment paper. They freeze well for up to 3-4 months. When you want to eat them, just pull them out of the freezer and cook them over low heat in a pan with a bit of extra virgin olive oil for 7-8 minute per side or until each side is golden and the middle is tender.
Tzaziki sauce: For thicker sauce, make a few hours ahead of serving so it has time to firm up.
Related posts: