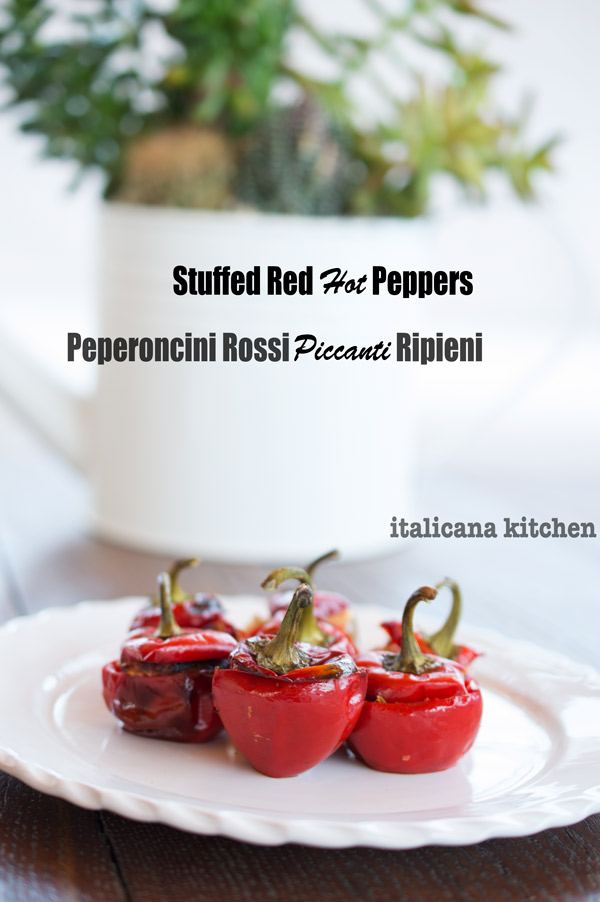 Where I live in Italy, we are having some brisk autumn days. I've resorted to wearing warm sweaters and flannel shirts around the house, crawling under a fluffy fleece blanket while working on the computer, heating up one of my new soup recipes for lunch: carrot soup with dill and orange or spiced pumpkin soup, and when these attempts still don't do the trick, I know what will: spicy food. In autumn and winter, we are likely to think of food that is steaming hot to warm us up, but we often times forgot about the foods that are naturally hot in flavors, you know, those ones that make us sweat just by popping them in our mouths!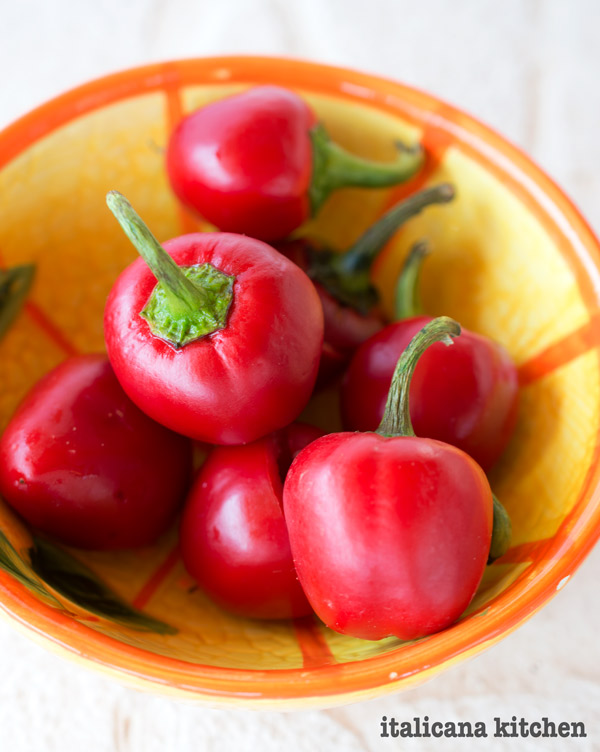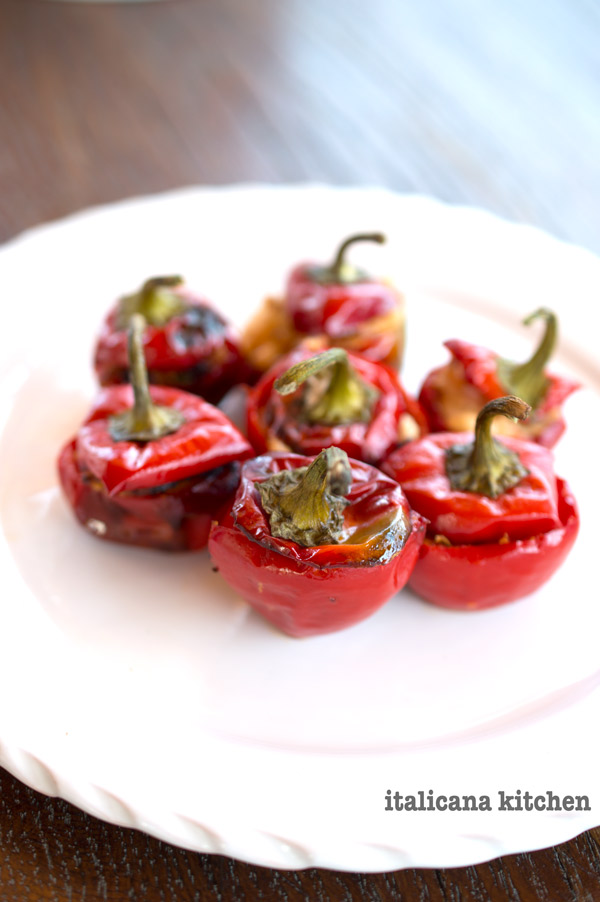 Just like my stuffed mushroom recipe, these stuffed red hot peppers are just as versatile and extraordinarily easy to make. Just cut off and reserve the tops, clean out the seeds (unless you live in Antarctica then you'll want more heat!) and fill them with whatever kind of soft cheese, herbs or marinated vegetables you have in the refrigerator. Position them in a baking dish and pop them in the oven for 18-20 minutes, or until the peppers start to wilt and are soft.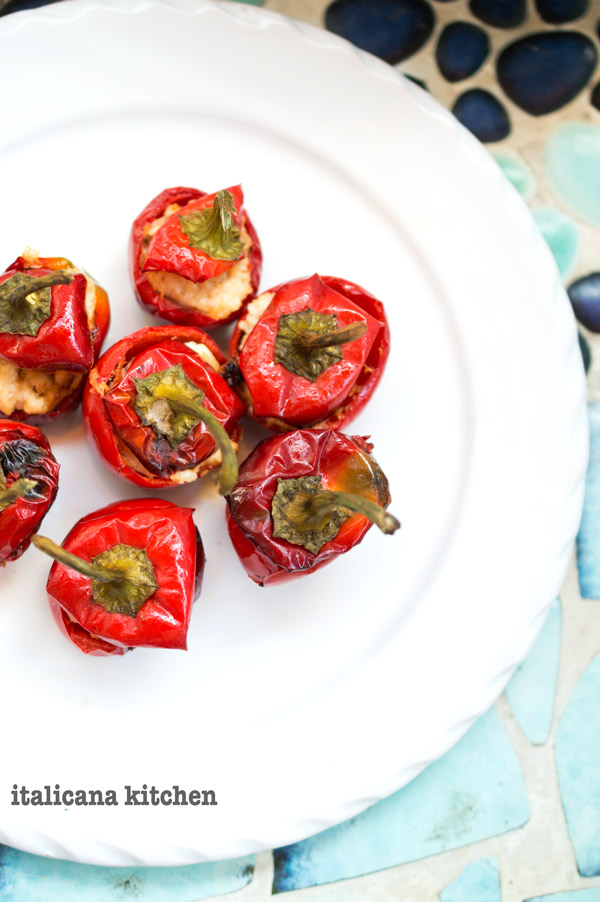 I used fresh ricotta, chopped caper berries and high quality canned tuna. Other ideas are: goat cheese, sun dried tomatoes and artichokes; pepper jack, black beans and corn; or cheddar cheese, black olives and chives.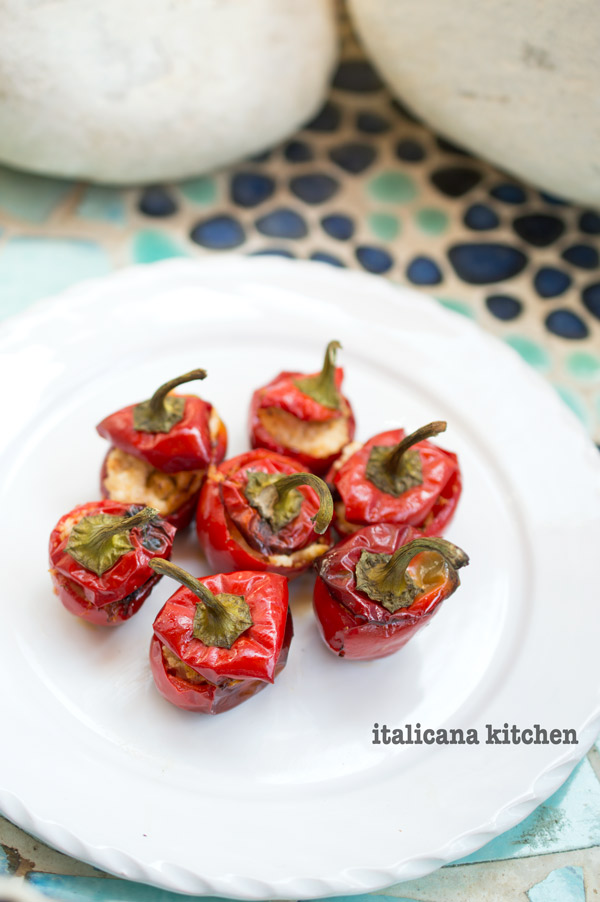 What are your favorite foods to warm yourself up when the weather is cold?
Stuffed Red Hot Peppers
A quick and easy appetizer that will surely warm you up on a cool autumn day!
Ingredients
7 hot peppers
10 caper fruits or capers, chopped
1 can high quality tuna, drained
1 tablespoon extra virgin olive oil 
3 spoonfuls fresh partially skimmed ricotta
Instructions
Preheat the oven to 400 (204°C). 
Cut off and reserve the tops for decoration. Discard the seeds and place the hot peppers in a small baking dish.  In a small bowl combine the caper fruits, tuna, extra virgin olive oil and ricotta. Fill each hot pepper. Pop the baking dish in the oven for 18-20 minutes, or until the peppers are soft. Depending on the size of your hot peppers, if you have any remaining ricotta mixture, spread it onto pieces of bread or crackers and serve alongside. Buon appetito! 
Related posts: