There is one important rule to cooking great Italian food: simplicity.  Due to its short list of natural ingredients, there is no question why this roasted radish and leek burrata bruschetta is one of my favorite appetizers.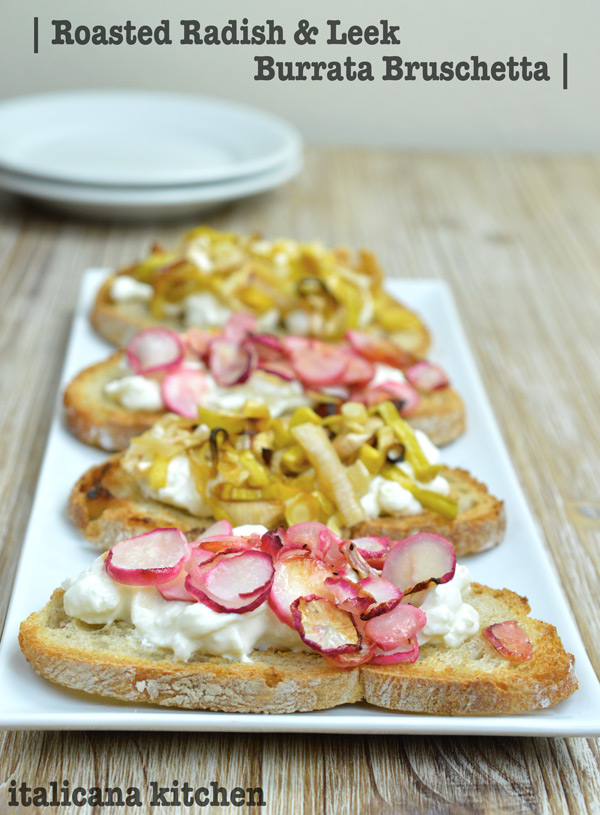 Most Italians will be content to dine on a simple chunk of artisanal bread, block of locally produced cheese and freshly cut meat, like the renowned prosciutto crudo (cured ham). There is no need for mayonnaise or some kind of fancy dip.  All you need is a knife :: coltello to cut the bread and cheese, then everything is eaten by hand. Simplicity at its finest.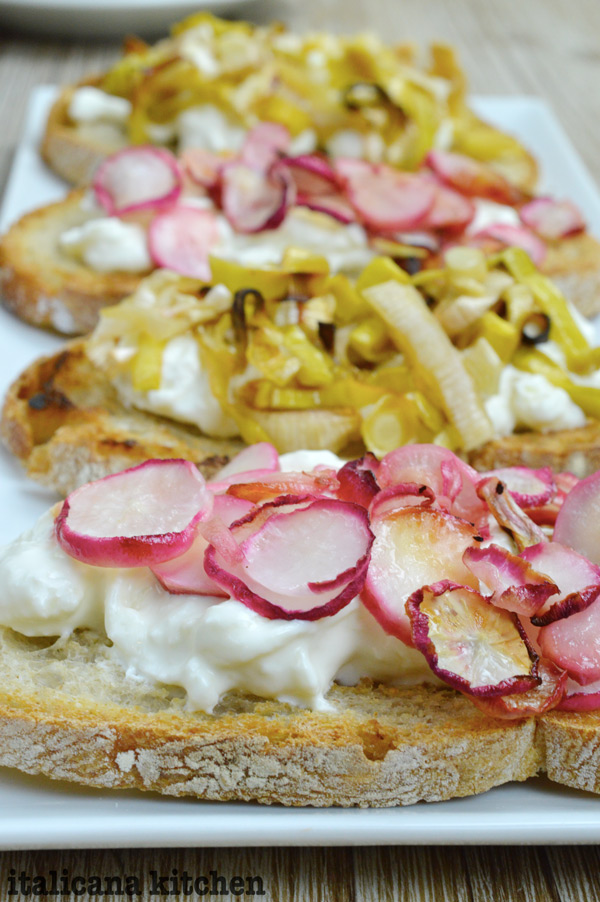 Mr. Italicano asked his grandfather :: nonno once why he ate the cheese, meat and bread in separate bites instead of creating a sandwich.
""A vöi vèdar cüs' aghé dèntar!" He responded in Reggiana dialect, meaning, "I want to see what's inside!"
Wise man.  Often times we Americans pack in so many ingredients and sauces with preservatives inside of a sandwich that it no longer exists being a simple meal but a caloric artery clogging bomb.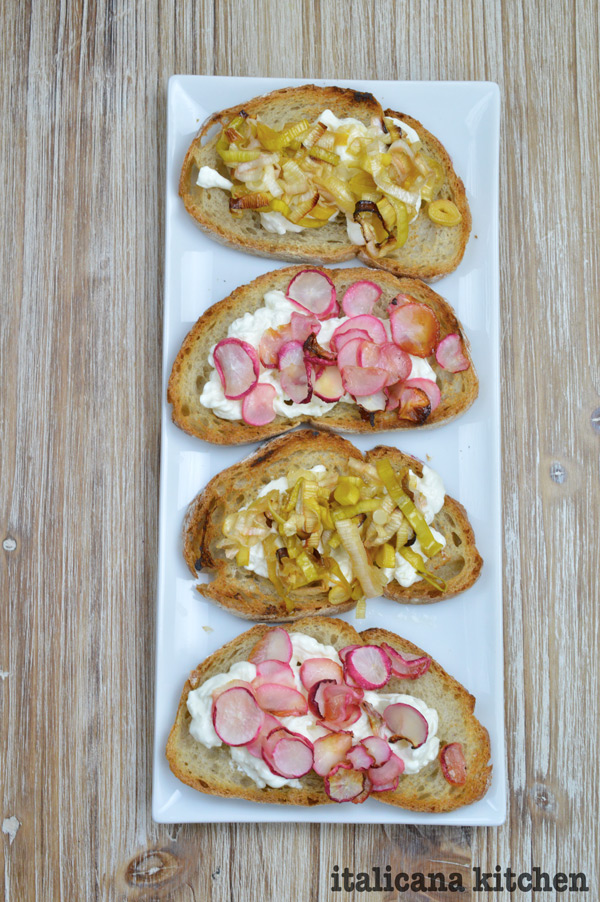 It makes me laugh when I go to a Subway when I'm in the States and the "Italian sub" contains three types of meats. Where did this idea come from? In Italy it is almost viewed as sacrilegious to combine multiple cold cuts in one sandwich, and therefore you will see that Italian sandwich counters typically only offer sandwiches that are composed of bread and one kind of cold cut with the addition of cheese or tomatoes :: pomodori at the maximum. Italians want to taste each separate ingredient.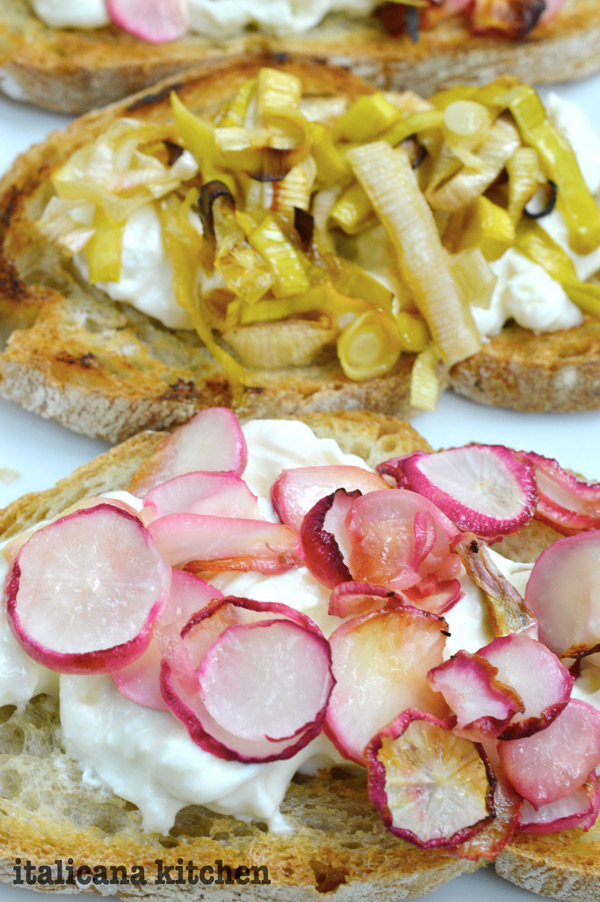 For those of you who want a vegetarian option, this roasted radish and leek burrata bruschetta will be your taste buds best friend.  Made up of wholesome toasted bread topped with creamy burrata cheese and roasted radishes and leeks coated in a sweet honey :: miele vinaigrette, how can your mouth not be watering? Mine is. I simply can't write any longer, I'm off to devour one.  Buon appetito!
Roasted Radish and Leek Burrata Bruschetta
An easy bruschetta recipe made up of wholesome toasted bread topped with creamy burrata cheese and roasted radishes and leeks coated in a sweet honey vinaigrette.
Ingredients
2 bunches fresh radishes, sliced thinly
2 leeks, green part removed and sliced thinly
3 tablespoons extra virgin olive oil
3 tablespoons fresh lemon juice
2 tablespoons honey
Sea salt and freshly ground black pepper, to taste
8 ounces (230g) fresh burrata
1 garlic clove
4 large slices of rustic artisan bread
Instructions
Preheat the oven to 425* (220°).
Line a rimmed baking sheet with parchment paper and layer the sliced leek and radishes in one row.
Combine the extra virgin olive oil, lemon juice, honey and salt and pepper in a bowl. Mix well then drizzle over the radishes and leeks.
Bake for 15-20 minutes, keeping eye that they don't begin to burn. Stir once or twice while baking.
In the meantime, rub the garlic clove on one side of the slices of bread. Toast in the toaster, in a pan on the stove or in the oven. Distribute the burrata among the 4 slices, top with the roasted radishes and leeks (separate like the photo or mixed together.) Serve immediately.
*Radish vinaigrette adapted from:Food Fanatic
 Here are some more bruschetta recipes, enjoy!
Spicy Shrimp, Fennel and Radicchio Bruschetta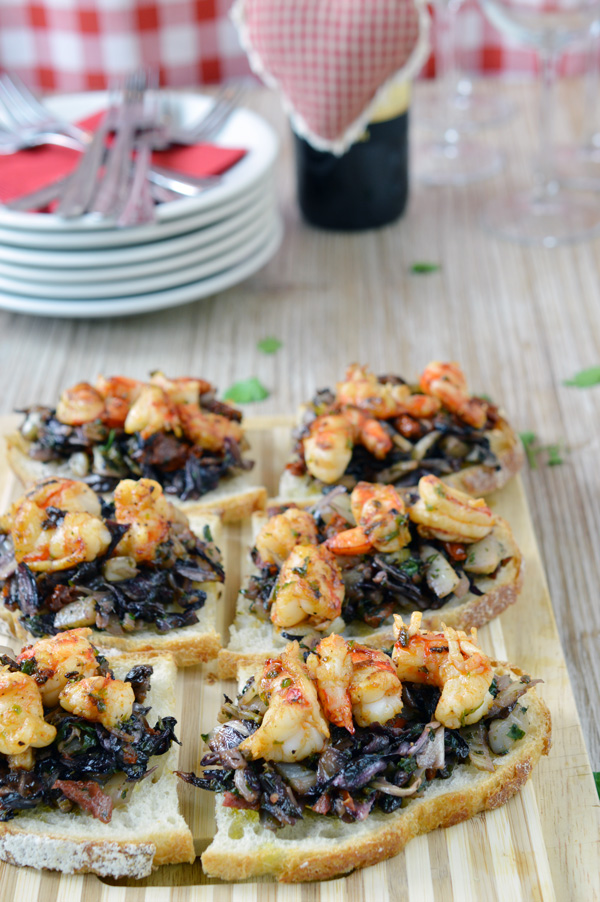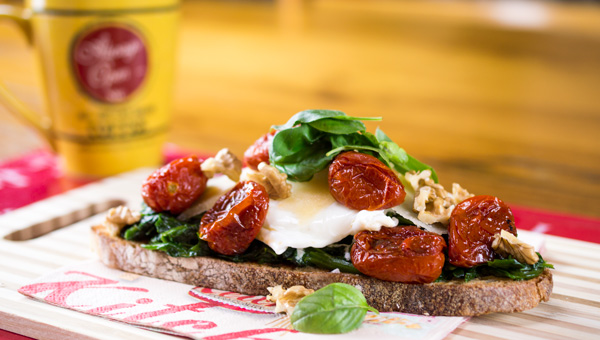 Related posts: