This poached monkfish with brown butter, lemon & caper sauce makes quite an elegant little dinner for two or a posh meal for a special party.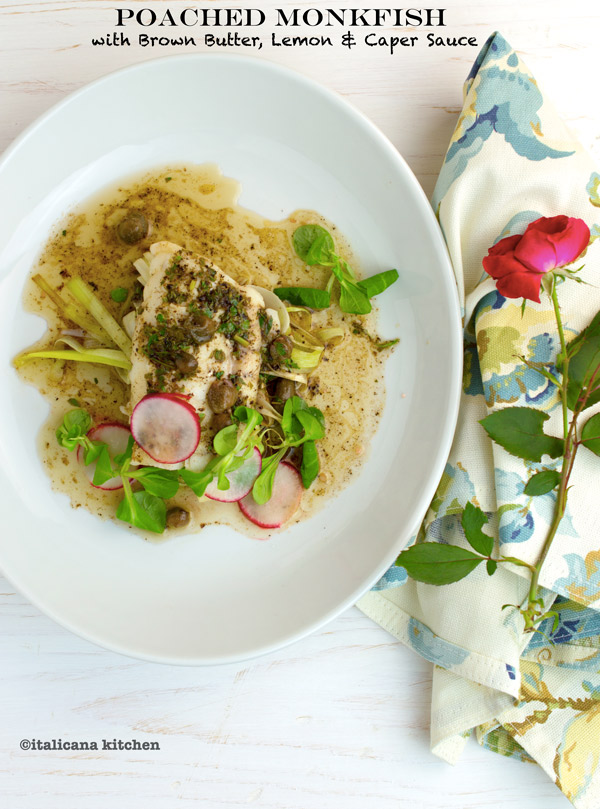 Monkfish :: coda di rospo is probably one of the ugliest fish around. With an enormous head and oversized mouth filled with razor sharp teeth it comes as no surprise that "sea devil" is another preferred name. Yet, what this grotesque fish lacks in beauty, it makes up for in its exquisite and unique meat. Firm in texture with a mild taste, it's considered by chefs the "poor man's lobster." Luckily for us consumers, we can easily find monkfish already cleaned and cut into fillets, avoiding the dreadful encounter with the freaky looking creature. (Thank you dear fishmonger.)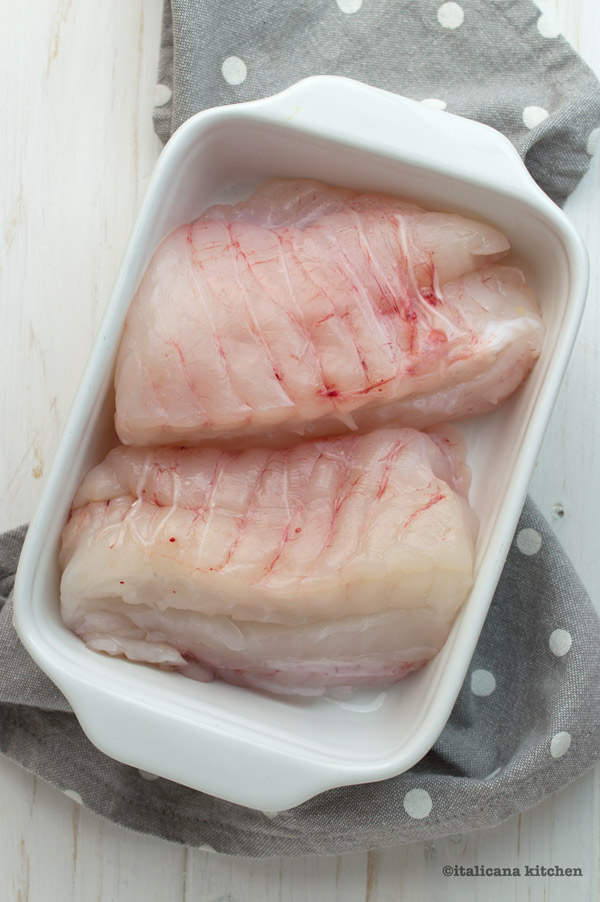 What I love about monkfish is it's versatility and it's quick preparation. You can easily throw together this poached monkfish with brown butter, lemon & caper sauce in roughly 20 minutes. I adore gourmet meals without all the fuss :: fatica.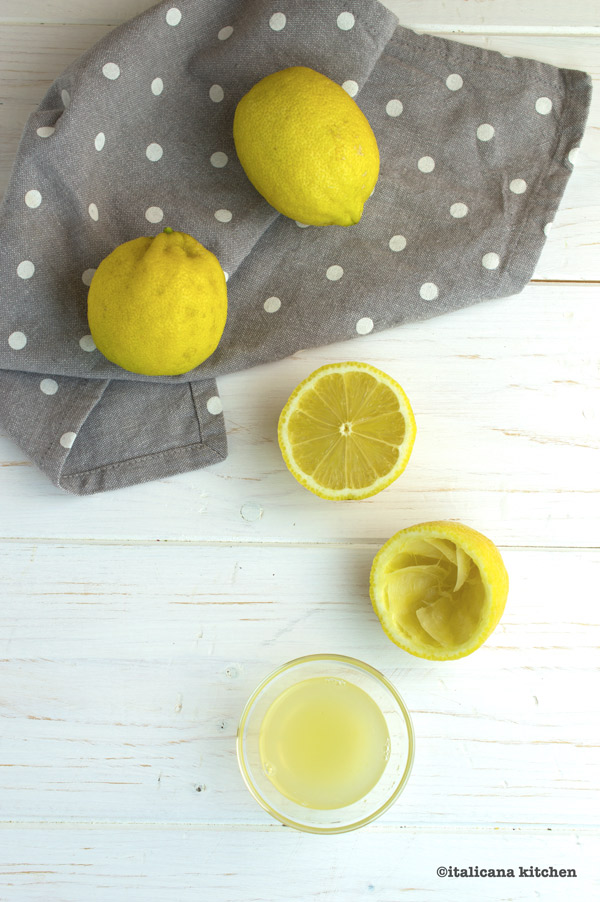 If you have leftover monkfish, I suggest delicious fish tacos with sweet Tropea onions for the following day. Add a little avocado, some cotija cheese (or if you're in Italy and can't find it, I find feta to be a good substitute), Greek yogurt :: yogurt Greco and you got yourself another tasty wholesome meal that's easy to throw together in a matter of minutes.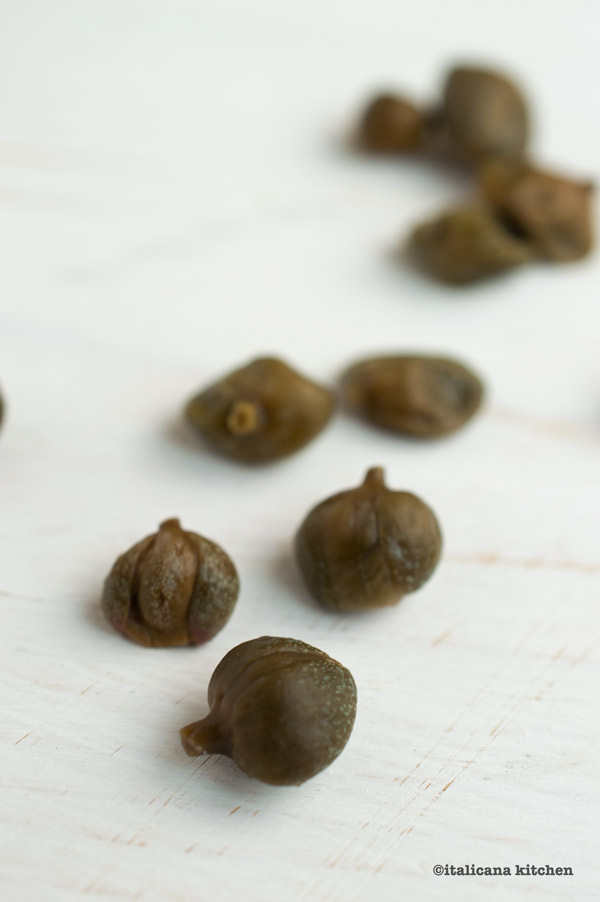 I know capers :: capperi aren't a big thing in the U.S. In fact, the first time I started cooking with these salty little pearls was when I moved to Italy. Now capers are a staple element in my refrigerator. They lend a tantalizing piquancy to any dish.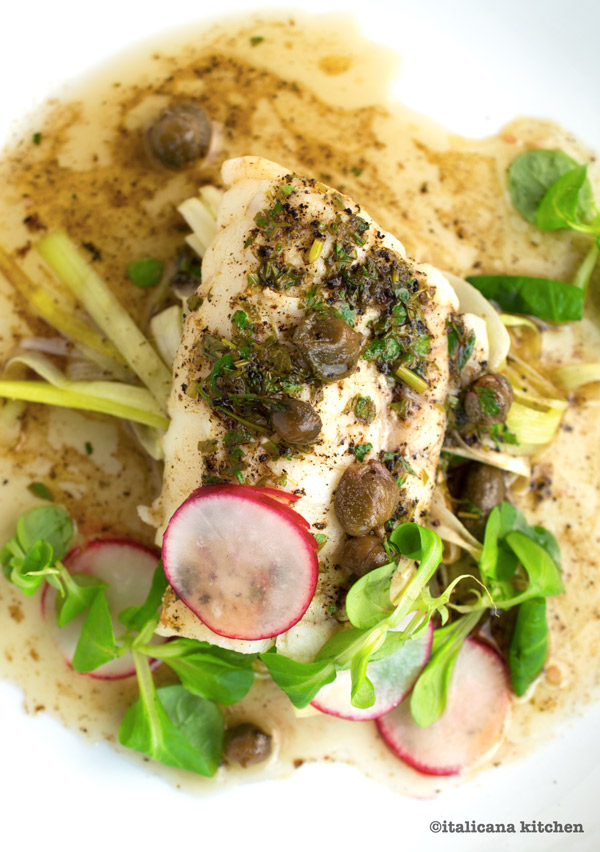 Although I created this dish to be served as a main course, I think it would also work great presented as gourmet bite-sized appetizers.

Poached Monkfish with Brown Butter, Lemon & Caper Sauce
This Poached Monkfish with Brown Butter, Lemon & Caper Sauce is a delicious gourmet dinner that you can make in 20 minutes!
Ingredients
For the leeks:
1 tablespoon extra virgin olive oil
1 leek, the white part only
For the monkfish:
½ tablespoon course salt
2 bay leaves
1 tablespoon black pepper corns
2 fillets of Monkfish
For the brown butter, lemon & caper sauce:
4 tablespoons (56g) butter
½ lemon juice
Zest from ½ organic lemon
1 tablespoons of capers (desalted)
1 pinch of dried thyme
1 tablespoon chopped Italian flat leafed parsley
Salt
Black pepper
Garnish (optional):
1 radish, thinly sliced
Valeriana lettuce
Chopped Italian flat leaf parsley
Instructions
Fill a medium pot with water and bring to a boil.
In the meantime, make the leeks. Using only the white part of the leek, slice it in half then cut lengthwise in julienne strips. Heat 1 tablespoon extra virgin olive oil to a skillet, add the leeks and cook for 3-4 minutes. Remove from heat and set aside.
When the water is boiling, add the coarse salt, bay leaves, pepper corns then reduce the heat to a simmer. Add the monkfish fillets and cook for 5 minutes, or until completely white and no longer translucent. Remove from the water and let set on a cutting board.
In the meantime make the brown butter sauce. Melt the butter in a large skillet over medium heat. Cook until the butter turns medium brown, about 3-4 minutes. Remove from heat and add the lemon juice, lemon zest, capers, thyme and parsley.
Divide the leeks in the center of two shallow bowls. Top with the monkfish and season with salt and freshly cracked black pepper. Now spoon the sauce on top. Garnish with radish slices, valeriana lettuce and more parsley, if desired. Buon appetito!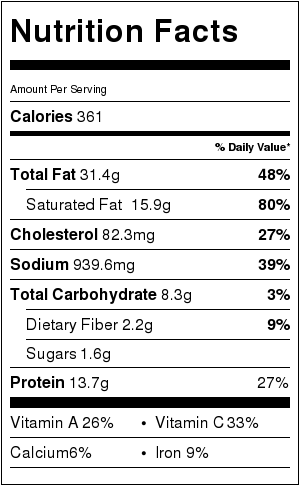 Related posts: