When I was about eight, I begged my mom for a pottery wheel and clay. I suppose I saw some cartoon or maybe just loved the way clay felt as it  squished out of my hands or stuck in between my toes when I walked along the nearby river bank on a hot summer day. While my attempts to be a sculptor were a disaster—my lopsided flower vase can attest to this—I found sculpting clay to be magical, fun, inspiring and relaxing. I got this same sensation when I made this pistachio and pomegranate pavlova. The texture of this giant meringue is both squishy and stiff. It begs to be formed into a sunken volcano with a crater for a classic pavlova or it can be shaped into a Christmas wreath for your upcoming holiday parties.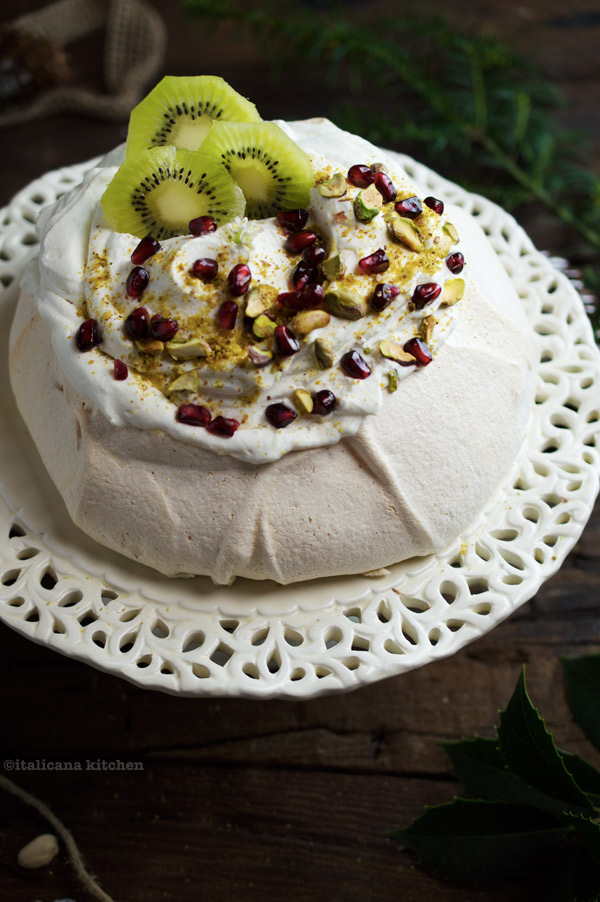 I try to avoid making desserts with white sugar, yet, sometimes I can't resist the classic recipes that I grew up on and loved like chocolate chip cookies, brownies and apple pie. As a kid I was never a fan of meringues, but after trying one the other day at a restaurant, I was quite surprised that I liked them. When I was doing some research online, pavlova popped up on my screen. I couldn't resist the temptation. Pavlova is a giant meringue with a crisp outside and soft inside, which is then topped with whipped cream and fruit.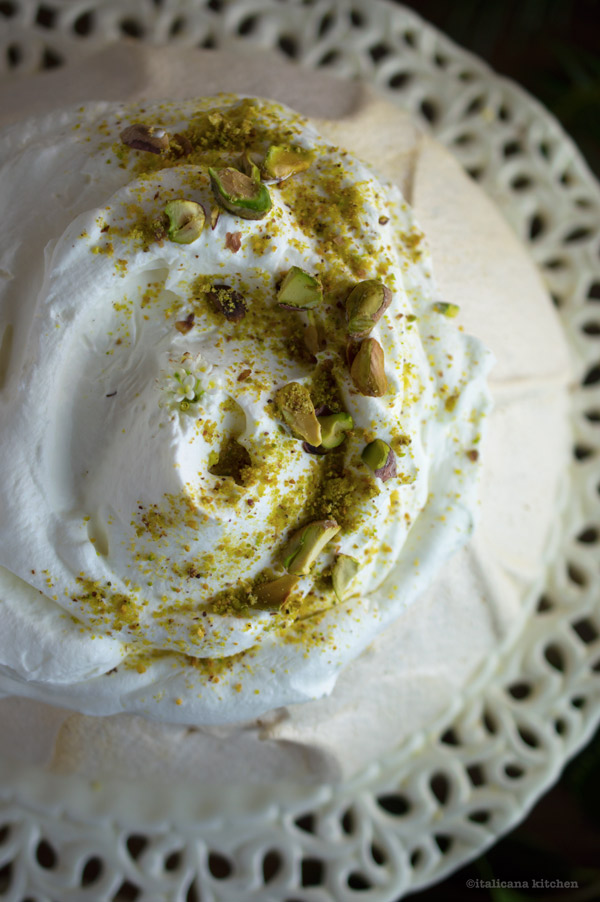 My first attempt was a complete disaster. I had tried to make a lighten up version by substituting the sugar for honey. The result was a spongy, honey erupting mess that ended up in my trash can.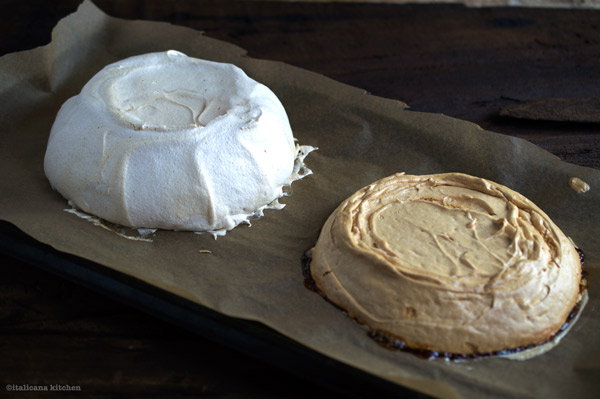 So my advice to you is to stick with the classic recipe. When you have a stand mixer, like Smeg's, the whole process becomes super easy. It does all of the work while I can get a head start on cleaning my kitchen or starting a load of laundry. I heart being efficient.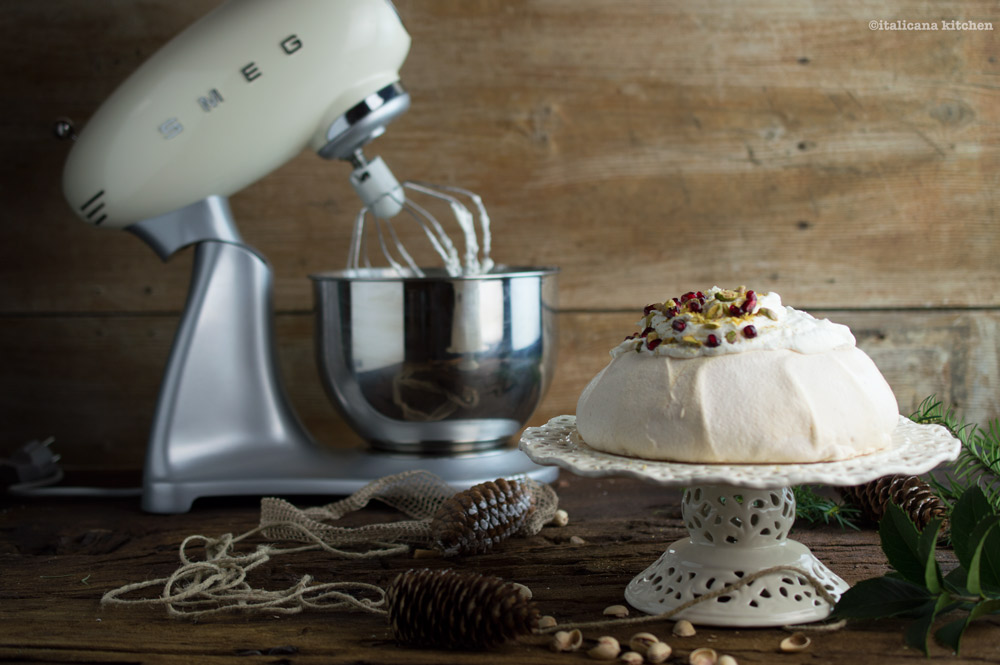 More Christmas recipes and video coming soon. In the meantime, I hope you all are enjoying the holiday ambience wherever you are!

Pistachio and Pomegranate Pavlova
Ingredients
For the pavlova: 
3 egg whites (from large eggs at room temperature)
1 pinch of salt
¾ cup (175g) sugar
Seeds from 1 vanilla bean
1 teaspoon lemon juice
For the whipped cream: 
1 pint (475ml) heavy whipping cream
For the topping: 
¼ cup pistachios, shelled and blended to a fine powder
¼ cup pistachios, shelled and roughly chopped
½ cup pomegranate seeds (about ¼ large pomegranate)
Instructions
Preheat the oven to 250°F (125°C).  Line a cookie sheet with a piece of parchment paper.
Add the egg whites and salt to the bowl of the stand mixer and attach the whisk attachment. Mix on speed 10 until the egg whites have soft peaks (peaks that bend). Now add the sugar, one spoonful at a time and continue to mix on speed 10 until stiff peaks form (peaks that stand straight up).
At this point, add in the seeds from the vanilla bean and lemon juice. Mix until combined.
Mound the pavlova mixture in the middle of a prepared cookie sheet with the help of a spatula. Form it into a disc or volcano-looking shape with a crater.
Bake for 1½ hours then shut off the oven and let the pavlova rest in the oven for 1 hour. It's going to be hard, but don't open the oven door!
When you are ready to serve the pavlova, put the heavy cream in the bowl of the stand mixer equipped with the whisk attachment and splashguard. Whip on speed 10 until stiff peaks form.
Take the pavlova out of the oven, put it on a serving dish and mound the whipped cream in the crater hole. Top with pistachio powder, chopped pistachios, pomegranate seeds and kiwi slices. Slice and serve. It's best if eaten immediately, alternatively you can bake the pavlova in advance and top it with the whipped cream and fruit right before serving. Buon appetito!
This post is sponsored by
Smeg
and includes affiliate links, which help make this blog possible. Thank you for your support!
Related posts: