Cooking octopus seems difficult, right? After all, you typically find this delicious delicacy in fancy restaurants at an extravagant price or in gourmet food & wine magazines. Want to know a secret? It's as easy as cooking pasta. You just plop the octopus in boiling water, let it cool, then slice it up. That's it. You can serve it alone with a drizzle of good extra virgin olive oil, lemon juice, salt, pepper and chopped parsley or add sweet Tropea onions to give a touch of color and a burst of flavor.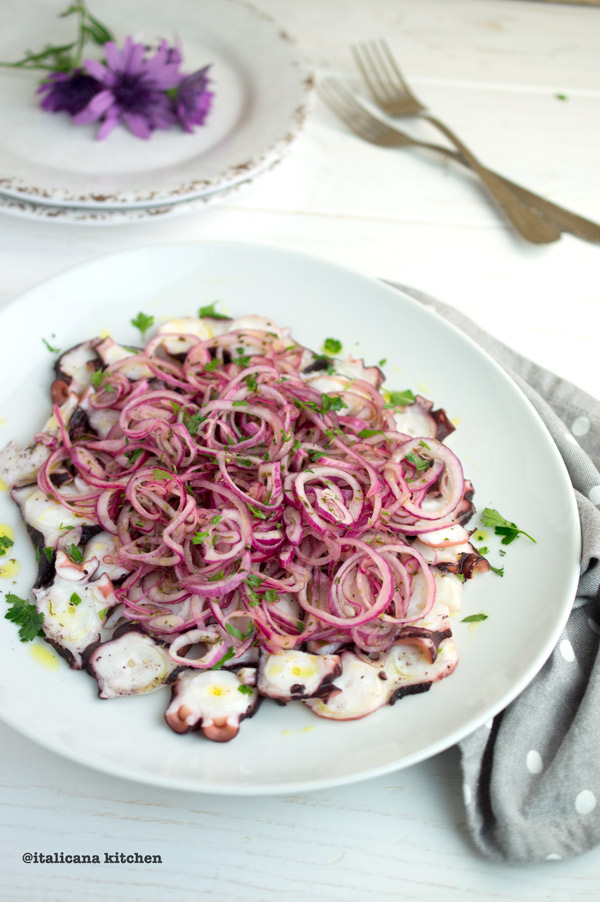 You can also easily roast octopus in a cast iron pan or poach then bbq your octopus to give it a charred taste. In Italy, octopus is found in various recipes like octopus and potato salad and octopus "Luciana" with capers, olives and tomatoes, just to name a few.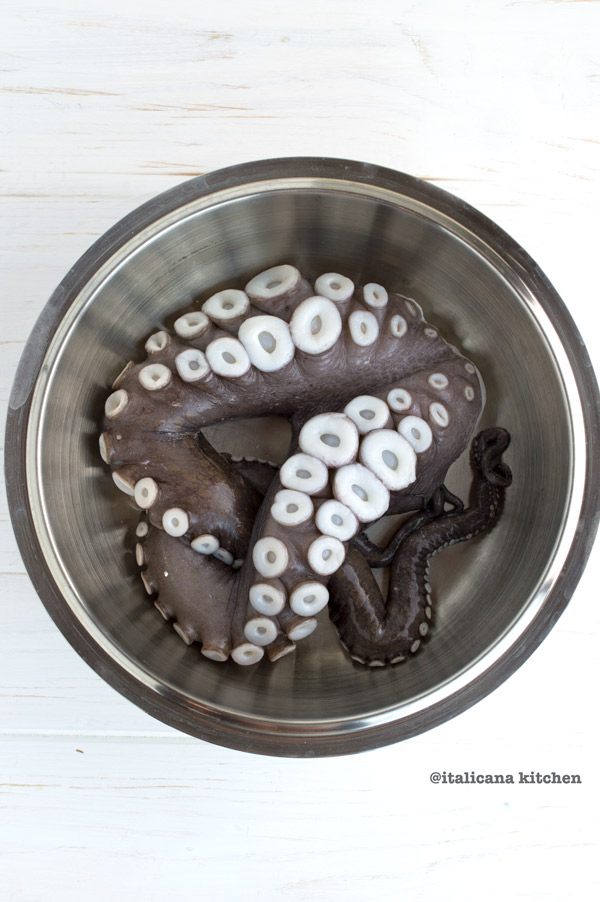 Octopus is a staple in the seafood section in Italian supermarkets and farmer markets. Don't let its freaky long tentacles deter you from buying this delicious seafood. Trust me, once you get over the appearance it will be your go-to meal for special occasions or even a simple healthy weeknight dish you can throw together in no time. Italian kids tend to love octopus, so it's not just for adults.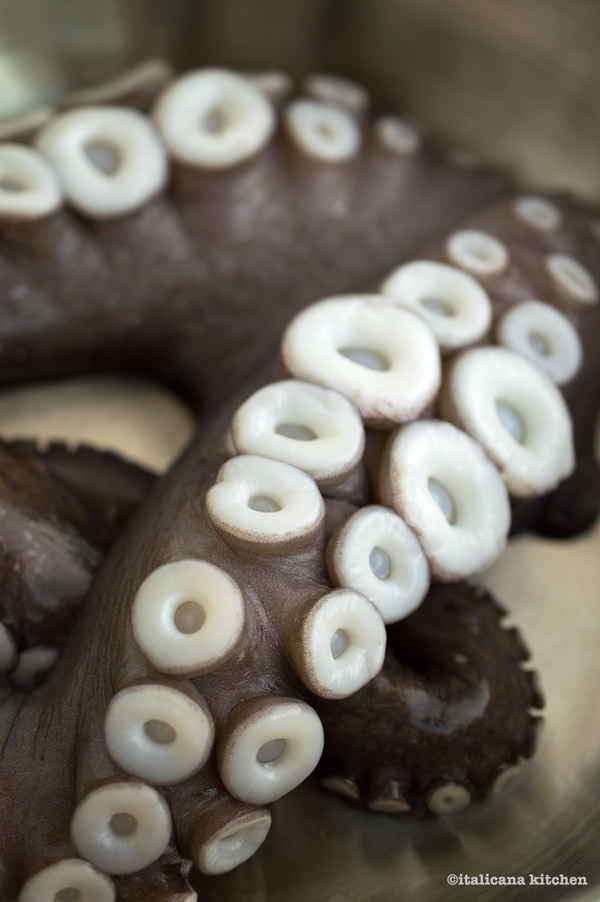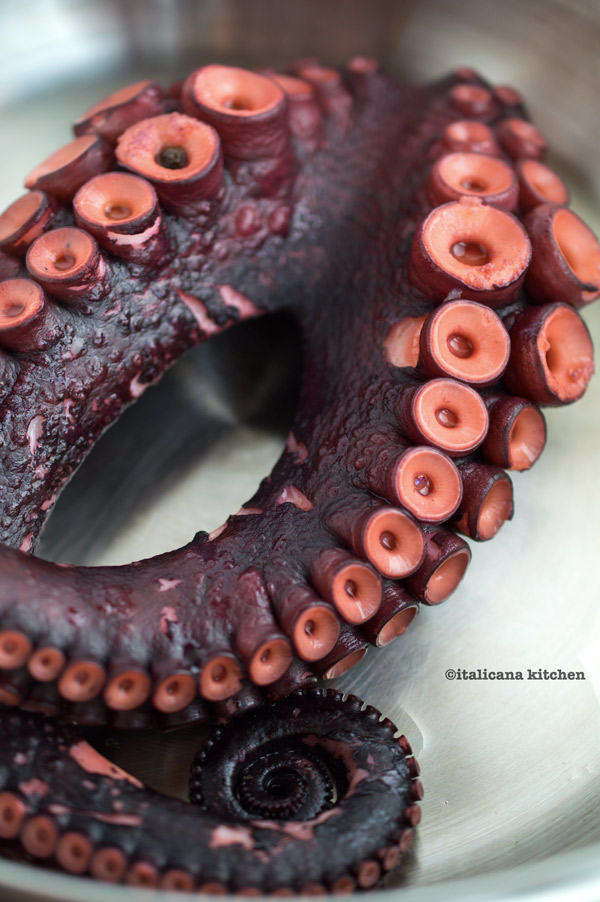 If you can't find fresh octopus, this is one item that is also great to buy frozen. I tend to ask my fishmonger to clean the octopus for me; it's just simpler and he's able to do it in a matter of minutes and I can avoid dealing with the beak, eyes and the ink sack.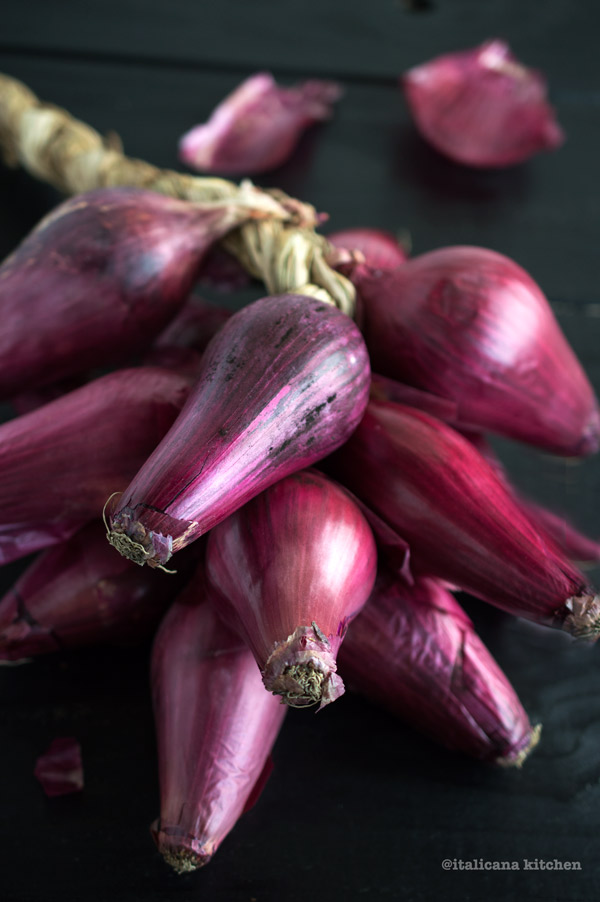 You may have heard about Tropea onions. They are one of Italy's most famous sweet red onions named after the beautiful beach town of Tropea in the region of Calabria. They are extremely sweet, thanks to the sandy soil and mild growing climate, and are perfect to consume raw in salads.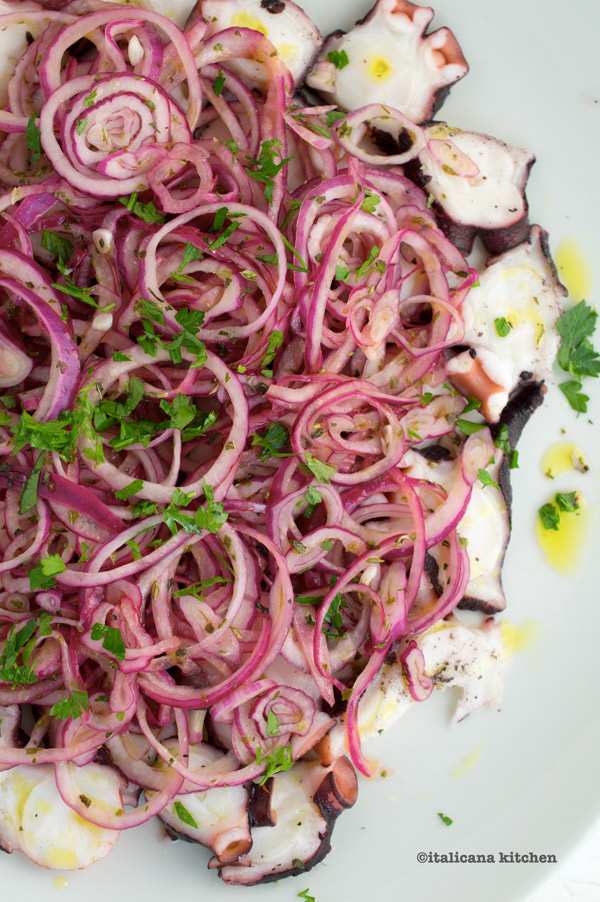 I had the opportunity to go to the lovely town of Tropea during the NanoGagliato Conference last year, an annual invitation-only think tank event focused on nanotechnology. Next year at this event I will be offering a Kitchen Lab + Cooking Classes.  If you want to get involved as a volunteer or a sponsor, I highly recommend this incredible non-profit organization that is making incredible changes in science and giving back to the local hillside community of Gagliato.
Happy cooking and if you make this dish, please leave a comment and your thoughts below. I love hearing from you.
Xoxo,
Italicana

Octopus with Sweet Tropea Onions
Ingredients
2 large octopus arms
1 teaspoon (2g) black pepper corns
2 bay leaves
2 cloves garlic, skinned but left whole
1 Tropea onion (or red onion)
2 tablespoons extra virgin olive oil + more for serving
2 tablespoons red wine vinegar
½ teaspoon dried oregano
Salt
Black pepper
Italian flat leaf parsley
Instructions
Bring a medium pot of water to boil. Lower the heat to a simmer, add the pepper corns, bay leaves, garlic and Octopus; cover with a lid. Cook for 35-45 minutes until the octopus is tender when pierced with a toothpick. Drain and set aside until cool.
While the octopus is cooking, thinly slice the Tropea onions in rounds and put them in a medium bowl. Add the extra virgin olive oil, red wine vinegar, oregano, salt and black pepper. Chill until the octopus is done.
When the octopus is ready and chilled to the touch, cut into thin slices like sashimi. Top with the Tropea onion mixture, another drizzle of extra virgin olive oil and season to taste with salt and black pepper if needed.
Eat right away or chill in the refrigerator until ready to consume (eat within 1-2 days). A great recipe to prepare in advance.
Related posts: