When I ask a foreigner to talk to me about Italian food, the person almost always tells me about oversized bowls of pasta, wood fire pizzas and the incredible flavor of the fresh ingredients. Without a doubt, Italy has a grand cuisine based on tradition, but not only. You can also find extreme innovation and creativity in the alta cucina, or gourmet cuisine.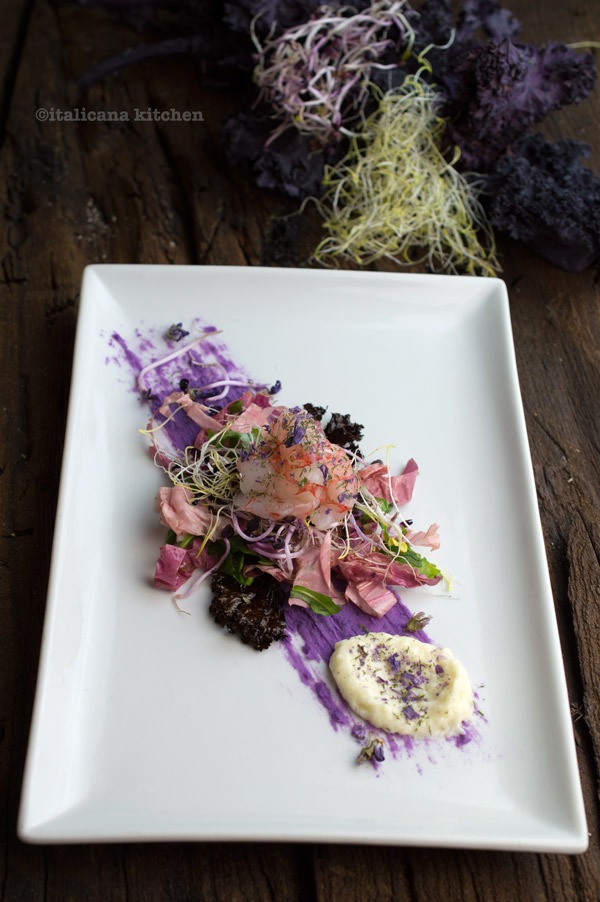 It's difficult to eat poorly in Italy, and therefore during my first years of living in Emilia-Romagna I was never that enthused to spend a lot of money for small portion sized gourmet dishes. In Italy, the fact is that you can eat extremely well spending only a small amount of money.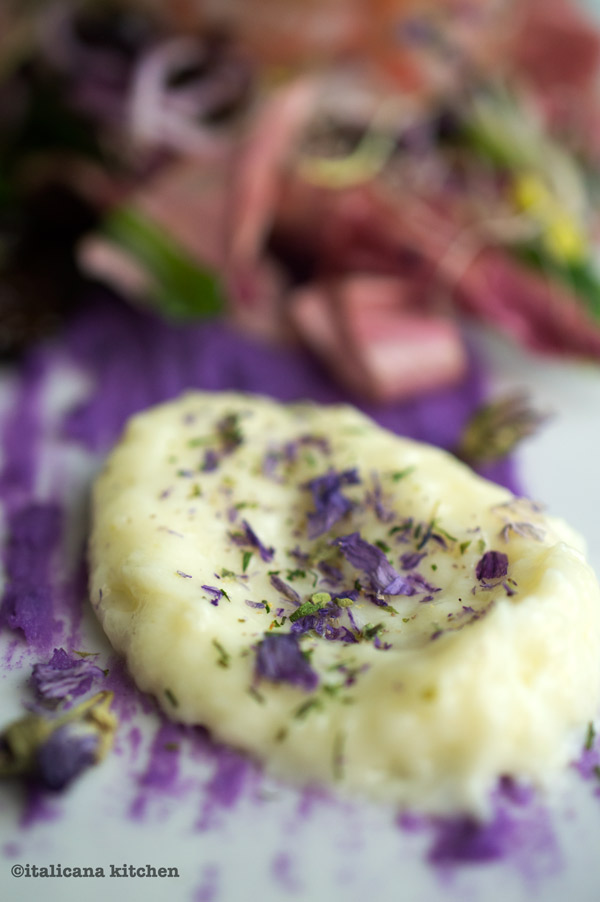 Working as a food blogger, I eat constantly for my job. I create my own recipes, I try traditional dishes and I've even had the opportunity to taste gourmet plates. I finally understand why people spend more money to eat at gourmet restaurants: the emotional surprise.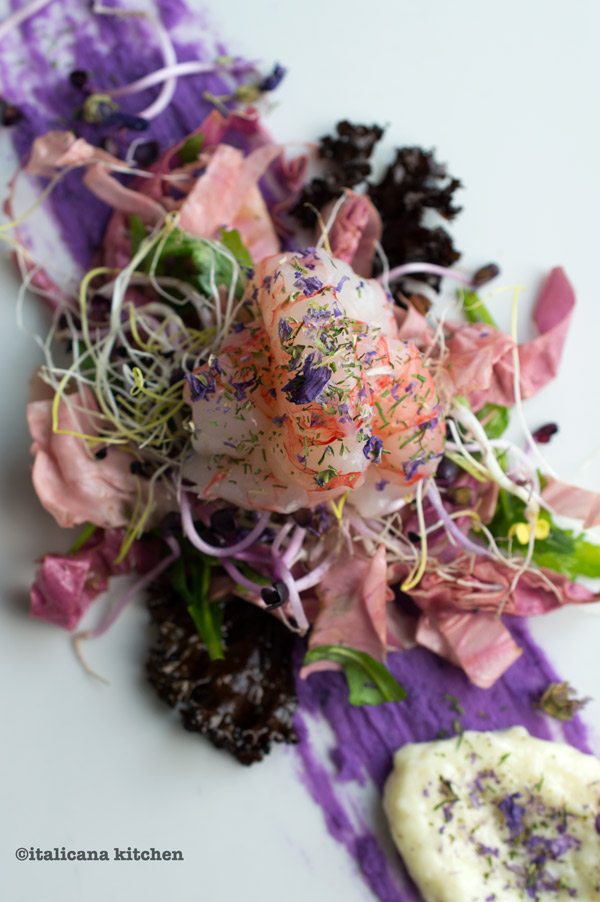 While traditional food from your home of origin brings back the most wonderful memories tied to eating with family and friends around a kitchen table, gourmet cuisine makes you feel new emotions; surprising sensations that amaze your senses. You may have a dish in front of you that is beautiful like a painting, exotic aromas that take your nose on a journey to a far off place, or an explosion of flavors in your mouth like you've never experienced. Gourmet cuisine pushes your palate to discover the unknown; instead of remembering an event from the past, you create it.
Here is my attempt at a homemade recipe that provokes a unique sensory experience. Enjoy! 🙂
Xoxo,
Mrs. Italicana

Mashed Purple Potatos with Sicilian Red Shrimp Salad and Sauternes Sauce
A gourmet food experience you can easily create at home in 35 minutes.
Ingredients
Mashed Purple Potatoes:
Rock salt, as needed
17.5 ounces (500g) of purple potatoes, washed with skins left on
½ cup of milk (I used skim)
½ lemon, juiced
1 tablespoon extra virgin olive oil
2 tablespoons Greek yogurt
Salt, to taste
Freshly cracked black pepper
Sicilian Red Shrimp Salad:
2 curly kale leaves
1.5 oz (40g) red radish sprouts*
1.5 oz (40g) leek sprouts*
4 rose colored radicchio leaves, cut into strips**
4 dark rose colored radicchio leaves, cut into strips**
2 handfuls of arugula, cut in pieces
Extra virgin olive oil, as needed
12 fresh red Sicilian shrimps, shelled, deveined and rinsed
A few pinches of dried dill
A few pinches of crushed edible flowers
*You can also just use white beansprouts
**You can also use red radicchio or another type of lettuce
Sauternes Sauce:
½ teaspoon (3g) butter
½ teaspoon (3g) flour
¾ cup of heavy cream
1 tablespoon of Sauternes (or another sweet wine)
Pinch of salt
Freshly cracked black pepper
Instructions
For the mashed purple potatoes:
In a medium pot, bring water to boil. Salt the water then add the potatoes and cook until you can pierce them with a fork, about 15-20 minutes.
In the meantime, put the milk and lemon juice in a cup and let it sit for 5-10 minutes.
When the potatoes are done, drain them, peel them and stick them in the bowl of the stand mixer. Use the paddle attachment and mix on speed 3 or 4 until the potatoes are broken up into small pieces; about 1-2 minutes. Change to the beater attachment and add the extra virgin olive oil, milk and lemon mixture, Greek yogurt, salt and black pepper. Mix for another 10-20 seconds. Adjust the flavor with salt if needed, and stir again.
For the Sicilian red shrimp salad:
Preheat oven to 350°F (175°C). Line a baking sheet with parchment paper.
Rinse the kale, remove the stem and break the leaves into small pieces. Use a salad spinner to completely dry the kale leaves (or pat really good with paper towels) and line them in a single layer on the baking sheet. Add the extra virgin olive oil and a few pinches of sea salt stir them around with your hands. (I usually bake the whole head of kale using what I need for the recipe, and the rest of the kale chips we eat for a delicious and healthy snack.) Cook for 8-10 minutes or until the edges are brown but not burnt.
In the meantime, put the radicchio and arugula in a bowl and toss with a swirl of extra virgin olive oil.
For the Sauternes sauce:
Melt the butter in a medium pan, add the flour and toast over medium heat for a few minutes. Add the heavy cream, Sauternes, salt and pepper. Continue to cook, stirring constantly, until the sauce has thickened.
For the plating:
Use a kitchen brush to design a brush stroke across a plate with the mashed purple potatoes. In the middle of the brush stroke, add the dressed radicchio and arugula, followed by the sprouts and 3 shrimp. Position a few kale chips around the bottom, then sprinkle the top with some dried dill and dried crushed edible flowers. On one end of the brush stroke put a dollop of the Sauternes sauce and sprinkle some crushed flowers on top. Repeat for the remaining three plates. Buon appetito!
Related posts: