I've been to many great restaurants in Italy, but few have captured my heart like La Berlera in Riva del Garda.  La Berlera offers more than just exceptional food, it provides a unique dining experience that will be etched in your memory forever thanks to the uniqueness of its location :: la posizione, selection of ingredients, creative dishes, attention to detail and warm service.
So what makes La Berlera's location stand out among others? To begin, the restaurant is located inside of a boulder that was carved out in 1794.  The jutting structure attached to the boulder resembles a small castle tower all surrounded by mountains and rolling vineyards.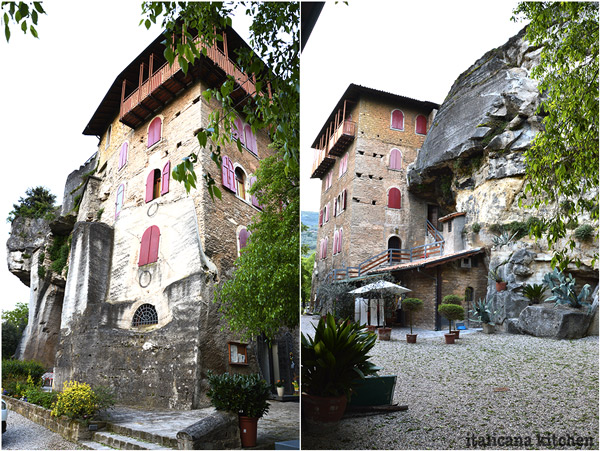 Lining the edge of the property is a vegetable garden :: orto with various herbs that are used to create interesting flavor combinations like vanilla and rosemary gelato and bay leaf sorbet, just to name a few. Besides some varieties of beef, all of the ingredients used at La Berlera are KM 0 (kilometer 0), meaning that they are purchased locally in order to support local farmers and vendors.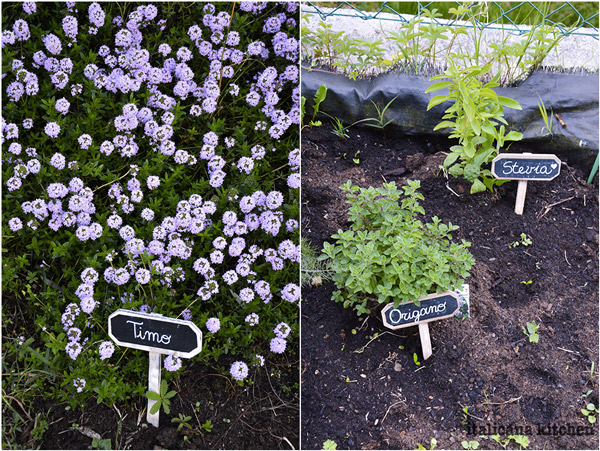 In addition, Owner and Chef, Gianluca Guglielmi, advocates the consumption of seasonal products :: prodotti di stagione.  The menu is therefore changed periodically to implement only the freshest and tastiest in-season ingredients.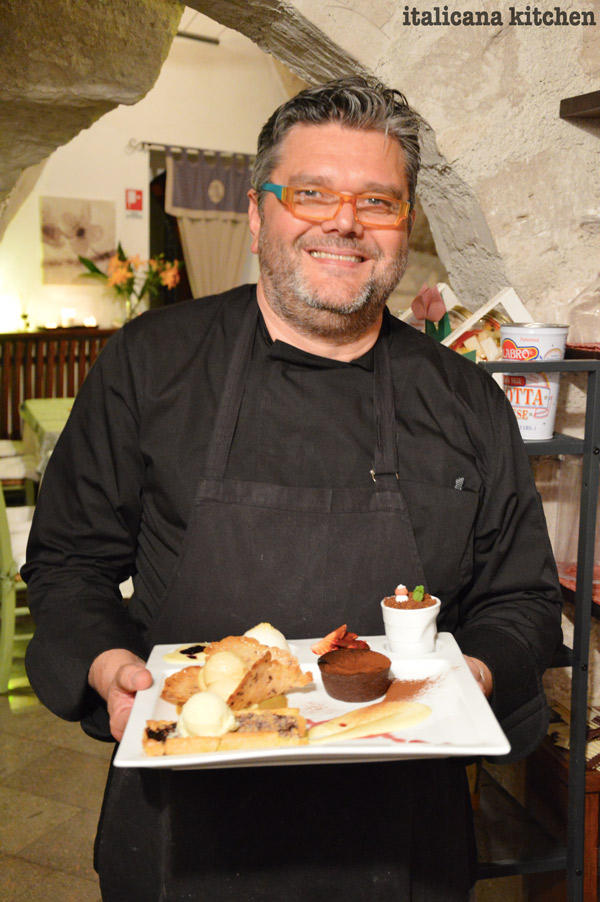 Although you are dining in a slightly cool damp cave :: grotta, the interior decorating and attention to details give you the feeling of home: there are wooden tables, chairs with bright colored seat cushions, bowls full of fruit, plants and flowers and not to be missed are the book shelves that line the walls.  Also on display is a metal storage rack lined with homemade canned goods, just like my mom's in her root cellar.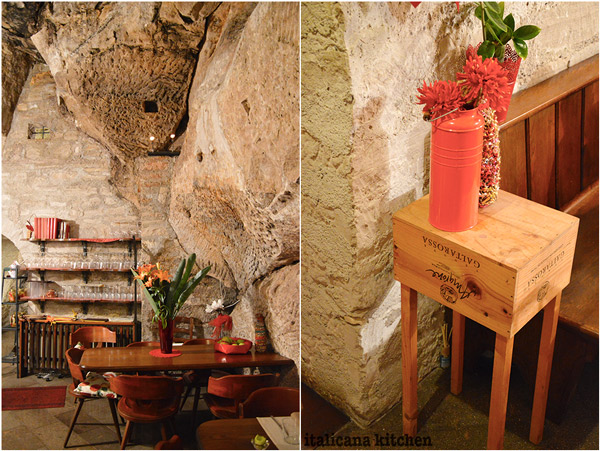 With decades of experience in restaurant ownership and consulting, the thing I like most about Chef Guglielmi's recipes is that each dish has a variety of textures to excite the palate :: palato: from creamy to crunchy, rich to refreshing, the taste buds are led through a maze of twists and turns in consistencies and flavors along the way.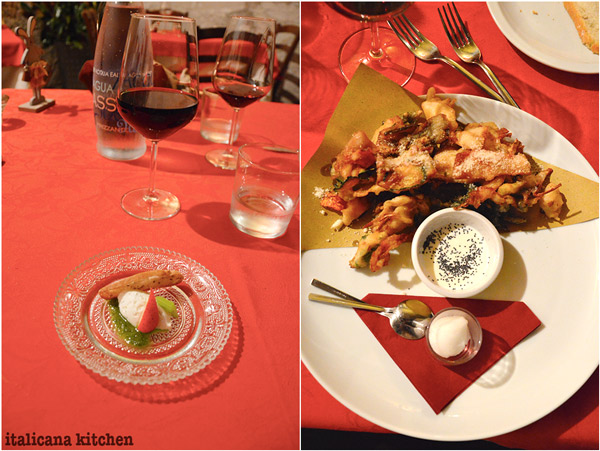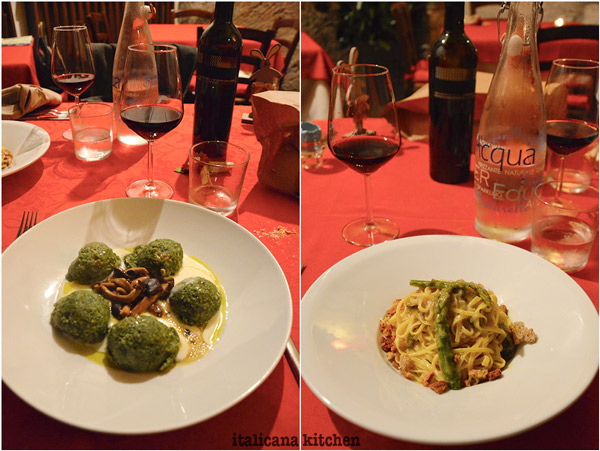 I have mentioned in previous posts that Mr. Italicano and I aren't big of fans of dessert. I wish I would have taken pictures of the plate after we devoured :: divorato every morsel on this dessert platter.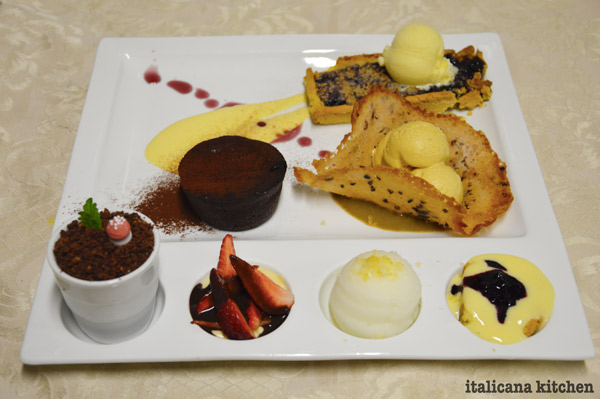 As you can see from the photo, we weren't just eating any ol'dessert. What we had before us was gorgeous food art.  I felt guilty destroying the masterpiece :: capolavoro before me, but it looked just too good to resist!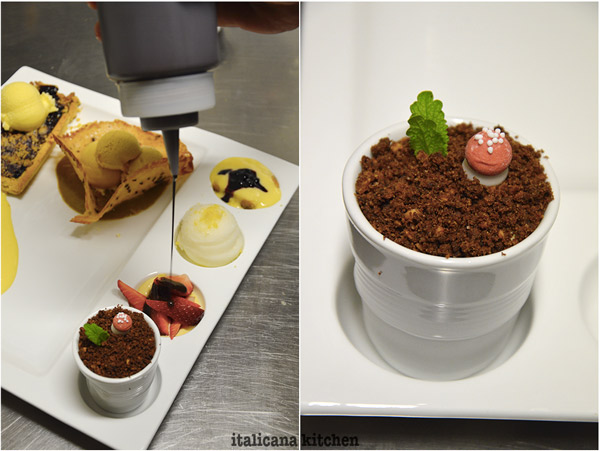 What I love about family-run businesses, is that you typically get fantastic service and great hospitality :: ospitalità. At La Berlera, husband, wife, and son worked seamlessly together to make each customer's dining experience unique and memorable.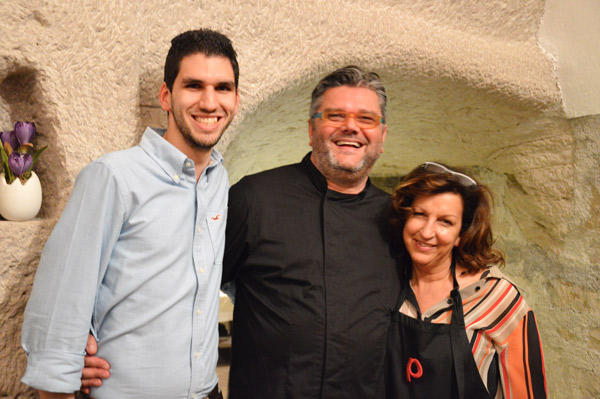 So, if you are planning a trip to Italy, definitely put Riva del Garda on your list of places to visit. It is just off the beaten path where you will escape the swarms of tourists and can relish :: assaporare a magical moment enjoying views of a mountain lake, hillsides lined with wine yards and olive groves and enjoy a unique dining experience at La Berlera.
Note:  This post is not sponsored or paid by Riva del Garda tourism or La Berlera restaurant. I just thought you would be interested in discovering one of my favorite locations and restaurants here in Italy.
Related posts: