I've never found fresh cranberries in Italy, only dried. Normally it wouldn't be a problem; after all, I only ever eat fresh cranberries at holiday meals like Thanksgiving and Christmas. Yet, it's now approaching 2 years since my last cranberry fix; two years since I've been home to the US during the holidays.
What do I love about homemade cranberry sauce? Well, for starters, its bright vibrant red color that brightens the table, then there's that sudden shock of surprise when a cranberry pops in my mouth releasing its tart juices that slowly are taken over by sweetness and later rounded off by a hint of  bitterness thanks to the orange zest. Mmm…my mouth is watering, wake me from my day dream. Luckily I only have to wait a few more weeks until Christmas when I can get the real thing. As you might expect, I'll surely be going back for seconds.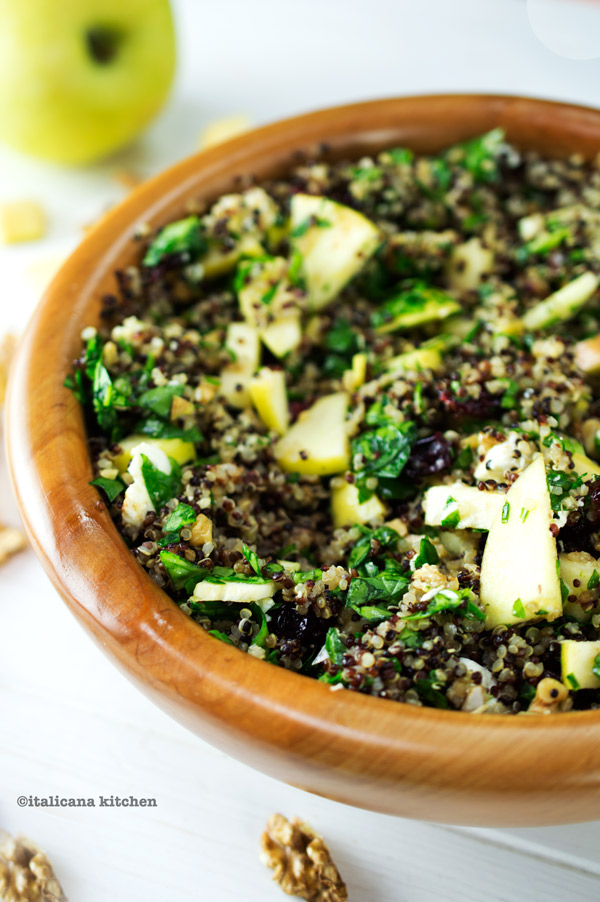 In the meantime, to suppress my cravings, I've gone for PLAN B: dried cranberries thrown into a delicious and simple quinoa salad. And, although it's no homemade cranberry sauce, my PLAN B is good too…actually real good. I got a temporary fix.

Holiday Quinoa Salad
This is a healthy, easy and delicious quinoa salad that is perfect for the holidays or any time of year.
Ingredients
For the quinoa salad:
1 cup (185g) quinoa (white, black, red or multicolor)
2 cups (475ml) water
1 golden apple, cored, cut and diced
3.5oz (100g) feta, crumbled
2 cups (170g) packed spinach, finely chopped
½ cup (40g) walnut halves, chopped
½ cup (60g) dried cranberries
1 shallot, finely chopped
6 tablespoons (90ml) extra virgin olive oil
1 tablespoon balsamic vinegar
Salt and black pepper, to taste
Instructions
Put the quinoa and water in a medium sized pot. Bring to a boil then reduce the heat to a simmer and cover. Cook for 15 minutes or until the water has absorbed and the quinoa is tender.
In the meantime prep the rest of the ingredients and add them to a large serving bowl. Add the cooked quinoa. Mix well and taste. Add more extra virgin olive oil, balsamic vinegar, salt and pepper to taste.
If you are making this salad in advance add some lemon to the salad to keep the apple from turning brown or just cut and add the apple to the salad right before serving.
Related posts: