In Florence there are a.l.o.t. of restaurants, and a.l.o.t. of tourist traps. How do you spot the difference? This isn't a proven theory, but in my experience if there are signs offering a "tourist menu" with pictures of the food, it's not a good bet. The restaurants :: ristoranti I usually look for are ones that are off the beaten path. Take the restaurant Il Santo Graal, for instance. To get to this holy grail (literally, that is the name translated in English) just leave the center of Florence at your back and head across the Ponte Vecchio and continue down Via Romana for 10 minutes until you find the restaurant on your right. Don't expect to drink from a cup that grants you everlasting youth, but don't be surprised either to have an experience you'll never forget.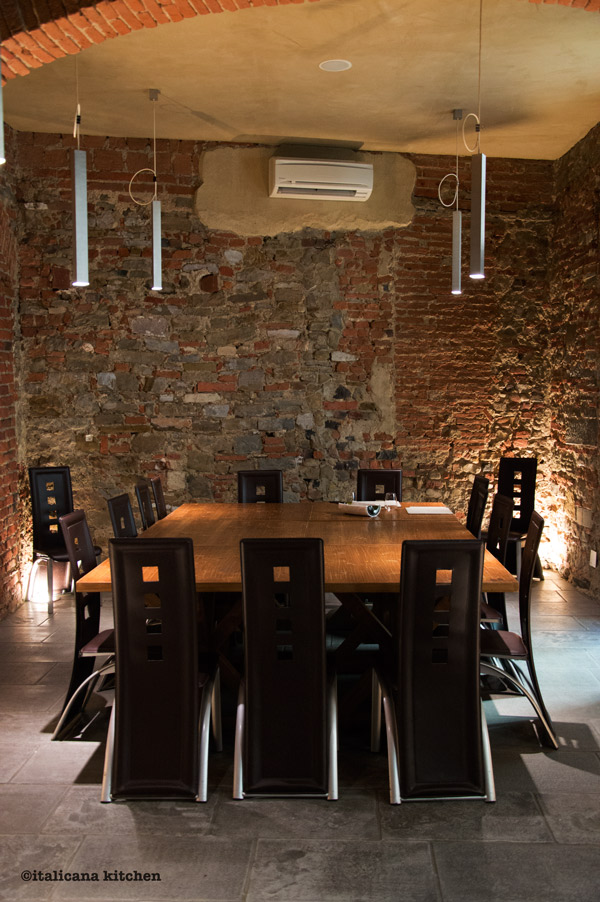 I immediately found myself at home in the rustic and elegant atmosphere, designed by owner and architect, Emanuele Canonico. I absolutely loved the "Sala Essenziale" or "Essential Room", a private table near the open kitchen where a special contemporary tasting menu is proposed by Chef Simone Cipriani and his team. The menu is based on the ingredients in season while reinterpreting traditional dishes through innovative food pairings and plate design.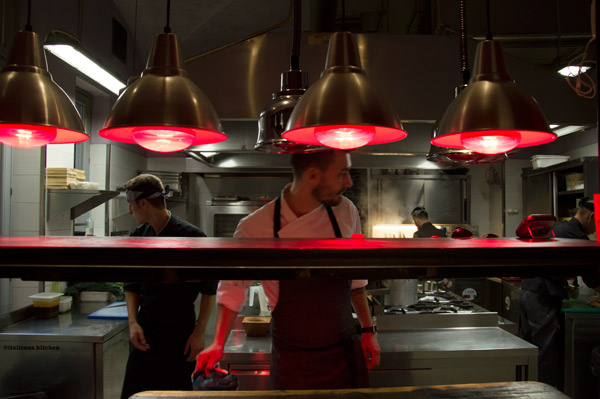 The tasting menu started off with the Ribollita 2.0 a historic dish from Il Santo Graal that is presented each year in a different way. The traditional Tuscan ribollita is served as a chunky vegetable and bean soup :: zuppa while at Santo Graal, Chef Cipriani's creativity sores: bread cubes soaked in kale juice, dried toasted seeds, a ribollita cream, tomato confit,  extra virgin olive oil spheres, and a warm vegetable reduction served in a creamer jar. It was a superb blend of textures, flavors and temperatures. Did I mention that it was also downright delicious?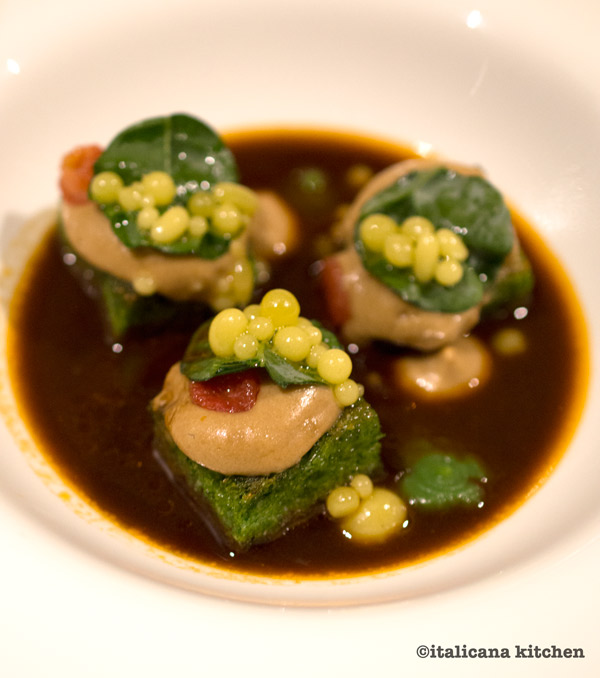 Continuing on our epic food journey was Nero, a spin on risotto with squid ink, a classic Livornese dish inspired by Chef Cipriani's birthplace. Squid, sage and garlic is braised for 2 hours then the squid ink is added in. To create the ultimate comfort food texture, tapioca is used in place of risotto and topped with puffed squid :: seppia to add texture as well as a few drops of spicy parsley sauce to add a kick. It was bursting with flavor, but not heavy on the palate as the color of the dish might suggest.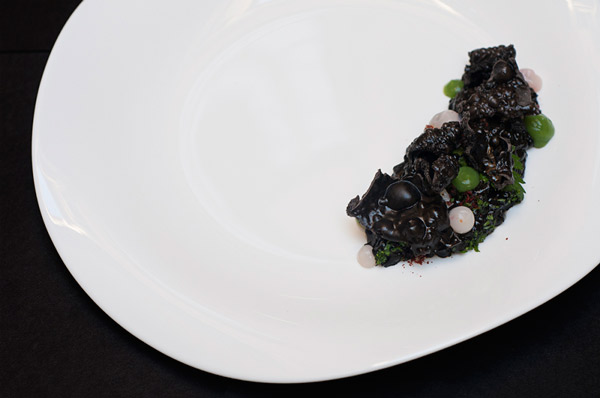 Photo Credit: Giovanni Rasoti
Dentro La Zucca, "inside the pumpkin", is a pumpkin risotto with taggiasche olives and pumpkin seeds :: semi di zucca served under a dehydrated slice of pumpkin and topped with mostarda, a sweet and spicy Italian condiment. I wasn't sure if the sweet pumpkin would be able to balance off the saltiness of the taggiasche olive, but I was surprised that the overall experience was an unexpected equilibrium of tastes.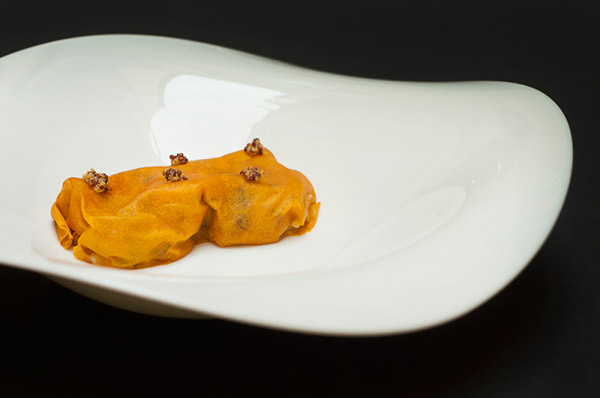 Photo Credit: Giovanni Rasoti
Next came Mochi, an extraordinary food concept inspired from Chef Cipriani's previous work in Japan. Unlike the traditional mochi, Chef Cipriani's version is savory and disappears in your mouth as soon as you begin to chew it. Literally. It's the most fascinating food experience I've yet to try. At the beginning you taste only the celery root, anchovies and gorgonzola but after a few moments the seemingly chewy ball has dissolved and your mouth is left with a refreshing note of mint :: menta to clear your palate. Absolute genius.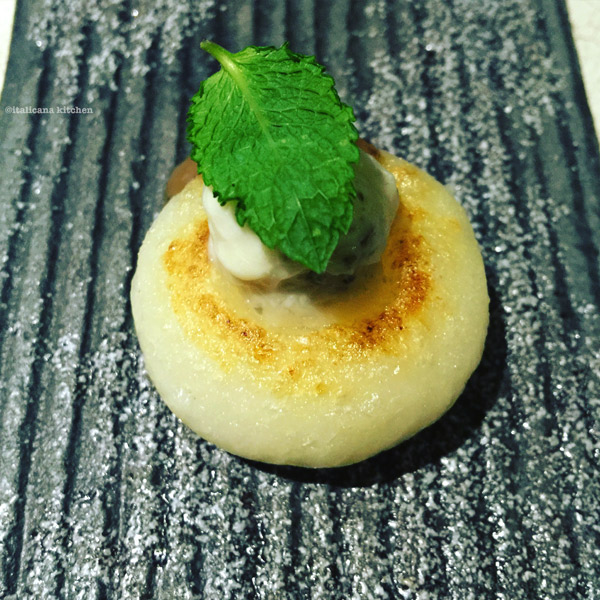 It was followed by Polpo Cacciuccato, a dish playing heavily with the bitter and sweet notes of the ingredients: grilled octopus :: polipo on top of couscous cooked in red wine, with Negroni gelatin squares and soaked orange peels, grapes and leek. The dish was packed with an array of delicious flavors, perhaps bordering on being a bit too strong.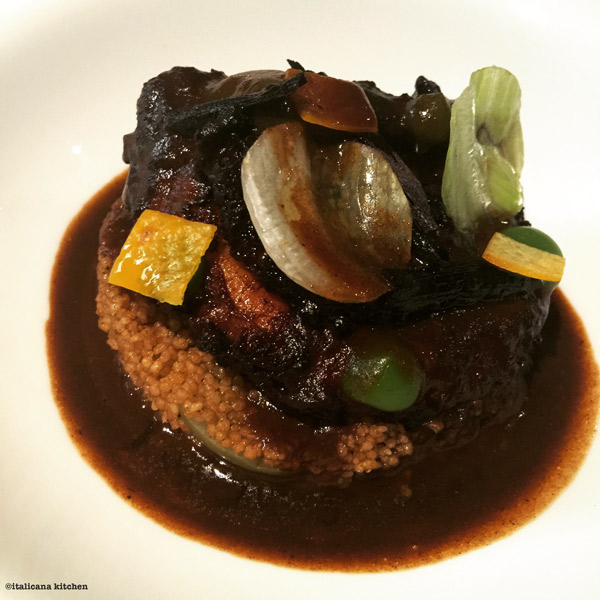 Next up, two desserts :: dolci. Some desserts are just to beautiful to eat. This was the case for Menta e Latte, a cookie based dessert topped with mint meringues.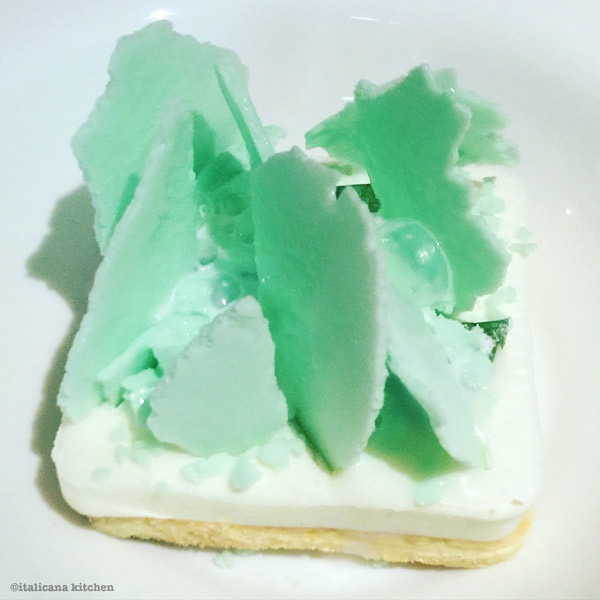 One of the incredible opportunities of having a private tasting with Chef Cipriani was the ability to hear how the ideas for his dishes :: piatti came around. Some are based on pure invention, others are the quest to reinterpret traditions, while still others are discovering other cultures' traditions. Take his dessert Wendy's: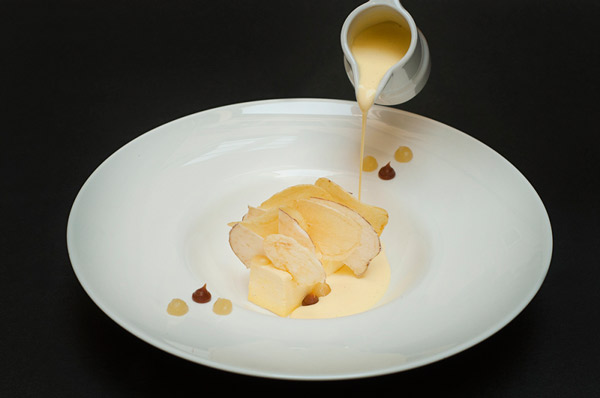 Photo Credit: Giovanni Rasoti
"I was in Chicago and I went to Wendy's to get something to eat. I saw a boy eating french fries with his ice cream. I was shocked, but then I returned here and I asked myself, "why not?" I tried it and the flavors worked incredibly well together. The kid was right," says Chef Cipriani.
And, that was how his idea for a vanilla semifreddo with potato chips, apples, and salted caramel was born. I have to agree, my American taste buds concur that this was an excellent way to end a meal.
A big thank you to Emanuele, Chef Cipriani and his team.  I have yet to have another lunch that beats this incredible food experience. If you are Florence, don't miss out on this hidden treasure!
Via Romana, 70R, 50125 Firenze FI
Telephone: 055 228 6533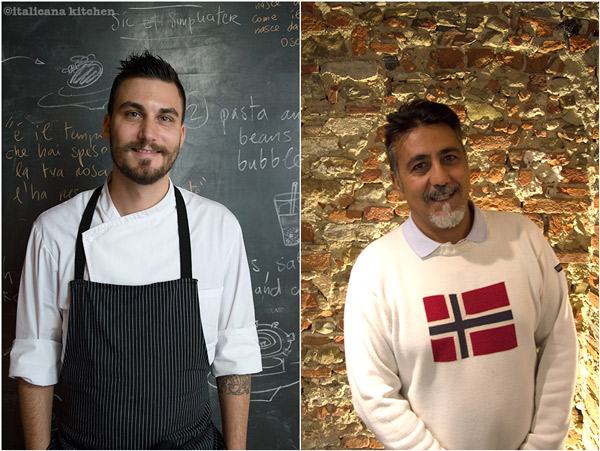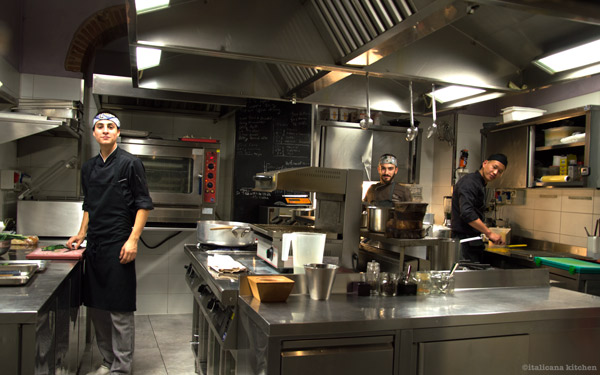 Related posts: