Christmas wouldn't be Christmas without gingerbread cookies :: biscotti pan di zenzero . The problem with a lot of  recipes is that the gingerbread cookies turn out too hard, have too much spice or are too sweet. This recipe is the perfect compromise: crunchy on the outside, soft in the middle and has the perfect balance of flavor, not too sweet nor too spiced.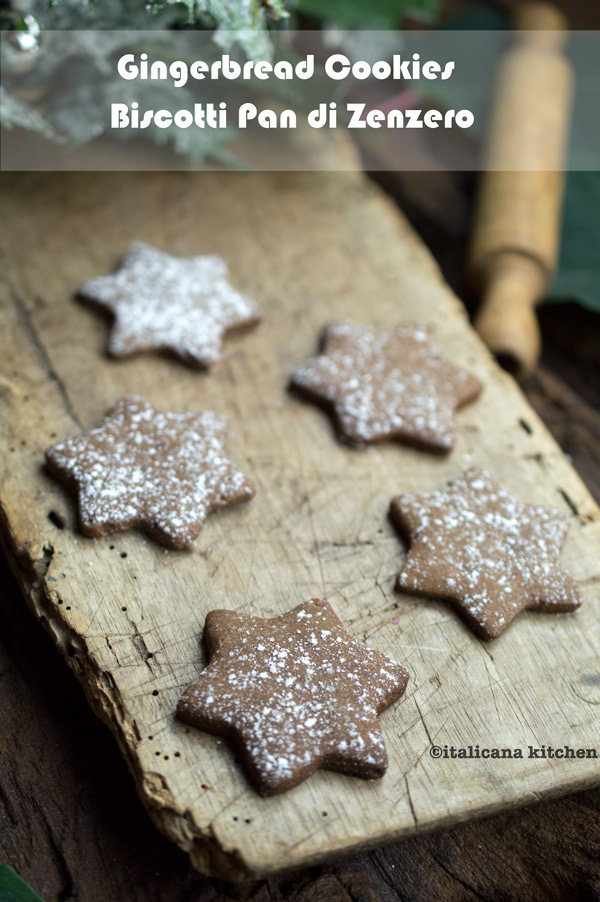 I made this recipe for an event at Smeg in Milan, Italy last week. They were a hit among the kids and the moms that stopped by the store for an afternoon cookie break. And, we packaged up another batch in cute red bags to give away at the evening Christmas party where I also made pumpkin soup with homemade whole wheat croutons and toasted sunflower seeds, black quinoa salad and a light(er) mandarin mascarpone whipped cream to slather on top of Panettone, a typical Italian Christmas cake. Recipes coming soon. In the meantime, if you live in Milan or are there on holiday, I will be giving a cooking lesson on holiday appetizers :: antipasti at the Smeg store this Thursday, December 17th at 7p.m. You can sign up for the course at Smeg's event website.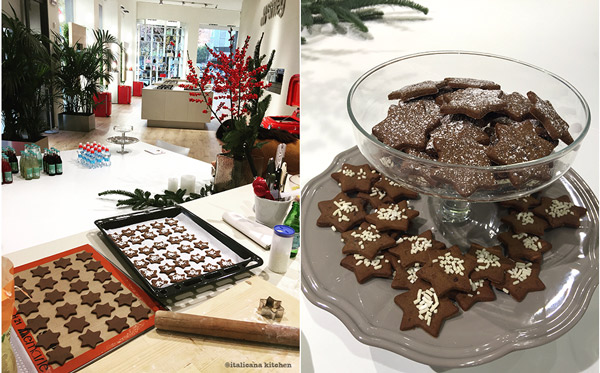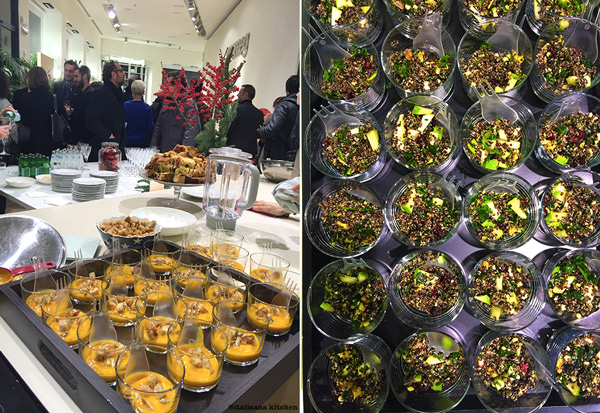 One thing that I use to hate about about making Christmas sugar cookies or gingerbread cookies is that they often take a lot of time to decorate. Icing each cookie and waiting several hours for the icing ::  glassa to dry is torture; especially if I needed to bring them to a party the same day.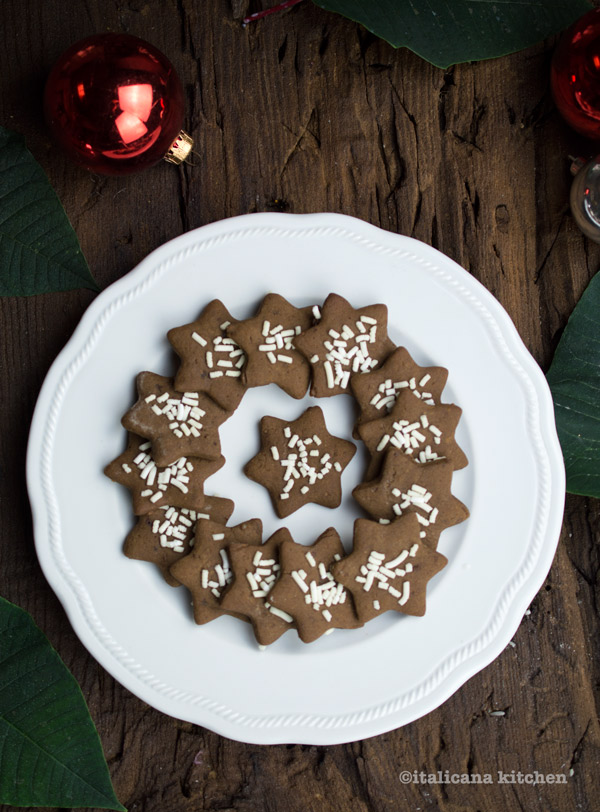 Now I have a solution to this problem. To quickly decorate your gingerbread cookies, just drop some white sprinkles :: coriandoli in the middle before baking or use a flour sifter to lightly shower your cookies with powered sugar after you pull them out of the oven. It gives them a delightful snowy look and you can decorate all of the batches in just a few minutes! This one little trick will save you hours of work.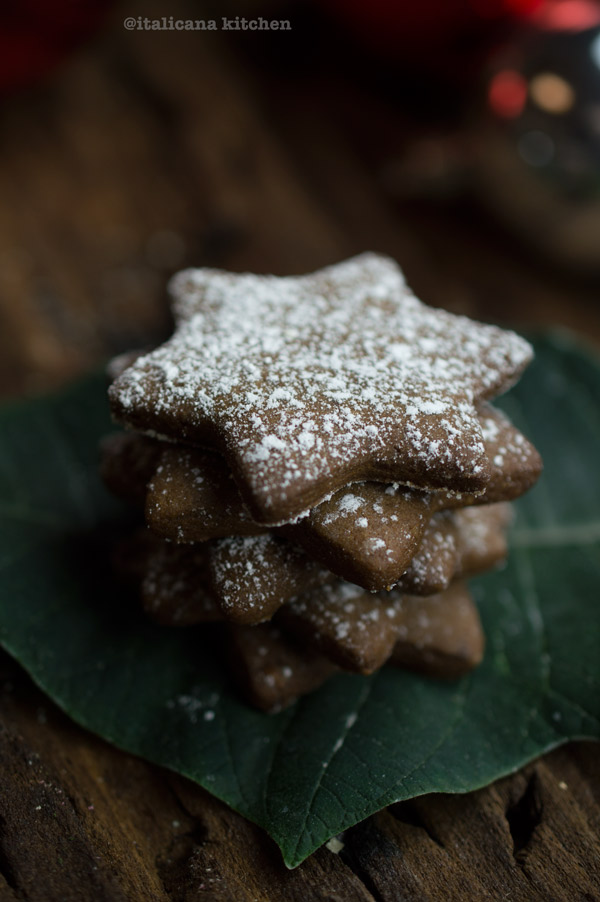 Happy holidays :: buone feste and I hope to see you at the Smeg cooking show event on Thursday in Milan!

Gingerbread Cookies
This easy gingerbread cookie recipe has a super decorating trick that will save you hours of time.
Ingredients
1 cup (226g) unsalted butter, softened
1 cup (180g) brown sugar
1 tablespoon (7g) ground cinnamon
1 tablespoon (5g) ground ginger
½ teaspoon (1g) ground cloves
¾ cup (175g) molasses
1 large egg
4 cups (530g) all-purpose flour
1 teaspoon (6g) baking soda
1 teaspoon (5g) salt
Sprinkles or powered sugar, as needed
Instructions
Using a stand mixer with a paddle attachment or a hand-mixer, cream the softened butter, brown sugar, cinnamon, ginger and cloves. Use a spatola to scrape down the sides of the bowl then beat in the molasses and the egg.
In a separate bowl mix together the flour, baking soda and salt then slowly add it to the butter mixture while the mixer is on low speed. Once the mixture is ¾ combined, stop the mixer and stir the rest by hand. It should be the consistency of play-dough. If it isn't add a spoonful of flour at a time until it is.
Divide the dough into three pieces and form each one like a disk. Wrap in plastic wrap and chill in the refrigerator for at least one hour (or up to 12 hours if preparing ahead.)
When you are ready to bake the cookies, preheat the oven to 350°F (176°C) and line two baking sheets with parchment paper. Place the racks in the middle and lower-middle position.
Sprinkle your workplace and rolling pin with flour. Roll out one disk of dough at a time to ¼-inch think. Cut out as many cookies as you can and place them on the cookie sheet. Gather the scraps together, put a little more flour on the workspace and rolling pin, and re-roll the dough. Continue rolling and cutting the cookies until the cookie sheets are full and you have no more dough. At this point, you can add sprinkles to the top of the cookies or bake them plain to cover them with powered sugar after baking.
Bake for 8-10 minutes. Transfer the cookies to a cooling rack for a few minutes until cool enough to touch then lay them out on a clean workplace. Using a flour sifter pour in a small amount of powered sugar and lightly dust the top of the cookies. Alternatively, wait until they are completely cooled, then frost them, if preferred.
Store the cookies in an airtight container.
Adapted from: The Kitchn
If you like this recipe you might also like this recipe for
wholewheat ginger snaps.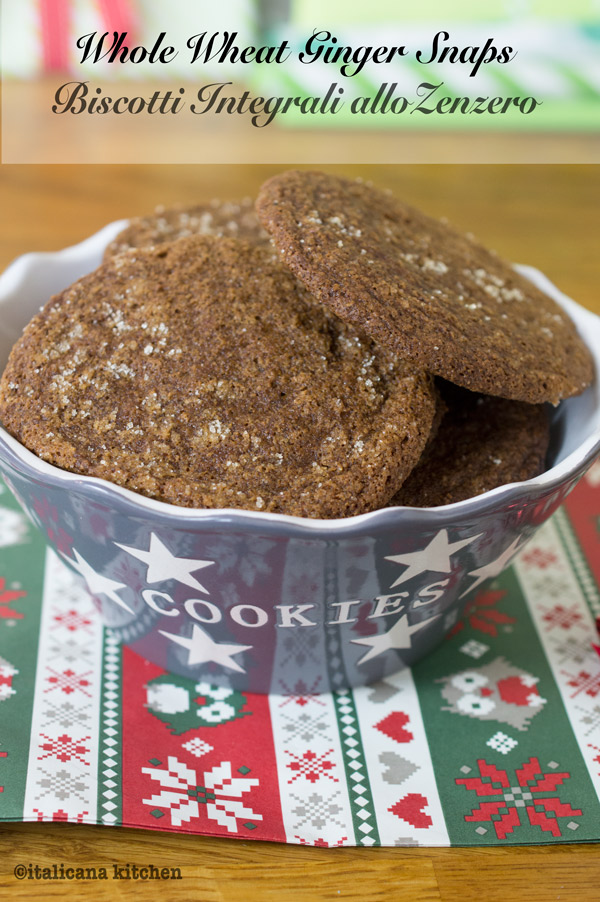 Related posts: