Cheers for homemade pancakes!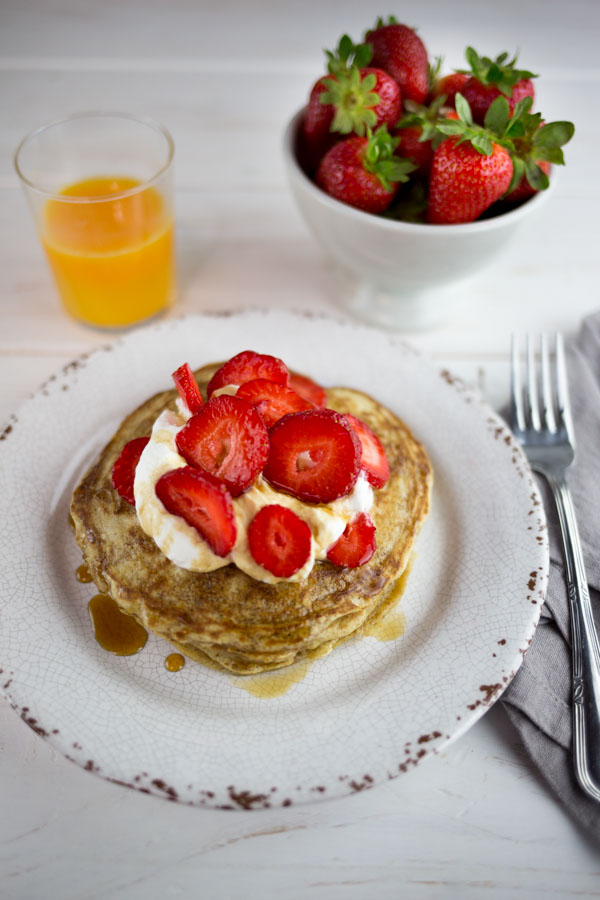 And, cheers to video recipes that show you how to make these fluffy little gems in just 47 seconds. Life just got good. 🙂 Ok, well, this video is in Italian so you may have to put your student cap on for a minute but don't fear, the English instructions and measurements are below!
This post is sponsored by Poggio del Farro. I created the recipe, photos and video—which you can also find on their website along with many other delicious farro recipes. The writing and opinions are my own. 
The great thing about pancakes is that you can make them in a variety of ways: craving a savory version, just try these zucchini pancakes with basil pesto or this version with arugula, gorgonzola, pear and walnuts. Not only are these great for brunch, but they also are a fun appetizer to be eaten in their original size or you can make them mini for to serve during a  buffet. Not to be missed from the pancake line up is a simple and classic whole wheat pancake recipe as well as this special strawberry and blueberry pancake cake. Yes, I did. I made a cake with pancakes. It's seriously so good. 🙂 The latest addition to my pancake craze are these delicious farro pancakes.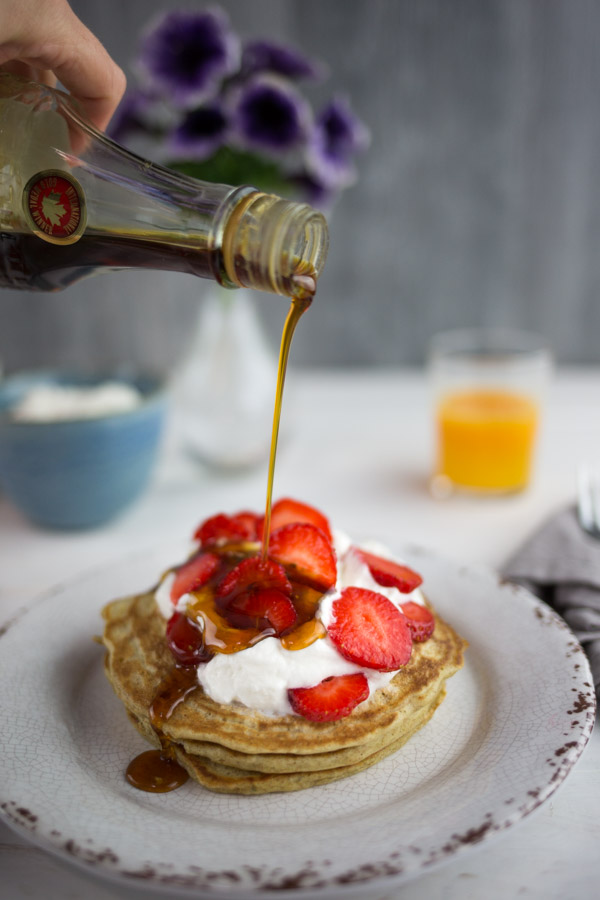 I've been creating numerous farro recipes lately (just search "farro" on my blog). Once discovering the many nutritional benefits of this Italian ancient grain and how easy it is to replace refined white flours, I was sold. It also has a delicious nutty taste that I adore. Check for being healthy, check for being easy and check for being delicious. I really like Poggio del Farro's organic farro flour for this recipe. They are just now breaking into the U.S. market. Watch out for them on store shelves.  
Speaking of pancakes, I recently held a pancake cooking class for kids in Parma, Italy at the Gola Gola Food Festival. Most of them had never eaten a pancake before. I loved how curious and excited they were to learn how to cook. It's so satisfying to see kids at such a young age get interested in making their own food. I hope that this interest for healthy homemade cooking increases for kids as well as their parents.  I hope that through this blog and cooking classes that I can make a difference towards forming good eating habits. ❤️ Here's to hope for a healthier generation in the future and in the present!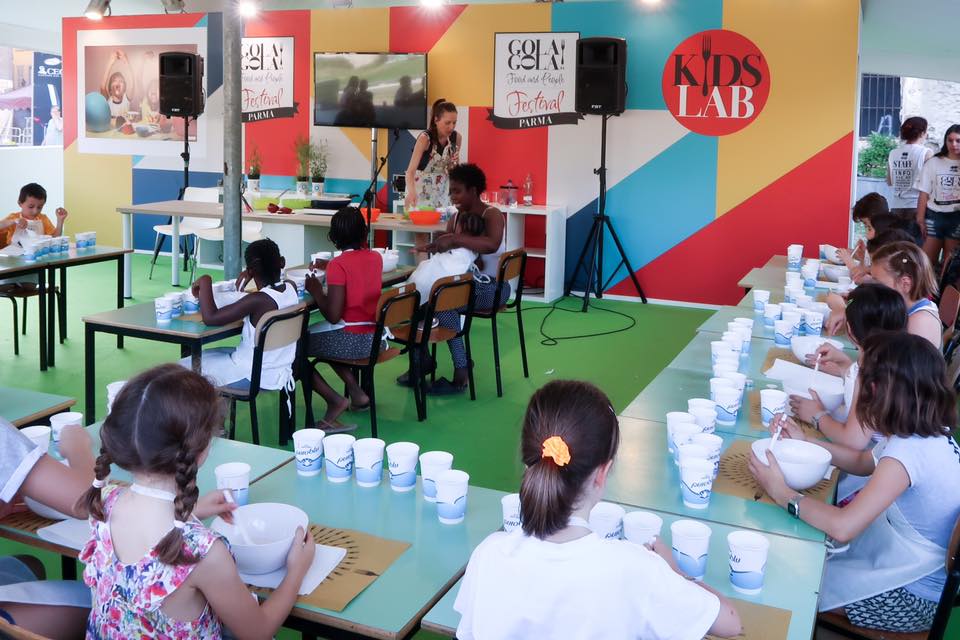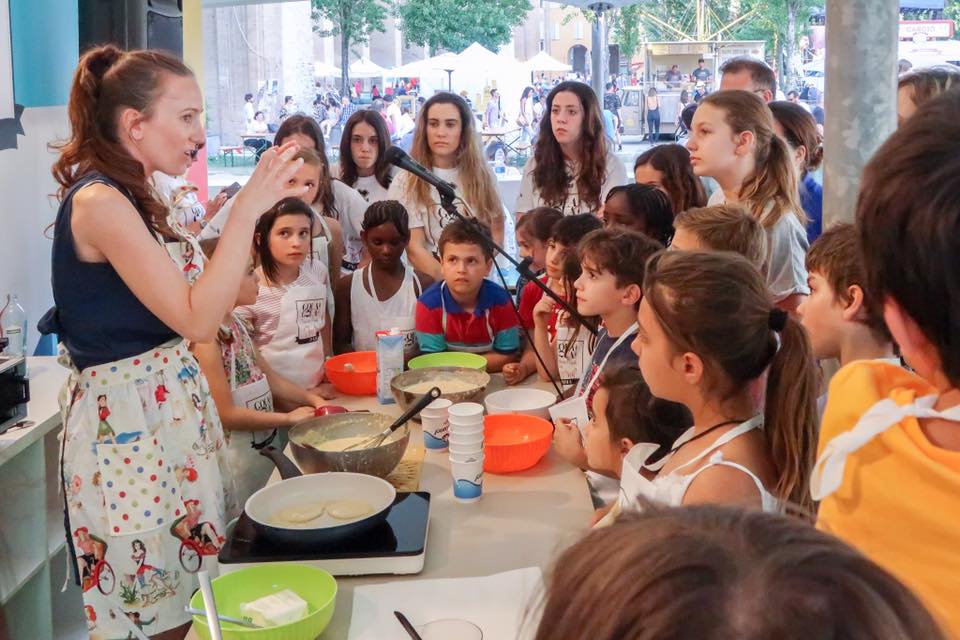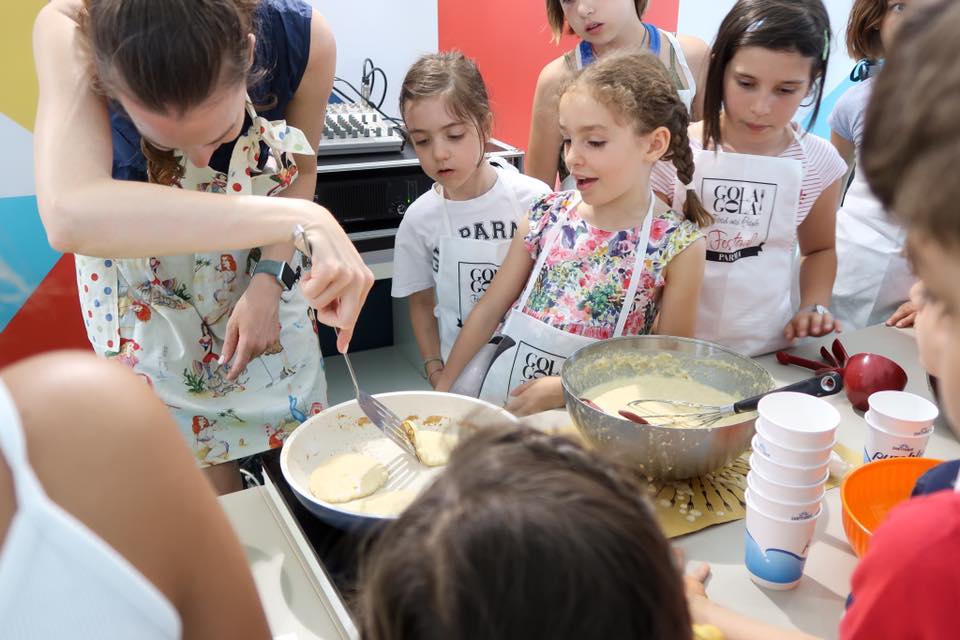 Farro Pancakes with Whipped Cream, Strawberries and Maple Syrup
These farro pancakes with homemade whipped cream, strawberries and natural maple syrup are a great alternative to refined white flour pancakes. You'll love their slightly nutty taste!
Ingredients
¾ cup (175ml) milk (cow or soy)
1 tablespoon apple cider vinegar (or white vinegar or lemon juice)
1 cup (125g) Poggio del Farro Organic Farro (emmer) Flour
2 teaspoons (8g) sugar (white or raw cane sugar)
1 teaspoon (4g) baking powder
½ teaspoon (3g) baking soda
½ teaspoon (3g) salt
1 organic egg
2 tablespoons melted butter or coconut oil
Butter or coconut oil for greasing the pan, as needed
Homemade whipped cream
Strawberries, sliced
Pure maple syrup
Instructions
Stir the milk and apple cider vinegar together in a small bowl and set aside.
In a medium bowl whisk together: organic emmer flour, sugar, baking powder, baking soda and salt.
In a separate medium bowl whisk together: egg, melted butter and milk/apple cider mixture.
Pour the wet ingredients into the dry ingredients and whisk until combined.
Brush a large nonstick skillet with butter or coconut oil and heat over medium heat.
Add ¼ cup of the pancake mixture to the pan and cook until bubbles form on the top and the bottom is golden; about 2-3 minutes. Flip and cook until golden on the bottom, about 1-2 more minutes.  Repeat. (Depending on your size pan you can also cook more than one at a time.)
Serve with homemade whipped cream, strawberries and pure maple syrup.
Related posts: