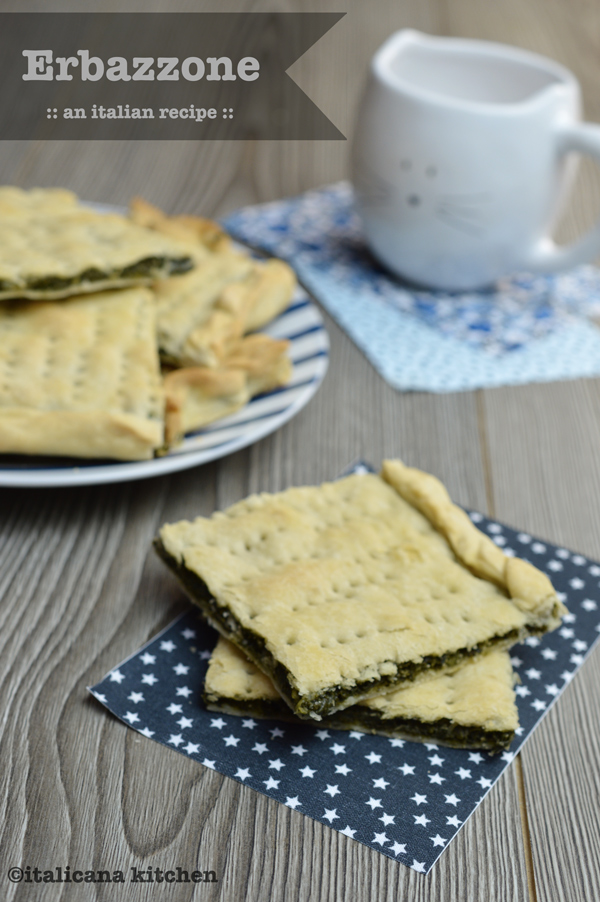 If you've ever traveled around Italy, you've probably discovered that every region, even each town, has special traditional dishes :: piatti. Erbazzone, a delicious spinach pie, is one of these unique dishes that originated from Reggio Emilia, a quaint town in the region of Emilia-Romagna. The easiest way to show you how to make this Italian delicacy is with a short video. Enjoy! 🙂
I still remember the first time I ate erbazzone. It was over six years ago and my second morning of living in Italy, my new home :: casa. I remember walking into the town's center for a cappuccino and a brioche (or croissant, as Italians most commonly call them.) They were out of my favorite kind: whole wheat with honey, so, I instead opted for the inviting little square slice in the display cabinet. I had no idea what it was. I just pointed and the person behind the counter said a weird name: erbazzone.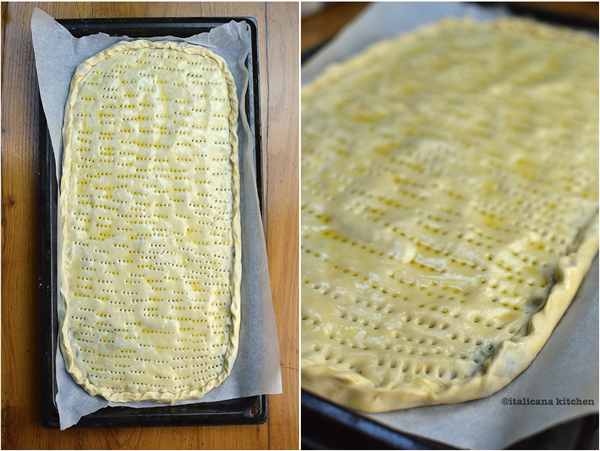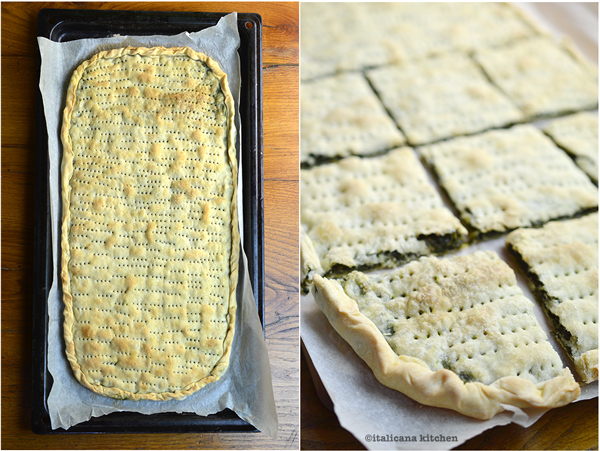 It was love at first bite. Thin layers of crust surrounded cooked greens (Swiss chard and spinach, I came to find out). I had lived in Rome in university for three months and traveled quite a bit throughout Italy, but it was moments like these that always put me in awe. Italian gastronomy is so vast :: vasto. There is so much variety and diversity, it's an endless flavor discovery.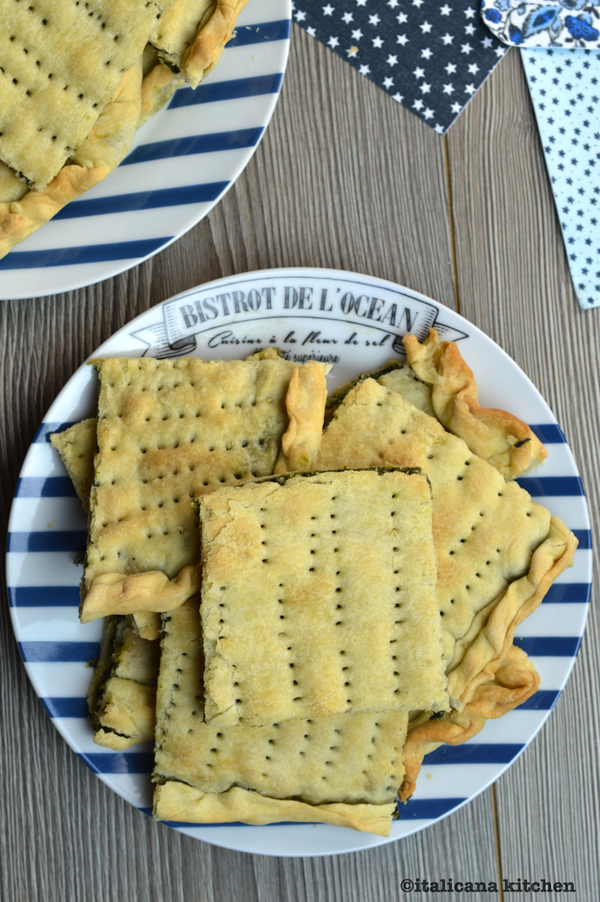 I devoured the square and asked for another. I was eating my vegetables after all, wasn't I? Well, come to find out this little seemingly vegetarian slice of goodness is most often loaded with lard, and often times pancetta, an Italian style of bacon. My dad would love it…for those on the other hand who want a healthier option, you can easily substitute with extra virgin olive oil and still get all the great taste :: sapore. Problem solved.

Erbazzone
If you want to try an easy, but authentic, Italian breakfast or appetizer, make this erbazzone recipe!
Ingredients
For the dough:
3 cups (400g) all-purpose flour
2 teaspoons (10g) salt
3 tablespoons (35g) extra virgin olive oil
1 cup (210g) lukewarm water
For the filling:
1 lb 10 ounces (800g) Swiss chard
1 lb 2 ounces (500g) spinach
1 bunch spring onions with stems (100g), finely chopped
1 tablespoon extra virgin olive oil
1 clove garlic, finely chopped
3.6 oz (100g) grated Parmigiano Reggiano (Parmesan)
1 handful of Italian flat-leafed parsley, finely chopped
Salt and pepper
Instructions
In a large bowl, add the flour and salt. Stir. Add the extra virgin olive oil and water and begin mixing with your hands. Add more water, a spoonful at a time, if needed until the mixture becomes homogenous and comes together in a ball. If you press the dough with your finger it should leave an imprint that soon disappears; if it sticks to your finger, add a bit more flour. Wrap the dough in plastic wrap and store in the refrigerator for ½ hour.
In the meantime, bring a large pot of water to boil and generously salt the water. Add the Swiss chard stems, cook for a few minute then add the leaves and cook for another minute or two until soft. Scoop the Swiss chard out and drain well. Cook the spinach until wilted. Drain thoroughly and press out the extra water with a wooden spoon against the holes of the strainer.
In a large skillet, add the extra virgin olive oil and cook the garlic for one minute over medium heat. Add the spring onions and cook until soft. Add the spinach and chard and cook until the water from the vegetables has evaporated. Remove from heat and transfer the vegetables into a bowl.
Preheat the oven to 400°F (204°C) (static mode). Line a 20 inch (52cm or larger) rectangular pan with parchment paper. Divide the dough in two and roll the sheets out thinly so they are the size of the pan. Roll the dough onto the rolling pin and carefully lay it in the pan.
When the vegetables have cooled, add the Parmigiano Reggiano, parsley, salt and pepper; mix well. Put the filling on top of the dough and spread it out evening, leaving a little bit of an edge. Put the second layer of dough on top and crimp the edges. Prick the top layer all over with a fork, making sure to go all the way down; otherwise, the dough will puff up when baked. Brush with extra virgin olive oil.
Cook for 30 minutes; let cool then cut into squares. Eat warm or cold for breakfast, lunch or as a snack or an appetizer.
Adattato da Tempo di Cottura
Related posts: