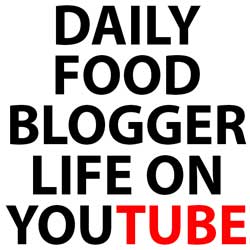 I started a Vlog! Whattttt the heck is that? Well, it's like a blog, but with video. Get it? Vlog. Anyhow, I'm super excited. Mr. Italicano and I are filming almost DAILY VIDEOS. You get to see what the life of a food blogger is like behind scenes, the recipes that I prepare, travels in Italy and abroad; practically my entire life. In all of these episodes I try to accomplish my 5 goals. Why? Because I want to remind myself to live each day fully.
My 5 goals:
1. Exercise
2. Work…then work harder
3. Do one thing that scares me
4. Eat Healthy
5. Play, Laugh, Relax
One of my main struggles is that I often become mono-focused on my work. I can go through periods where I don't take time to exercise, eat healthy or relax. I strive to work hard, but I realize the need for a more balanced day. I want to put more focus on living a healthier and happier life every day. I also want my days to be full of emotions and moments for me to look back on. I try to remind myself daily of my favorite quote, "You only live once…what are you going to remember the most?"
I hope these videos help you to get motivated about creating 5 goals to do more in your day. If you like these video, I'd really appreciate your support by subscribing to my YouTube Channel. This will keep me motivated to bringing you more lifestyle videos every day. I would love to know about your ideas and your goals. I would appreciate also if you found these videos motivating or if you have suggestions on how we can improve them. In other words, I would love your comments and feedback! Thanks again for watching and supporting us on this new adventure!
Without further ado, here is the first week of vlogs!
VLOG 1 – Setting Goals In this video I talk about why I moved to Italy, my saggy tush (quite embarrassing) and my 5 step plan to live a healthier and happier life every day. I hope you find this video entertaining, funny and inspirational to do more in your day.
VLOG 2 – Best Market Grocery Bag Here I take you with me to an Italian farmers market where I stock up on my fresh fruits and vegetables and meet my American friend Adrienne. Our daily dishes are centered around fresh and seasonal produce. This is the base to my healthy recipes made simple on this blog.
VLOG 3 – How to Make Homemade Matcha Pasta
This episode talks about making matcha green tea pasta, shooting the photos, a night run and my 1 scary thing of the day (no spoilers here). Mr. Italicano also surprised me by cooking! He hardly never cooks, and his dish was awesome!
VLOG 4 – How to Make Matcha Tea
Have you ever tried Matcha tea? I'm not a big tea drinker. I often find most teas are too bitter for me, however, I am absolutely falling in love with Matcha. It's a ground green tea that has just the right amount of bitterness and is packed with antioxidants. I LOVE how versatile it is to add to my recipes. Watch the video to learn what temperature of water to use and how to make it.
VLOG 5 – How I Make Energy Balls
In this episode I show you how I make energy balls! They are an energy packed snack that you can whip up in a matter of minutes. I brought these on Tuesday to my friends Enrico Gualdi & Sandro Damura from Radio Bruno. Coming soon I'll be posting a blog on behind the scenes clips of what it's like to go on air on an Italian radio station and whether they liked my energy balls or not!
Be sure not to miss my future blogs by subscribing to my YouTube Channel. Thanks again and make your day great!