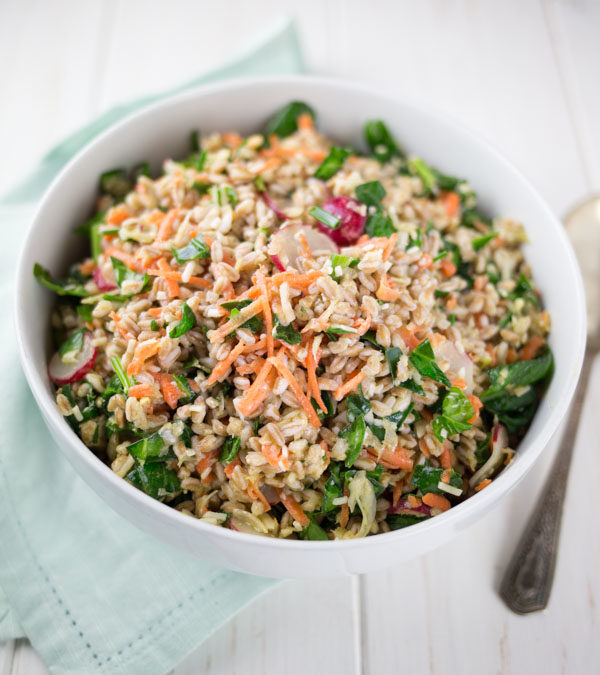 Spring is officially here! What better way to kick off this season than with a delicious spring farro salad that is easy to make and packed with flavor. Plump chewy and lovely nutty farro grains are the star of this recipe.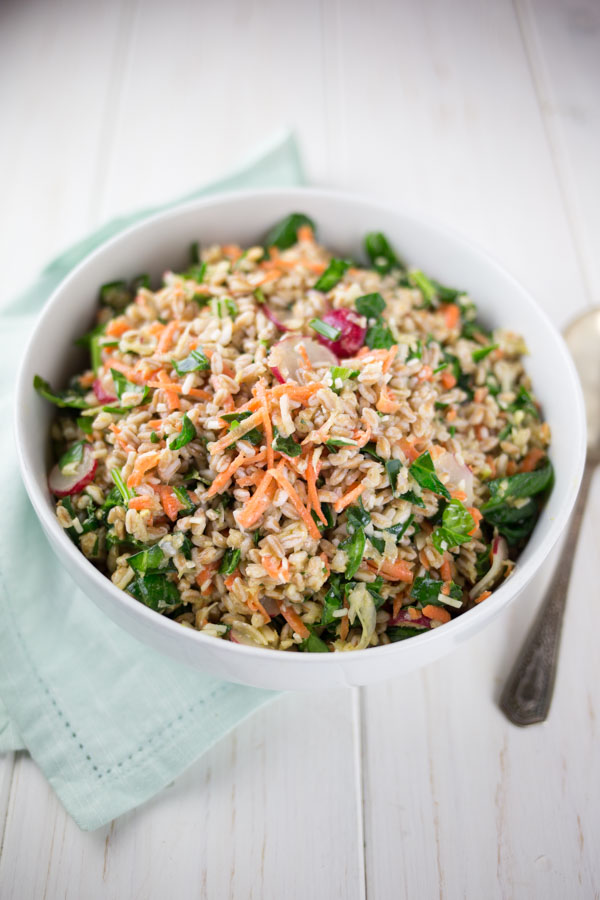 Farro is an ancient grain high in protein that is grown in Emilia-Romana, Tuscany and other regions of Italy. I really like the farro products from Poggio del Farro, a family owned company in Tuscany. They have a range of products that are delicious, healthy and easy to prepare. Try combining flavorful farro wheat berries with seasonal vegetables and this lemon Dijon vinaigrette and you'll surprise yourself with how simple it is to prepare a stunning and mouthwatering main course or side dish for your family and friends.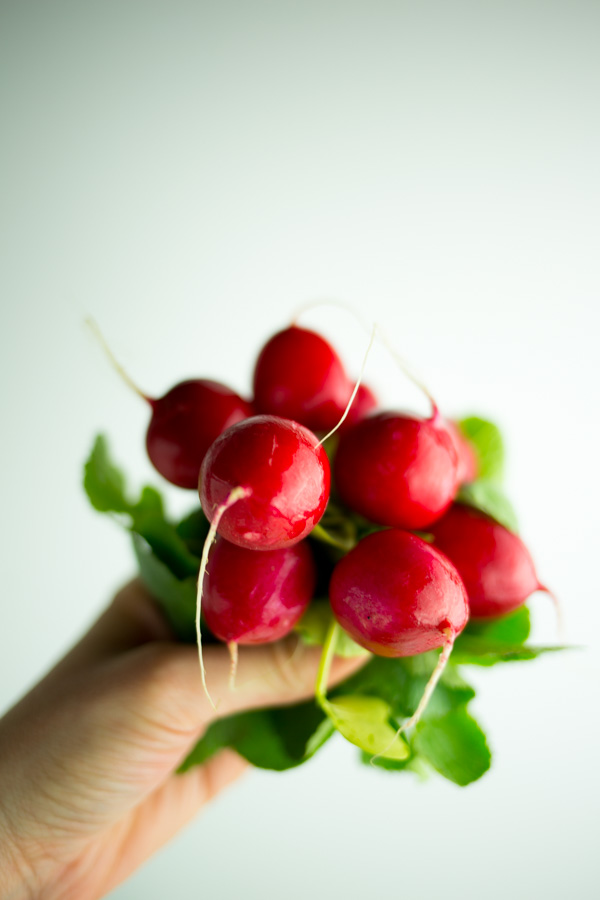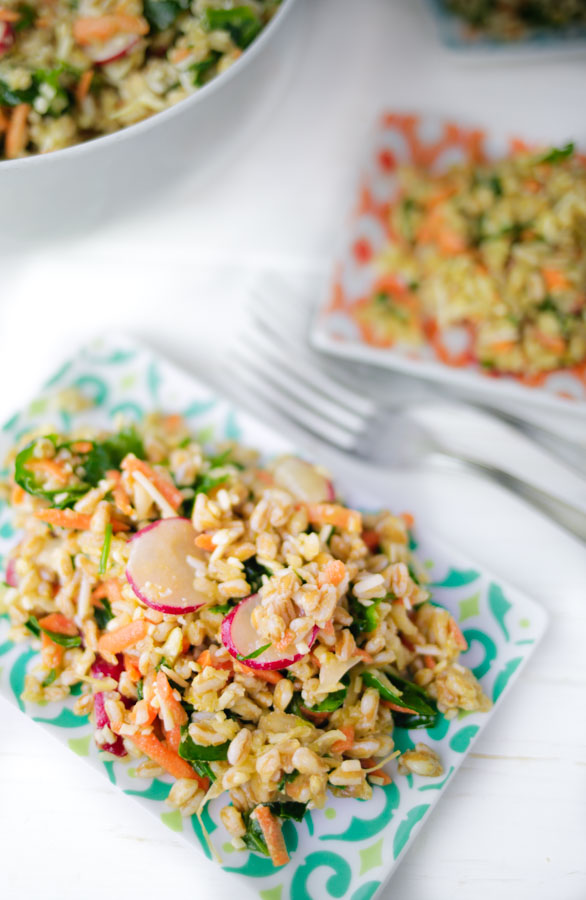 I created this recipe for my cooking shows with Smeg in Chicago and New York City. While Spring had sprung in Italy, little did I know that a snow storm would be heading my way when we landed in Chicago last week! We arrived with sunshine and optimal temps but awoke to a flurry of snow. It was quite a sight. Luckily it was just a one day ordeal and the snow quickly melted in the following days. Thank goodness! I am so over winter…bring on spring and all the good seasonal fruits & veggies, t-shirts and light weight coats and longer days of sunshine.
Spring Farro Salad
This delicious spring farro salad with lemon and dijon vinaigrette is easy to make and packed with flavor. Enjoy!
Ingredients
For the salad:
1½ (300g) cups farro (emmer) grains, Poggio di Farro
4 cups water
2 teaspoons salt
3 carrots, chopped or grated
1 fennel, chopped or grated
1 bunch radishes, thinly sliced
1 cup packed organic spinach (1 oz, 30g), chopped
3.5 oz (100g) Parmigiano Reggiano, grated
2 tablespoons (6g) chopped chives
For the sauce:
½ cup extra virgin olive oil
1 organic lemon, juiced
Zest from ½ organic lemon
2 tablespoon (30g) Dijon
1 tablespoon balsamic vinegar
Salt and pepper, to taste
Instructions
Add the farro and water to a medium-sized pot and bring to a boil. Cook according to the package instructions.
In the meantime, add of the ingredients for the sauce to a bowl and stir.
When the farro is done, drain and pour into a serving bowl. Add the carrots, fennel, radishes, spinach, Parmigiano Reggiano, chives and the sauce. Mix well. Serve warm or cover with plastic wrap and store in the refrigerator and serve cold. Buon appetito!
Here are some photos of the shows in Chicago at Williams-Sonoma , Eataly, Bloomingdales and the IHHS tradeshow . I had a great time in Chicago and now am having a lot of fun at the shows in NYC. If you want to see more photos, check out my Facebook or Instagram pages.  March 26, I will be at Bloomingdale's NY 59th from 12-2pm and will be making this salad along with beet farro crepes topped with ricotta, blood oranges, pistachios, honey and aged balsamic vinegar. I look forward to hopefully seeing you there!