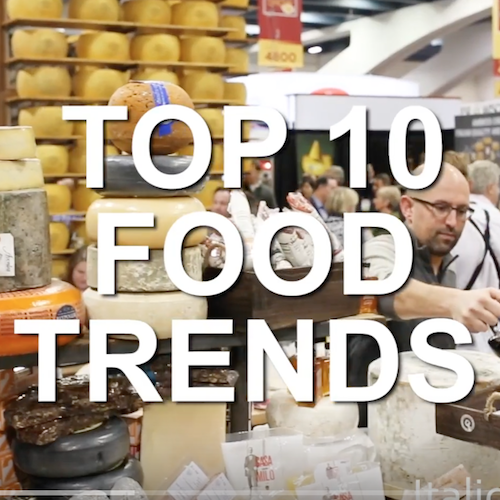 WHAT IS THE FANCY FOOD SHOW?
Mr. Italicano and I visited the Winter Fancy Food Show (or FFS) in San Francisco in January. FFS is a trade show held twice a year in America: the winter edition is held in San Francisco and the summer edition is held in New York City.
At the San Francisco FFS, over 33,000 companies from around the world operating in the food and beverage sectors exhibited their novelty products, while industry professionals (generally buyers, distributors, journalists, other producers in the sector) got a chance to learn more about these products and new food trends.
The fair was held over the course of three days, from January 20th to the 22nd. We were there the 21st and 22nd (the 20th I was doing a cooking show. ) We had press passes which allowed us to also listen to private talks/interviews about the food scene. 
In this article and through these short video interviews, I want to highlight for you the most interesting companies and products I discovered at FFS. I also mention briefly what I didn't find that shocked me. Without further ado, let's take a look at my rankings!  
---
# 10 PINK HIMALAYAN SALT
Pink Himalayan salt is certainly not a novelty … then why did I insert it in my list? There are two reasons. I believe that many do not know why pink Himalayan salt is different from common salt, and why the cost for it is so high. Salt is probably one of the most widely used ingredients in the kitchen, but not all salts are the same.  Pink Himalayan salt is extremely natural due to its extraction process which, unlike common table salt, does not use any chemicals (bleach) or additives ( anti-caking agents). In this video, I interview Himalayan Chef who talks more about Pink Himalayan Salt and its benefits. I hope you find it useful. You can find more information on the Himalayan Chef's Website. 
---
# 9 ALOE VERA DRINKS
In addition to its remedial properties for the treatment of burns, Aloe Vera is becoming a trend in the food industry, thanks to its vitamins and beneficial properties for the immune system and digestion. Keep in mind though that scientific research around the benefits for humans is still ongoing and conclusions on whether it provides significant health benefits without negative side effects is still not clear cut. Another aspect that I noticed by examining the products seen at the trade show was that unfortunately many of the ingredients contained many refined sugars. In my opinion, if scientific research doesn't uncover problems with ingesting aloe vera, these drinks will become even more increasingly popular and spread throughout the world. However, I invite you to always double check what you are buying and to always check the ingredient list to make sure there aren't additives. 
---
# 8 BARREL-AGED MAPLE SYRUP 
Organic maple syrup, aged like a scotch. Although not alcoholic, it has a strong distinctive flavor depending on which type of barrel it was aged in. Barrel aging is only one method, this producer also has infused and smoked maple syrups that are perfect for the preparation of desserts, sweets, ice cream and even cocktails! These small artisans are gaining international success with their extremely innovative and interesting line of products.  Find out more on RUNAMOK MAPLE.  
---
# 7 VEGETABLE CHIPS
Last year I posted a recipe for homemade kale chips . I'm glad to have seen several companies offering these kind of "chips" in their line of products. Although a variety of vegetables were used for chips, the common theme among producers were kale chips, beet chips (I've already bought beets to try them at home) and broccoli chips (on my list as well). Strangely I didn't see many pumpkin chips. I like the idea that many food producers are moving more and more towards the discovery of how to use vegetables in delicious ways, although, honestly, I read the backs of some of the packages and was surprised to find ingredients that weren't natural. I think we are on track but there is still some steps to be done to get to have a very natural product and as little processed as possible. Surely this has an effect on producers' pockets, but we consumers have to make our voice heard to protect ourselves and our children against harmful products. So, until I find a good brand I like, I suggest to make you own at home!  Check out the recipe above, and more to come!
---
# 6 APPLE CIDER VINEGAR
I already knew about apple cider vinegar and some of it's health benefits. However, I had never tasted one quite so flavorful and complex like I did at FFS. When I took a sip from a sample at the Fire Cider booth an explosion of flavors invaded my mouth. Sharp, sweet, tangy and spicy…all in one sip. It's packed with a variety of ingredients that you typically don't find in regular apple cider vinegar: honey, oranges, lemons, onions, ginger, horseradish, garlic, turmeric and habanero pepper. I felt an instant energy charge. I watched Mr. Italicano with glowing eyes and said, "we have to interview them."
Not only does this apple cider vinegar taste good, it also has great digestive benefits. The ingredients are all natural and organic with no added sugar. It's fantastic to drink a shot in the morning to start your day or you can add it into cocktails, dressing for salads or marinades.  Find out more about on Fire Cider's website. 
---
# 5 BEETROOT KETCHUP
Ketchup has always been my weakness. With Italicana Kitchen, very day I am committed to testing and promoting healthy foods made with fresh products, no preservatives and alternatives to white sugar. I try to always cook healthy at home because that is where we eat the majority of the time and I want to feed Mr. Italicano and I with good wholesome foods. On the occasions we do eat out, it's a treat where I try any dish I want (whether it be healthy or on the unhealthy side). So, when there is a plate of fries in front of me, I often can't resist adding a mound of ketchup next to them. (Mr. Italicano says I often eat more ketchup than fries! Which is probably quite accurate.)
The problem with ketchup is that it is usually loaded with white sugar and additives. So, when I noticed this natural beet ketchup by Foraging Fox I got super excited like a child in front of an ice cream stand. Using beets and apples to naturally sweeten the ketchup, it contains no artificial flavors, colors or sweeteners and is perfect for vegans, vegetarians and gluten-free diets. I'm so glad to have discovered this small manufacturer from England who produces this delicious natural ketchup. I hope that this company starts a movement and that we'll soon find these products on restaurant table tops. Good luck! Here is the link to the manufacturer.
---
# 4 MATCHA TEA
Another important product that is already definitely an ever growing trend in the United States is Matcha Tea. This is a Japanese green tea, originally used for ceremonies. Unlike the green tea leaves that are infused, Matcha is a fine vibrant green powder. As Sugimoto America showed me, to prepare, simply mix the powder with hot water. The fact that it is in powder form, gives way to a variety of uses in the kitchen; for example, in the preparation of baked goods, fresh pasta, drinks (hot or cold) or cocktails. If you want to color your dishes, and add antioxidant properties of green tea, check it out!
---
# 3 CAULIFLOWER PIZZA CRUST 
It was so fun to meet these two lovely Californian ladies at Outer Aisle Gourmet who created these truly innovative products! Their cauliflower pizza crust and sandwich thins are made with fresh cauliflower and cage-free eggs. They offer an alternative to regular flour crusts and bread. You can use them as a pizza or a sandwich base. They are perfect for those who have celiac disease or simply want to reduce carbohydrates without sacrificing a bread(like) base. Just pop them in the microwave or oven to warm them up, then load them with your favorite toppings and spreads. I think the idea is brilliant and I'm sure they will soon be well distributed in supermarkets and restaurants. I am also looking forward to preparing some dishes at home with these products! More information at Outer Aisle Gourmet.  
---
# 2 ANCIENT GRAIN MEALS 
I believe in this product a lot. More frequently, attentive consumers are trying "new" products in order to eat healthier foods that are simple to prepare. The answer to a "new" food in this case lies in the past: in an ancient grain called farro. There are three types of farro: einkorn, farro (also called emmer) and spelt.  I love farro and it's the grain I use most in my kitchen. Here are some of my favorite farro recipes. Let me also give you a preview of the next two- three months: I want to dedicate myself entirely to the creation and promotion of recipes made with this ancient grain. I also want to write a small book ( I just have to find the time! 🙂 ). So what farro products did I find at Fancy Food? There were various producers and importers with farro flours, grains and packaged goods from colossal names like Bob's Red Mill to a representative from a small Tuscan producer, Poggio del Farro with whom I started a fantastic collaboration with.
---
# 1 NATURALLY FLAVORED HUMMUS
I love hummus. Those who follow my recipes and my cooking classes are well aware. So far I've only created a perfect blender hummus, olive hummus , white bean hummus and beet hummus. What did I like here at FFS? I found many other innovative flavors! Spicy avocado hummus, kale pesto hummus, Thai coconut curry hummus, black garlic hummus and more! I stopped by a particular company called Hope Foods that is revolutionizing the market with innovative organic recipes and a new process of conservation. Fun fact: Hope Foods was created by one of the founders' Robbie Rech, fiance' of my childhood friend, Ashley Paul, who also grew up in the small town of Davenport, WA. She is the Manager of Events and Field Marketing at Hope Foods and it was a pleasure to see her and to finally be able to try their products and learn about the company. Ashley and Robbie live in Colorado. Since Hope Foods opened its doors six years ago, the company has now grown to over 65 people. They started out selling their products at farmer's markets and now are present in some of the most important American supermarkets. What an amazing feat! I'm really happy for them and they are quite an example of how to succeed in the crowded food industry with delicious, novel and high quality products.  Now let's talk hummus. To date they have 12 organic hummus flavors that are made with all natural products and preserved through an avant-guarde process of cold pasteurization called High Pressure Processing (HPP). This process prolongs the shelf life substantially, without the addition of preservatives and without having to heat the product (which alters the taste and properties). These naturally flavored hummus products are so delicious. I am hoping that they'll be shipping internationally soon!  You can get more info at Hope Foods. 
---
WHAT I DIDN'T FIND AT FFS: ITALY!  
I was a little disappointed by how little the Italian section had to offer. It was quite absurd, given that it was the largest section of all. I was quite let down, because I'm often on the front line promoting the excellence of Italian products. I'm fascinated by traditional Italian products, they are the strength of Italy, and I came to FFS in hopes that my same passion was perceived by all participants who toured the Italian stands. I didn't expect innovative products from the Italian exhibitors, but rather exciting events promoting traditional products and how foreigners could use them to prepare delicious and simple dishes.  Living in Italy for the past 8 years has given me the opportunity to find out what this land has to offer, and to see how much passion Italians have in making high quality products that are easy to use in everyday meals. The effortlessness to incorporate these high quality products into daily meals is not always so obvious; I believe the vast majority of American consumers view many Italian products as delicious, but also complicated to use, and certainly not for everyday dishes.
My personal opinion: Italians need to do more to promote their high quality ingredients in ways that show how easy it is to incorporate their products in anyone's daily diet.
I was expecting for example to meet some famous chefs or food bloggers at these demonstrations to help producers educate consumers and buyers how to use their ingredients. I expected that there would have been more talk about the enormous quantities of organic products that are available in Italy, that are ready to be imported into America (or around the world) and consumed daily, with ease. I expected to find a crowd of buyers and journalists with goose bumps while watching these shows. Simply put, I expected more emotion. Italy is one of the most famous rock stars in the world of food, but it is as if he didn't want to put on a concert because he thinks that his music tracks will sell themselves.  Come on Italy, show the world how special you really are!