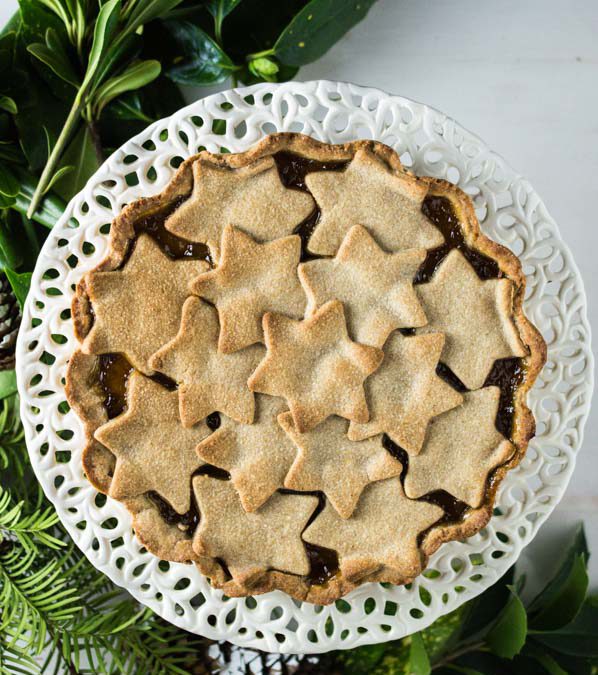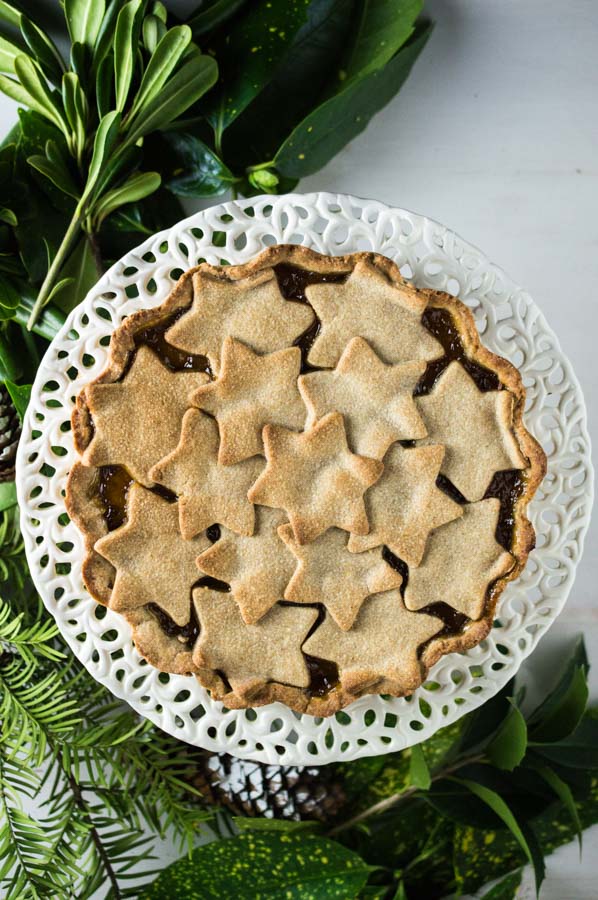 Christmas time is a magical period, and this year is particularly special for Mr. Italicano and I as we wait for Baby Italicana to arrive. Pepper's official due date is today, December 14th!  
It feels like just yesterday I was rolling out farro ravioli to make our baby announcement …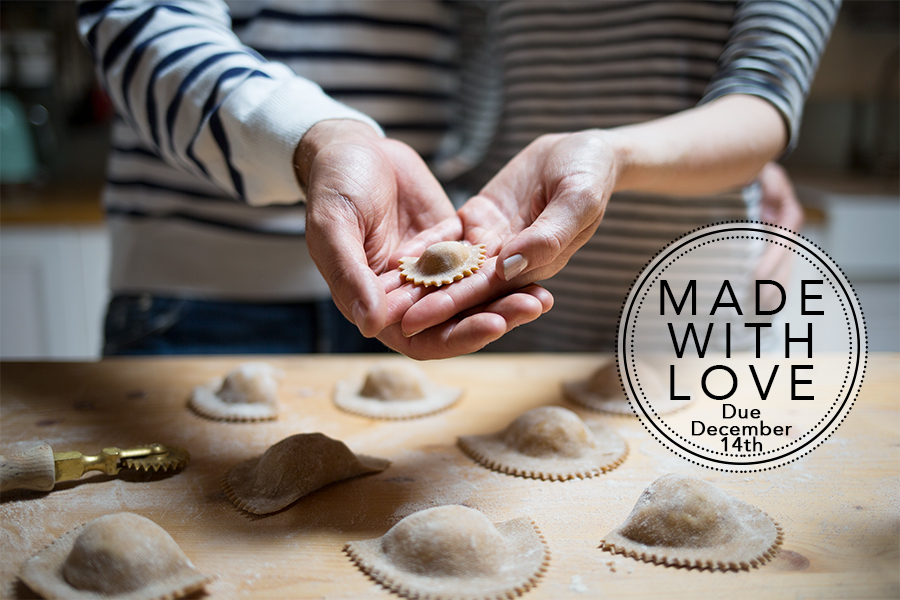 And now, the 14th of December has arrived. And, with it delicious holiday baked goods, like this Christmas farro crostata made with organic bitter orange marmalade.
Time has flown by, yet I've also been mindful of taking moments each day in the past 9 months to celebrate this new life. It's the most natural process in the world, yet, it is truly spectacular if I stop to think about it. I mean, I'm growing a little human being inside of me–how miraculous is that?
*Baby Bump — 32 Weeks*
Every time I feel Pepper hiccup or move I am reminded of this marvel. My hands go to my stomach to feel her, and my heart swells with joy–my little girl, my daughter is saying hello.
I still tear up thinking about the first time I felt her tap me, letting me know she was there all snug inside. I was 5 months pregnant and had just arrived in the U.S. for part vacation part cooking show tour. It was dinner time and I had finished off a big plate of Phad Thai (my go-to dish as soon as I arrive in America as it's quite impossible to find where I live in Italy). I was curled up in an oversized chair flipping through the TV channels when all of a sudden I felt a poke. A tiny little hand (or foot, or elbow–not really sure) had just tapped me. Hello, she was saying. I am here.
It was one of the most sensational feelings in the world. I was not alone.
And, here I am at 40 weeks pregnant soon to be alone.  
To be honest, I am going to deeply miss carrying Pepper inside me. She has made me become a better person. My main goal the past 9 months has been taking care of her and by default, I've learned to responsibly take even better care of myself: monitoring what I eat, what I drink, how much I exercise, how long I work, how I talk and how I feel–all of which has an effect on the wellbeing of Baby Italicana.  I want to give her the best.
Some days I fail: I work too late, become stressed or don't get in exercise. These "failed" days push me to consciously do better the next day–for Pepper.
Before my pregnancy I wouldn't hold this commitment to myself. There was a lot of "I shoulds" going on in my mind,  but it was hard to maintain accountability with myself and so growth and improvement was always slow. Yet, knowing that I have a commitment to Baby Italicana makes me more responsible. I mindfully focus on ensuring that the following day's activities and emotions are more balanced. Don't get me wrong, I don't strive for perfection. That is not my goal. I just need to be the best that I can be. For Pepper and for myself. Each day I'm mindful about what I want to achieve. Thank you, little one. Already you are teaching me so many things.
*Baby Bump — 40 Weeks*
So here we are sweet girl, your due date has arrived. Your Italian and American families are here waiting to meet you, and the house is nice and cozy for your arrival. The tree is up, decorations are hung, the presents are wrapped and the smell of fresh baked Christmas treats fill the air.  
Yet, the best part of this holiday season is you.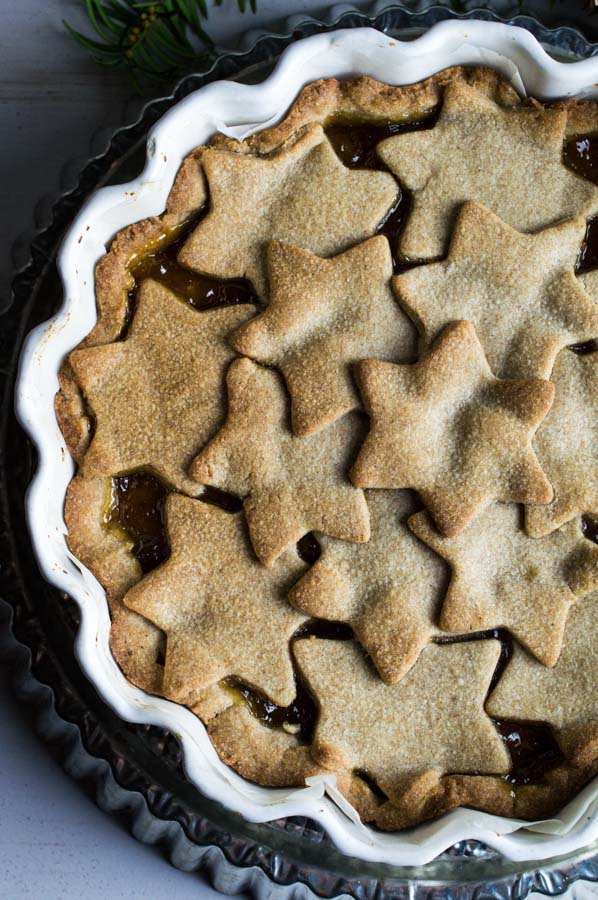 We love you, Pepper. We can't wait to look into your eyes, snuggle your small body, gaze at you while you sleep, smile at your little sounds, kiss your soft cheeks and spend our first Christmas together–as a family.

Christmas Crostata & 40 Weeks Pregnant
Ingredients
½ cup sugar
⅔ cup cold butter, cut into cubes
Zest from 1 organic lemon
1 egg
2½ cups whole grain farro flour (or all purpose)
¼ teaspoon baking powder
1 pinch of salt
1 jar of jam or marmalade, flavor of choice
Instructions
Preheat the oven to 350°F.
In the bowl of a stand mixer equipped with the paddle attachment, add the sugar, butter and lemon zest. Mix on medium speed for 1 minute. Now add the flour, baking powder and salt; mix until combined.
Remove the dough and place it on a floured work surface. Shape the dough into a disc, wrap with plastic wrap and store in the refrigerator for 30 minutes.
Flour a work space. Butter and flour a 6 inch pie plate or line it with parchment paper. Roll out the dough to 1/16 of an inch (5mm). Fit the rolled out dough in the pie plate and with kitchen scissors cut off the overhanging dough. Pierce the bottom of the dough with a fork many times then evenly distribute the jam or marmalade. Refrigerate.
Roll out the extra dough again and cut into traditional stripes to create a criss-cross crust pattern or use cookie cutters. Keep rolling out the dough and cutting with cookie cutters until all the dough has been utilized.
Take the pie plate out of the refrigerator and arrange the strips or cookie cutter shapes on top. Bake in the oven for 30-35 minutes or until the top is golden brown. Cut into slices and serve for breakfast or dessert. Buon appetito!