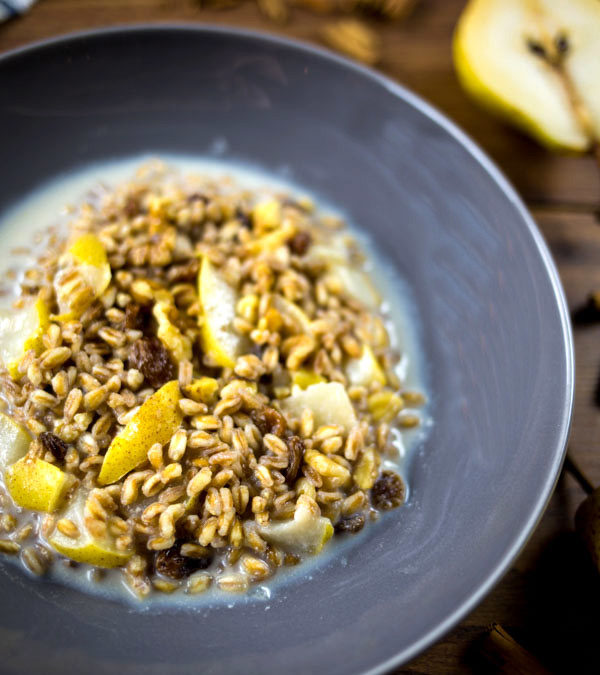 Pre-pregnancy I was a sporadic breakfast eater. I would savor two cups of dark roast coffee when I woke up and eat my first meal of the day when I felt hungry—sometimes around 10am, other times at noon. That meant that lunch was sometimes at noon other times at 3pm. And, dinner? Well, in Italy we typically eat around 8pm so that at least was pretty routine. And, has to be. Mr. Italicano gets super hangry if he doesn't get fed within a certain hour. 🙂
With Pepper growing inside of me, my first priority is ensuring she eats on a regular schedule with nutritious food that will help her mind and body grow. Hello, maple farro porridge with pears, cinnamon, raisins and walnuts. You are a winner. I don't need any coaxing to eat this breakfast dish early in the morning. It's warm and cozy, sweet and comforting…it's composed of simple nutritious ingredients and easy to make. Just check out this video recipe that Mr. Italicano and I made for Poggio del Farro.
A FEW HEALTH BENEFITS
Farro 
High in fiber and a good source of protein, antioxidants and iron (great for those who eat a plant-based diet) 
Pears
– high source of vitamin C and antioxidants
Walnuts – rich in omega-3 fatty acids and important for brain development and memory
Pepper is already learning from me about good nutrition, and she too is teaching me to be more mindful of my eating behaviors. I have always paid attention to what I eat but now specifically to when I eat, the quantity and variety. It's made quite a difference already. At the beginning of my pregnancy I had low amounts of iron, but thanks to my mindful eating, my OB pointed out that my test results have drastically improved. She was impressed, as many women who are pregnant have a higher risk of developing anemia during pregnancy.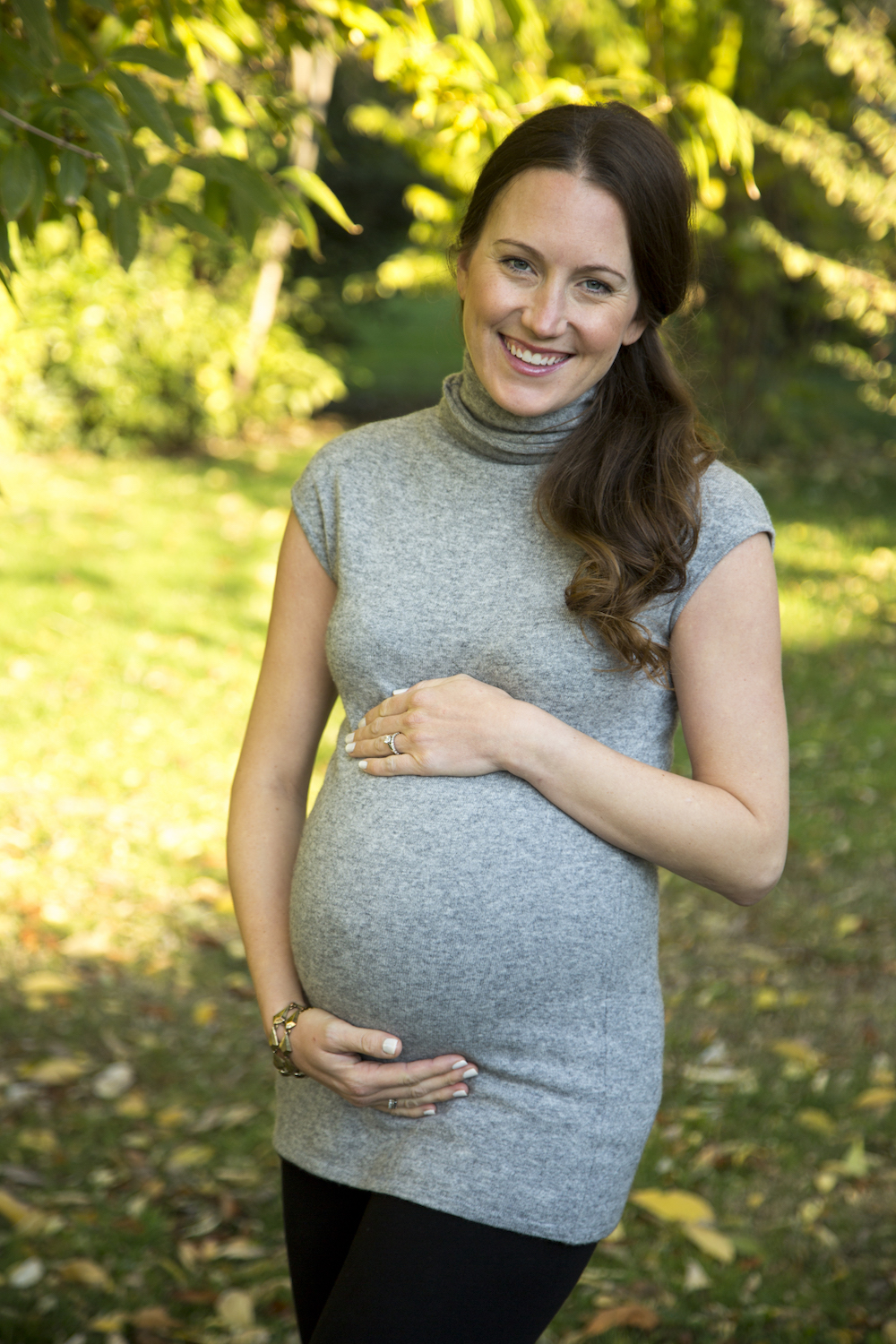 Baby Italicana is not even born (only 3 weeks to go!); yet she is helping me to be more mindful in my everyday life. Thank you little one. Your mom and dad can't wait to meet you. ❤
What about you? Are there any nutritious breakfast dishes you love or loved during your pregnancy to start your day?
Maple Farro Porridge with Pears, Cinnamon and Raisins
Ingredients
¼ cup (50 g) 10-Minute Farro*
½ cup water
1 (1-inch) piece cinnamon stick
Pinch of sea salt
¼ cup whole milk
1.5 tablespoons maple syrup
½ pear, stems and seeds removed, diced
1 tablespoons raisins
1 tablespoons roughly chopped walnuts
Ground cinnamon
Instructions
In a small pot add the farro, water, cinnamon stick and salt. Bring to a boil over medium heat, then lower to a simmer and continue cooking for 10 minutes or until the farro is tender but still slightly chewy. Discard the cinnamon stick and drain any remaining liquid.
Add the whole milk, maple syrup, pear and raisins. Warm over medium-low heat until the milk thickens slightly; 2-3 minutes. Divide among two bowls, top with walnuts, a sprinkle of cinnamon and a drizzle of honey. Buon appetito!
*Any farro grain can be substituted for this recipe. In this case, just follow the cooking time on the package.
Mr. Italicano and I made this recipe for Poggio del Farro. Although we often collaborate with this company, this specific post is not sponsored by them.
ADD NUTRIFOX!!!