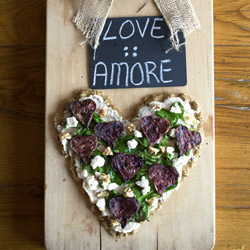 Although love :: amore should be celebrated 365 days a year, I think it is more than merited to have one special day dedicated to making a conscious effort to show your affection, love, and gratitude for another person. Today we should take a moment to think about all of the love we have in our life: family, friends, significant others, pets and even that kind stranger who did something nice to make your day. So, go wild with love this Valentine's Day!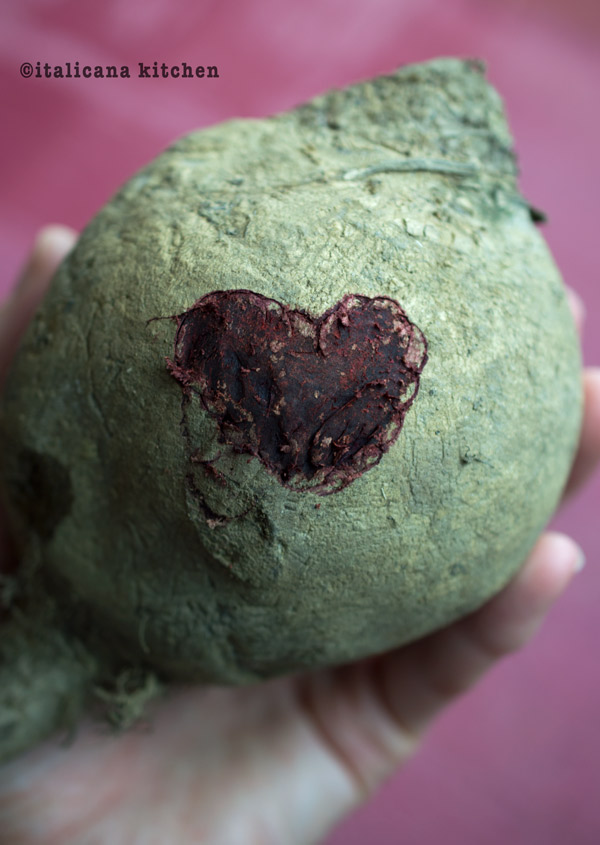 To start with, I would like to thank all of you for the support you have showed me during this past year. I always feel overcome with gratitude :: gratitudine each time someone leaves a kind comment, or just simply reads these words. Without each of you, this blog would not exist, so thank you. 🙂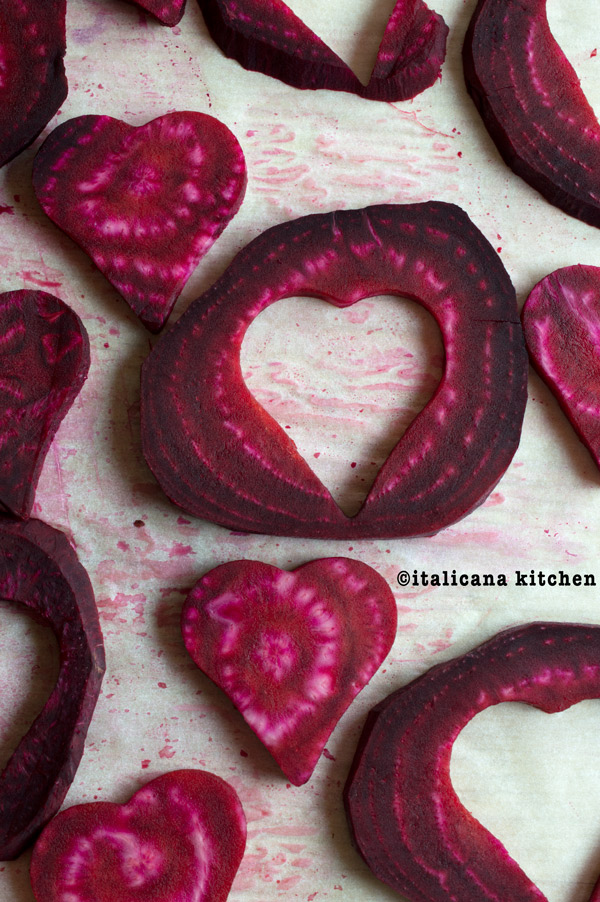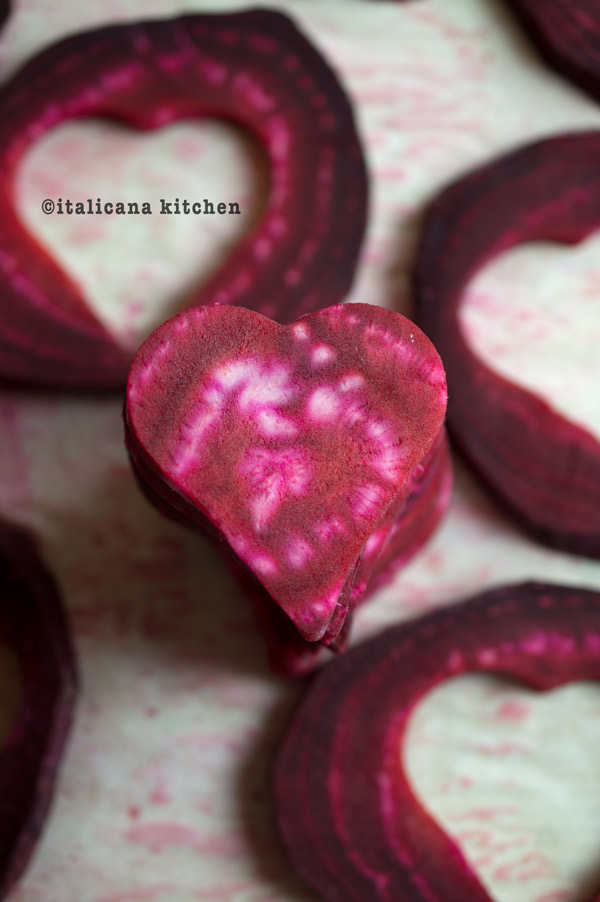 I have some exciting news to share with you! I am returning back on the Italian national TV cooking show, La Prova del Cuoco, with Antonella Clerici. I have been invited to participate in a new segment of the show: "Master Blog" where I will be competing against another food blogger.  I leave for Rome :: Roma tomorrow and will be on live TV on Monday February 16th  from 12:05-12:20.  You can vote on the Facebook page of La Prova del Cuoco during that time frame. Just find my picture on the page while I am live, and click "like". I am so excited for this opportunity. I really enjoyed my experience the last time I was on La Prova del Cuoco and I was truly thankful for all your kind comments and support during that week.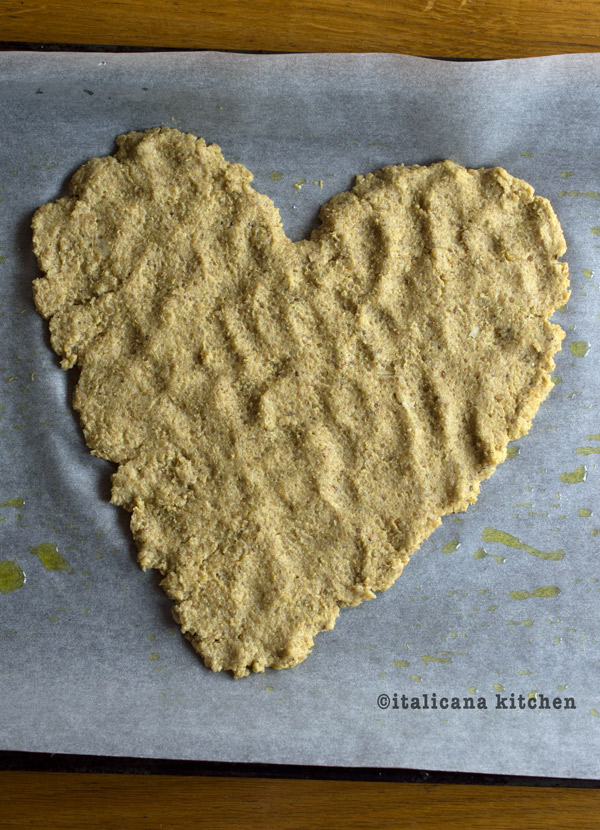 Back to today. One simple thing you can do to show your appreciation for another person is to cook them a special meal. This quinoa flatbread with roasted beet heats, spinach and goat cheese is the perfect main course for your Valentine's Day dinner.   The preparation is super easy to do, and can be topped with anything you like. I used blended cannellini beans, fresh spinach, beets :: barbabietole, walnuts and goat cheese. To make the beet hearts just peel the beet, slice it into rounds, use a heart cookie cutter, place everything on a baking sheet, drizzle with extra virgin olive oil and sea salt and roast.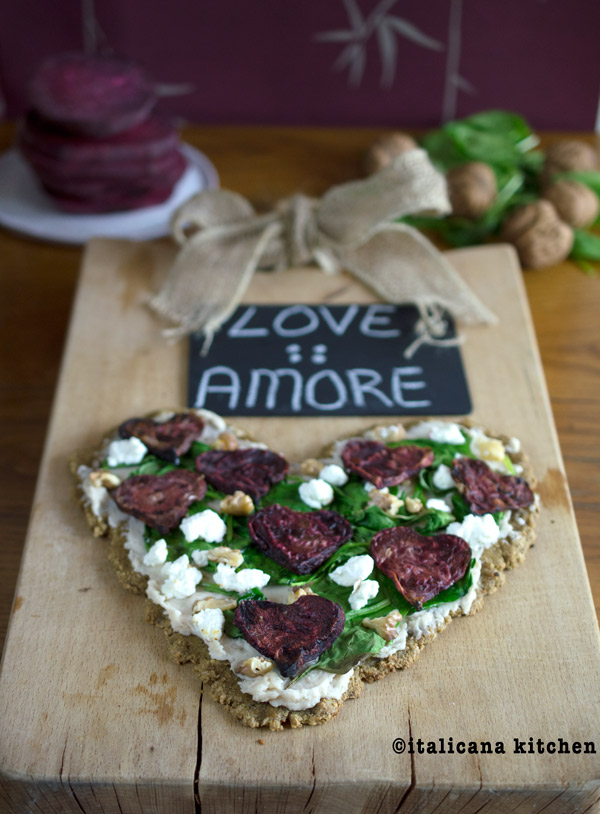 This Valentine's Day meal idea is perfect for a romantic dinner for two where you can split the heart down the middle and share.  It is also great for a family because it's something you can easily make with the kids :: bambini and they can have fun choosing their own toppings and making their flatbread hearts.
Wishing you all a Happy Valentine's day filled with love and happiness.
Xoxo
Italicana

Quinoa Flatbread with Roasted Beet Hearts, Spinach and Goat Cheese
This quinoa flatbread with roasted beet heats, spinach and goat cheese is the perfect main course for your Valentine's Day dinner.
Ingredients
For the beet hearts:
1 large beet
Extra virgin olive oil
Sea salt
For the flatbread:
3 tablespoons extra virgin olive oil, divided
½ cup (90g) quinoa
1 cup + ¼ cup water, divided
1 teaspoon (4g) baking powder
½ teaspoon (3g) sea salt (I use unrefined sea salt)
1 garlic clove, finely chopped
½ teaspoon dried rosemary
1 can cannellini beans or other white beans, drained and rinsed
5 walnut halves, broken up in to pieces
Instructions
For the beet hearts:
Preheat the oven to 425°F (218°C). Line a cookie sheet with parchment paper.
Peel the beet and slice into rings. Use a heart cookie cutter to cut out the hearts. Put the heats and the rest of the beet cut outs on the cookie sheet. Drizzle with extra virgin olive oil and a sprinkle of sea salt. Bake for 30 minutes, flipping the beets halfway through.
For the quinoa:
In the meantime, put 2 tablespoons of extra virgin olive oil in a medium sized pot and add the quinoa. Toast over medium high heat stirring continuously until the quinoa is slightly golden and there is a nice toasted perfume in the air.
Add 1 cup of water and bring to a boil. Cover, reduce heat to low and simmer for 15 minutes. The water should have all absorbed, if not, drain any excess water.
Line another cookie sheet with parchment paper and drizzle a little olive oil on top and spread it out to distribute it. (You could also use cooking spray).
When the quinoa is cooked add it to a food processor along with ¼ cup water, baking powder, 1 tablespoon extra virgin olive oil, sea salt, garlic and rosemary. Blend for 2 minutes until the quinoa it is smooth. (This step is important because if it is not smooth enough, the mixture will crumble when you try to form the heart shape.)
Take the mixture out of the food processor, set it on the oiled cookie sheet and form it into a heart, or any other shape. It should be about ¼ inches high. Bake for 10 minutes.
In the meantime, blend the cannellini in the food processor with 1 tablespoon of extra virgin olive oil, salt and pepper.
Take the quinoa crust out of the oven, spread the whipped cannellini on top followed by a handful of fresh baby spinach, walnuts, goat cheese and roasted beet hearts. Now, go ahead and share your heart with someone you love. Happy Valentine's Day!
Inspired by: http://thewholesomedish.com/quinoa-crust-pizza-cheesy-garlic-bread/
Notes
Use the rest of the cut out beets on a salad the next day or make a delicious
beet sauce
to mix into pasta or couscous.