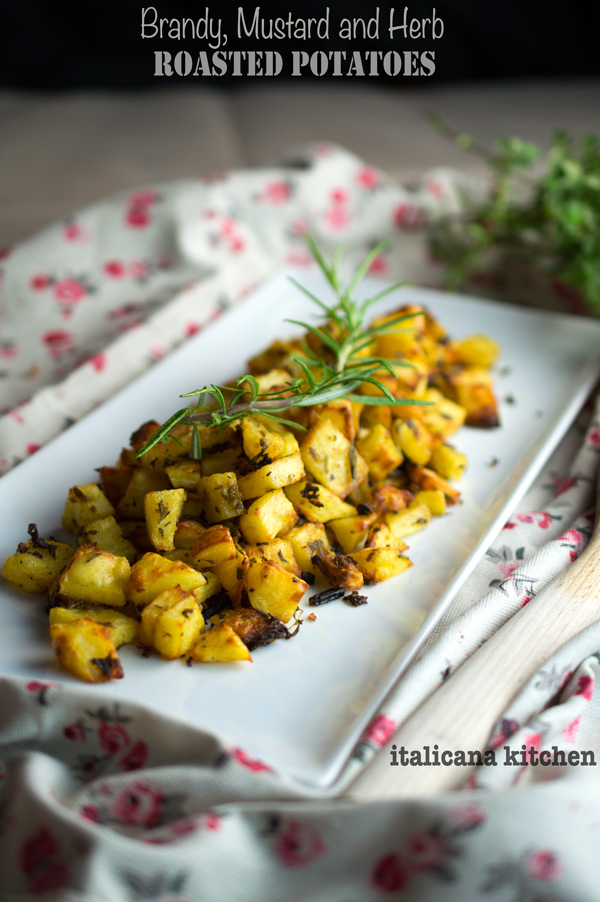 These brandy, mustard and herb roasted potatoes are rockin'. If you like flavorful food, you are going to love these potatoes that are bathed in a tangy brandy mustard :: senape then cooked until crisp and crunchy. There are no mushy pieces here. Bleekk. You may be a bit curious about the brandy flavor on potatoes, but I can ensure you that they are beyond awesome and give the dish an extra kick. I got inspired to douse these babies with brandy because the day before I made these to-die-for peach scones with brandy and fig balsamic vinegar glaze to celebrate some HUGE news!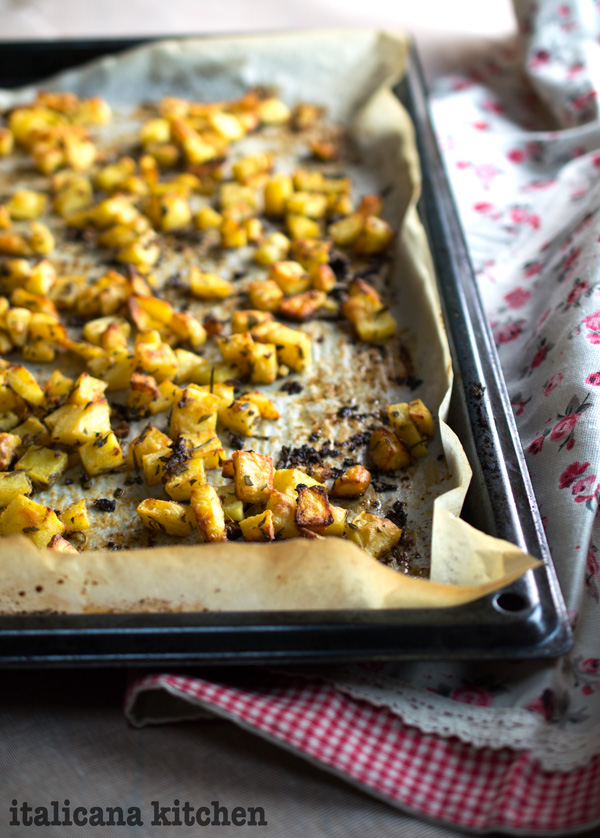 If you've been on my social media pages in the last few days you've probably already seen the news :: la notizie. If you haven't, here it is: I am going to be participating on Italy's most famous cooking show, La Prova del Cuoco with Antonella Clerici!!!  It's an all-expenses paid trip to Rome for a week and we will be shooting 5 episodes live on Italian national T.V. from the 15th -19th of September. The program is on air from 12:00p.m.-1:25p.m.,  and is one of the most watched lunch time shows. Talk about some huge visibility for italicana kitchen. I'm sure it will be quite a riot to watch as well since I will be trying to: 1) speak well in Italian 2) cook something delish and 3) work on not cutting off the tips of my fingers on national T.V.  More details to come in September about how you can watch it!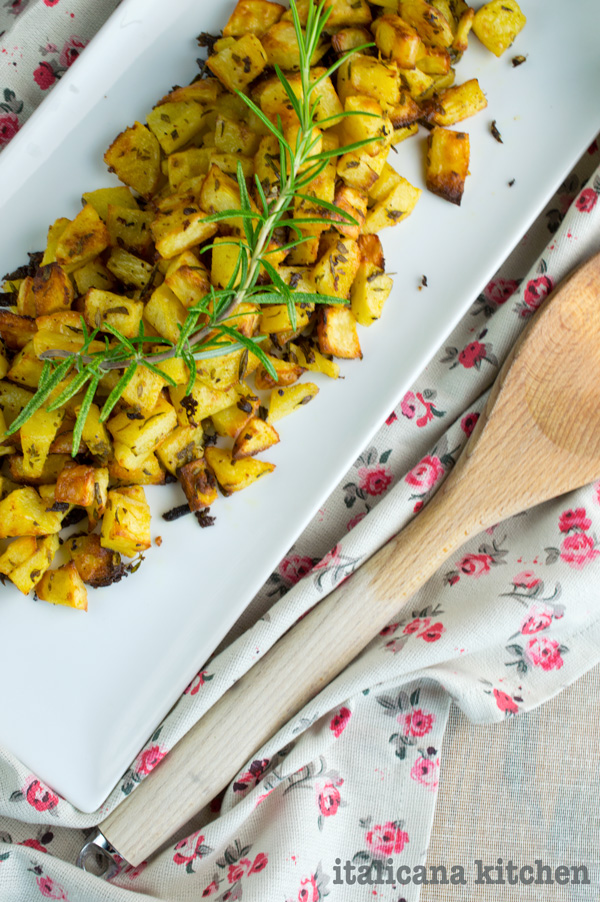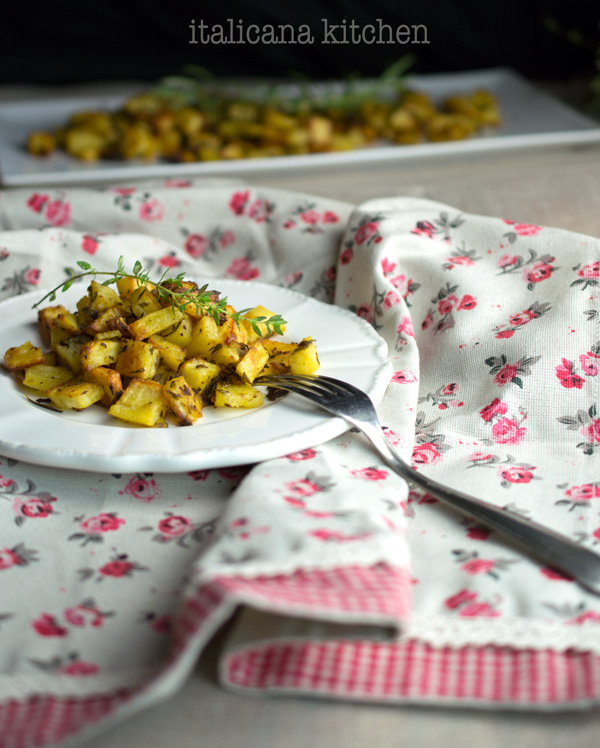 So, back to these darn tootin' good potatoes. Really? Did I just write tootin? Coming from a gal that has been abroad for 6 years, that is such a strange word. Just saying. Anyhoo, Mr. Italicano devoured these. And…more importantly he said they were buonissime :: very good. If I get the approval from Mr. Italicano, it's a good thing. He's quite the food critique and has no problem giving it to me straight. I love that man. And, I love these roasted potatoes. I think you will too. The potatoes, of course. Have a great weekend everyone!
Brandy, Mustard and Herb Roasted Potatoes  
These brandy, mustard and herb roasted potatoes take normal roasted potatoes to a whole new level.
Ingredients
2 large potatoes
2 tablespoons chopped fresh rosemary
1 tablespoon chopped fresh oregano
2 tablespoons chopped fresh sage 
1 clove garlic, finely chopped
3 tablespoons extra virgin olive oil
2 tablespoons dijon mustard
1 tablespoon brandy 
Sea salt and freshly ground pepper pepper
Instructions
Preheat the oven to 425°(218°). Line a baking sheet with parchment paper. 
Peel the potatoes and dice them in cubes. The smaller you cut the crunchier they'll be. I like them sugar cube size pieces, but each to his own. 
Soak the chopped potatoes in a large bowlful of water. Change the water at least 2-3 times. 
In a small bowl combine the rosemary, oregano, sage, garlic,  extra virgin olive oil, dijon mustard, brandy, course salt and pepper. 
Drain the potatoes and return them to the bowl. Pour the sauce of the potatoes and use your hands to cover them completely. Don't be afraid to get them dirty. 
Drop the potatoes by the handfuls on the baking sheet and spread them out so they are in a single layer. Use two baking sheets if needed. 
Bake for 30-35 minutes turning the potatoes at least once. Serve warm. 
*I forgot to add fresh thyme so you can throw a tablespoon or two in the sauce if you want to.
**If your potatoes haven't turned a nice golden brown, turn on your broiler for a few minutes but be sure to watch them so they don't burn.
Related posts: