It was only fitting that I made Barolo Risotto with Radicchio and Fontina this week. First off, the color is perfect for an upcoming romantic Valentine's Day dinner, and secondly, there is wine involved. Every since I passed the AIS Italian sommelier exam last week, I have been finding every excuse I can to open a bottle of wine :: vino and analyze the liquid inside. Studying is absolutely important, but to really get to know wine, a lot of field work is required. Poor me. 🙂
Although any good red wine can be used for this recipe, I've selected Barolo as my wine of choice. Why? For starters, what they taught us during the wine and food pairing part of the sommelier course, is that a recipe made with wine should ideally be paired with the same wine.  (Of course, I'm not talking about the splash of wine added to dishes that evaporates out while cooking. I'm referring to plates with a prominent wine taste, like this risotto.) Thusly, choose a wine you want to drink, and for me that is my bottle of Barolo that has been in my wine rack begging to be opened. Barolo is also a great choice for pairing with foods that have juices and liquids because the tannins that are often rather prominent in Barolos (obviously not those that benefited from long-term aging where the tannins have been reduced) helps to dry up the liquid in your mouth, leaving you with balance and the perfect food-wine pairing :: un abbinamento cibo-vino perfetto.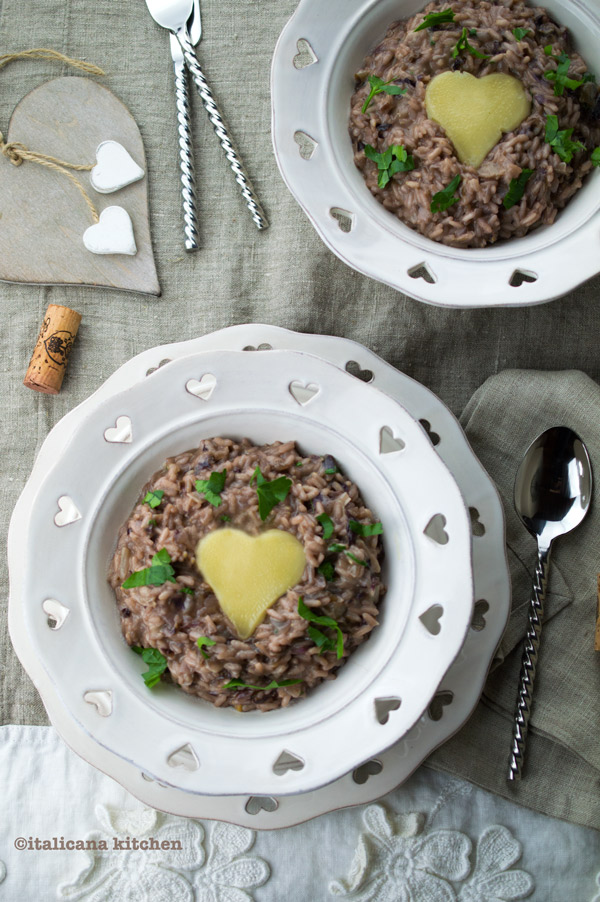 If you're new to Italian wine, Barolo is a red wine produced in the northern Italian region of Piedmont. It's made with 100% Nebbiolo grapes. Barolo has a certification of Denominazione di Origine Controllata e Garantita (DOCG), which means that in order to make this type of wine, many production codes must be followed like: the zone of production, location of vineyards :: vigneti, exposure to sunlight, ageing requirements and many others.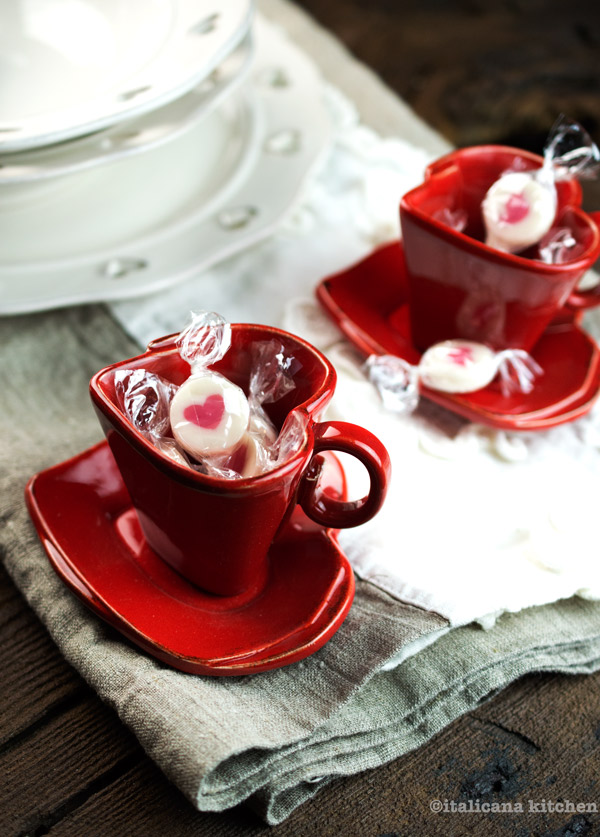 Barolo is considered to be one of Italy's greatest wines :: migliori vini italiani, and I couldn't agree more. It often has an intense ruby red color, aromas of dried flowers, ripe red fruits, spices, a long finish, good structure and ability to age…obviously, if you can wait. In my case, I couldn't, but it was better that way. I simply couldn't resist a glass of Barolo perfectly paired with Barolo risotto with radicchio and fontina. I hope you enjoy it as well, and Happy Early Valentine's Day!
A big thanks to Cioccolateria Unica in Correggio for letting me use the following beautiful objects:
–Heart bowls and plate–
–Linen tablecloth–
–Silverware–
–Heart espresso cups–
–Candies–
Via Mazzini Giuseppe, 24
42015 Correggio, RE
Telephone: +39 055 637838
Opening hours:
Mon-Wed:
9:00 am – 1:00 pm

4:00 pm – 7:30 pm

Thu:
9:00 am – 1:00 pm
Fri-Sat:
9:00 am – 1:00 pm

4:00 pm – 7:30 pm

Sun:
9:00 am – 1:00 pm
Barolo Risotto with Radicchio and Fontina
This Barolo Risotto with Radicchio and Fontina is perfect for an upcoming romantic Valentine's Day dinner.
Ingredients
2-3 tablespoons extra virgin olive oil
1 medium red onion, finely chopped
1¾ cup (300g) carnaroli rice
1½ cups Barolo (or a good red wine)
4 cups (33ounces, 1 liter) vegetable stock
½ head of radicchio (also called Italian chicory), thinly chopped
3.5 ounces (100g) fontina (Gruyère, Gouda or provolone can also be used), cut out hearts with a cookie cutter (if desired) and cut the rest of the cheese in cubes (or cube all of the cheese)
¾ cup (35g) Parmigiano Reggiano, grated
3 tablespoons (43g) butter
Salt, to taste
Freshly cracked black pepper, to taste
Parsley, as needed
Instructions
In a medium skillet, cook the onions with the extra virgin olive oil over medium-low heat, until translucent, but not brown. Add the radicchio and continue cooking for 4-5 minutes.
Add the rice and toast for 1 minute, then pour in 1 cup wine. Simmer until the rice has absorbed the wine then add a ladle of vegetable broth and stir. Continue adding a ladle of vegetable stock, one at a time while stirring occasionally and letting the rice absorb the liquid before adding more. You may or may not use all of the vegetable stock.
When the rice is "al dente" or still firm when bitten, about 18-20 minutes, vigorously stir in the remaining ½ cup wine, Parmigiano Reggiano cheese, butter and fontina cubes. Season with salt and freshly cracked black pepper to taste and top with the fontina cheese heart and parsley.
Related posts: