Don't get me wrong, Rome, Florence and Venice are three cities not to be missed on a first time trip :: viaggio to Italy. Yet, for returning tourists or nature lovers, I recommend a peaceful getaway to the region of Umbria, nicknamed the "green heart of Italy" for it's rich vegetation.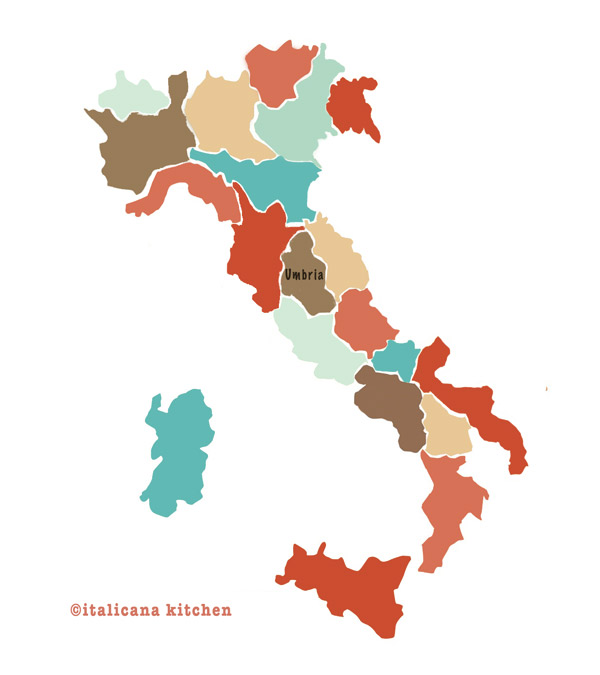 Umbria's landscape consists of endless rolling hills, forests, meadows, valleys and vineyards  stretching as far as the eye can see with castles, borghi and medieval farm houses scattered along the way. Many of these farm houses and stables have been been restored and converted into "agriturismi" or farm vacations. Mr. Italicano and I had the opportunity to spend a relaxing weekend at the lovely Agriturismo L'Elmo which is found in the peaceful countryside only 15 miles from the medieval town of Orvieto.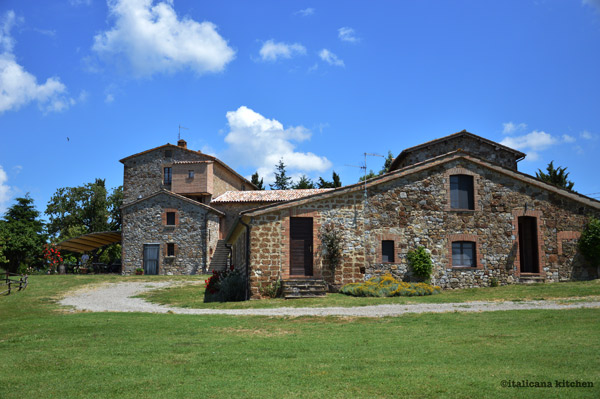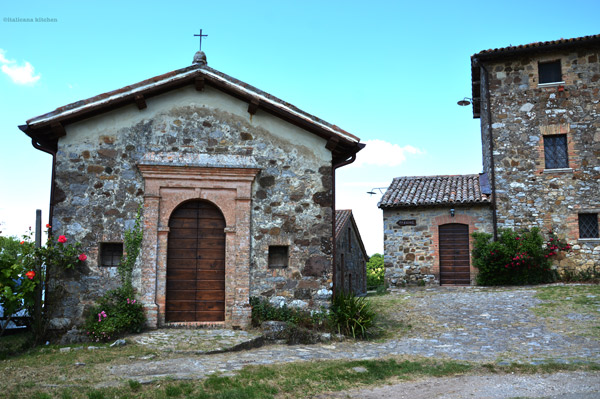 Like everything in Italy, it all starts with a story. In 1788 the farm, stables and servant houses for the prince of the area was built using local materials like stones, sand, and oak trees.  The property belonged to the Ruspoli family until the late 1970's when the Agneni family acquired it, introducing the cultivation of organic hazelnuts :: noccioli bio. Mr. Italicano and I had never seen hazelnut trees up close before. Come to find out, prestige truffles spontaneously grow near the trunks of the trees which are often used in the agriturismo's dinner menus. Yes, please!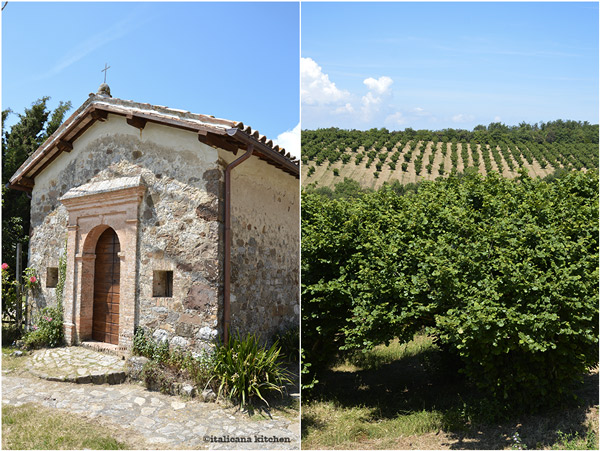 Throughout the years the farmhouse and stable :: stalla were restored and created into an agriturismo which opened its doors in 2000. The rustic quaint room that we stayed was absolutely delightful. Country sleeping is so peaceful. There was no noise of cars passing by, just the nighttime sounds through the open window: the chirping of the crickets and rustle of the wind through the nearby trees that rocked us to sleep.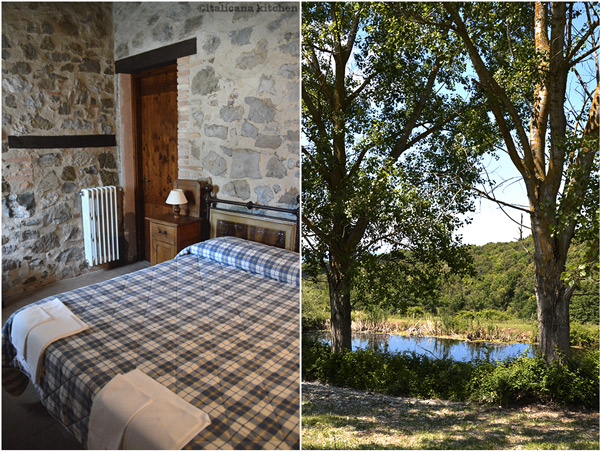 I had strolled around the agriturismo, but hadn't appreciated the well maintained gardens until Marina gave me a private tour of her family property pointing out the various plants, flowers, trees and shrubs :: cespugli. When we stayed, there still wasn't any fruit so I hadn't realized that many of the trees were fruit trees like kiwis, cherries and walnuts or that the shrub I had passed was really a laurel where she got her bay leafs for cooking. And, how did I not see the large lavender plants that lined the walkway? There was so much for me to discover thanks to Marina.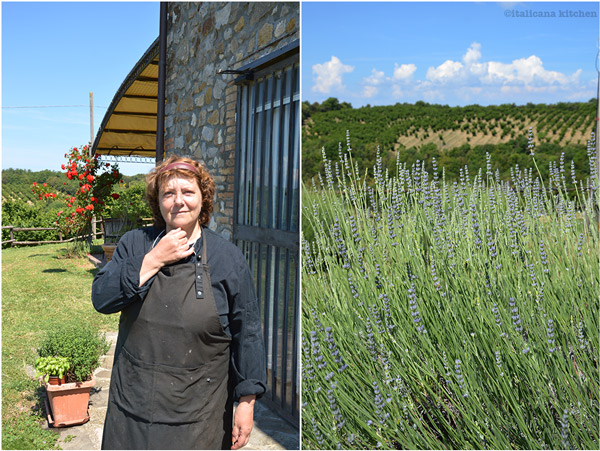 Shortly after, Marina showed me her large organic vegetable garden :: orto bio where in the summer she grows over seven varieties of tomatoes, various types of salads, celery, peppers, artichokes and cucumbers, just to name a few. In the winter, you'll find broccoli Romanesco, brussel sprouts, cime di rapa and other winter vegetables. Breakfast and dinners are prepared by Marina ultilizing these organic fruit and vegetables, as well as sheep and chickens raised on the farm. You'll also find organic products produced by Argriturismo L'Elmo, like extra virgin olive oil, hazelnut spreads and jams. If you are looking for a true farm to table experience, this is the place to go.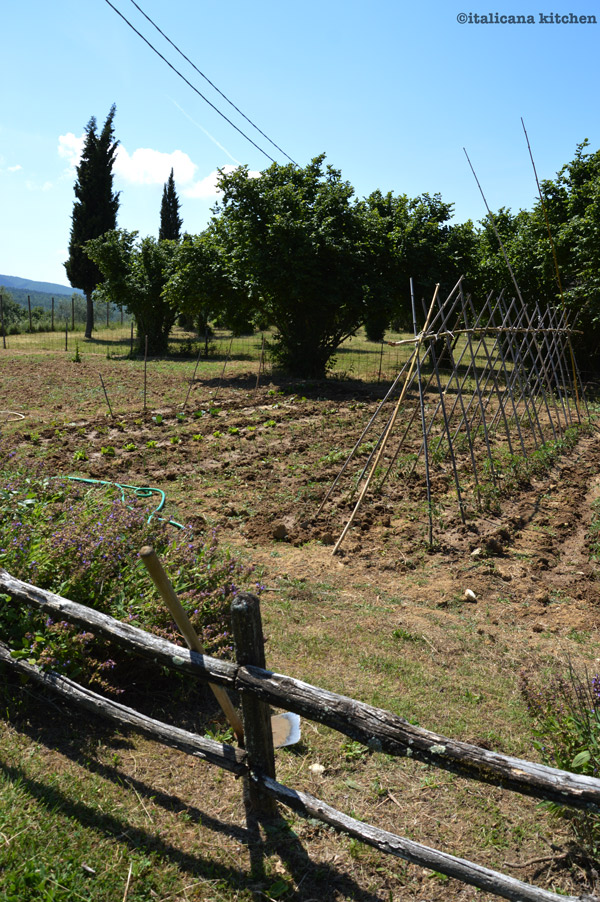 As for activities, you can head to nearby wineries for local wine tastings :: degustazioni di vini, make the short drive to see the beautiful town of Orvieto where there is a remarkable cathedral or simply relax poolside at the agriturismo with a good book and a glass of white wine. The views are breathtaking.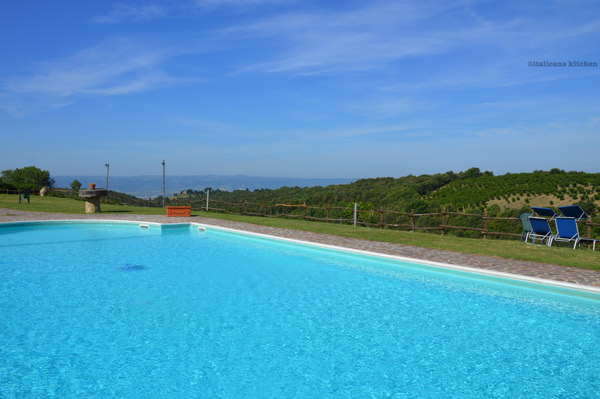 Or, if you want to do something more active, how about a guided horseback ride through the beautiful countryside? There is a stable with a variety of trained horses for beginners and experts. Mr. Italicano and I are taking horseback riding lessons in a closed ring near where we live, but it was a whole other experience to trot through the open field and dirt trails :: sentieri di terra.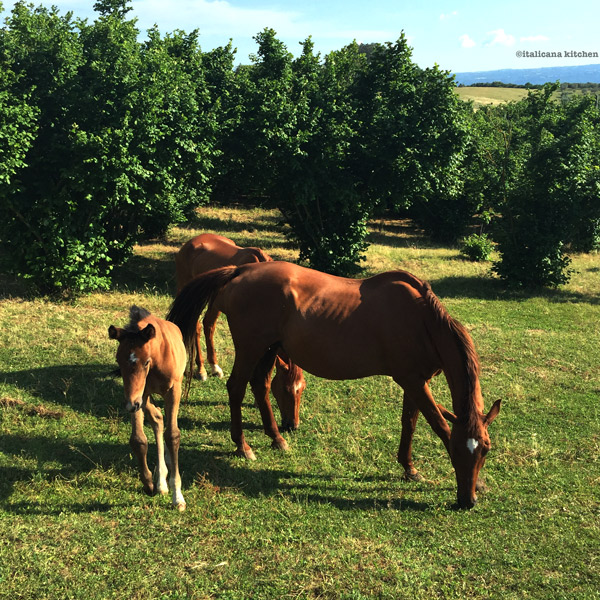 We couldn't have asked for a more relaxing weekend. If you are looking for a place to unwind and to enjoy the nature, homemade food and incredible views, I would highly suggest booking a stay at the Argiturismo L'Elmo. 
Related posts: